Field Hockey looks to carry momentum to Middlebury game
September 22, 2017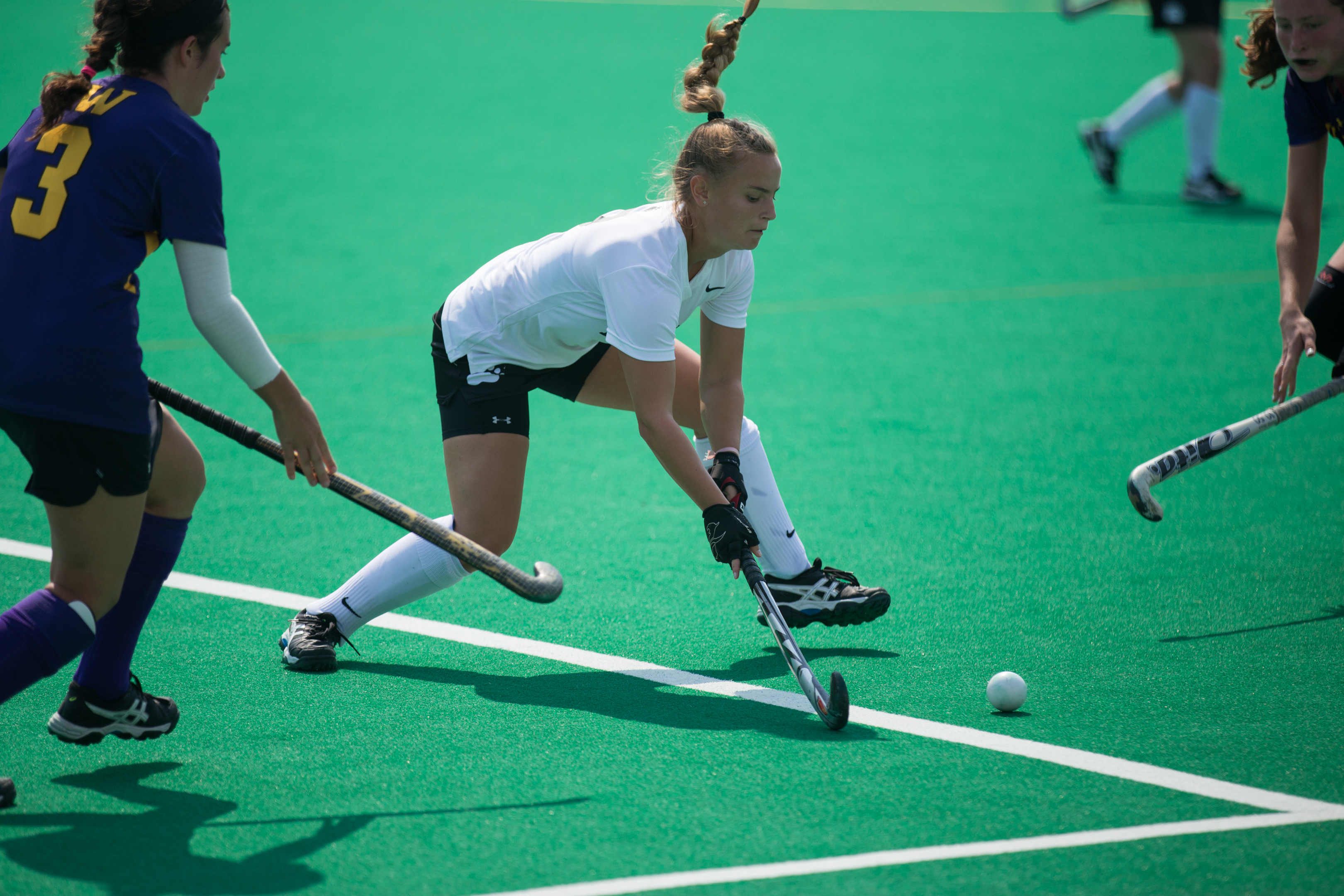 After two crucial wins this past weekend, the Bowdoin field hockey team is prepared to take on its longstanding rival, Middlebury, this weekend.
Last Saturday, the Polar Bears swept Wesleyan for a 6-0 win. Five separate players scored, assisted by an array of teammates.
"It was great to see different people score goals; it wasn't the same person scoring a bunch. I think that shows the depth of our team," said captain Kelsey Bumgardner '18.
The team's depth spans across all grades, with seven first years and eight sophomores. On defense, both goalies are first years, while on offense, the sophomores have scored more than half of the team's goals this year. Sophomore Kara Finnerty was also named NESCAC player of the week.
On Sunday, Bowdoin played a hard-fought game against Williams, winning 3-2 in double overtime. Finnerty scored the winning goal after 87 minutes of play.
"The whole team showed a lot of character, a lot of resilience. And we dug really deep when it mattered the most. It was incredible; it was super exciting," said Finnerty.
Although both teams had played the day before, Bowdoin entered each round of overtime with tenacity.
"With double overtime it's seven versus seven, so there's less players on the field and it's exhausting, but the team that's going to win is the team that works harder and works smarter," said Bumgardner. "In the first overtime we had a lot of opportunities to finish and score, and so that's something we can learn [from] to not have to go into double overtime in the future. But I think the biggest thing we took away is that it showed off the character of our team and that we don't give up."
The Polar Bears plan to carry their momentum and character into the upcoming game against Middlebury. The team has faced Middlebury for six straight years in the NESCAC championships, nudging the Panthers out of the bracket twice since 2011. Last year, however, was the first of those postseason games that was not the NESCAC final. Bowdoin ended its 2016 season in the quarterfinals, losing 2-0 to Middlebury.
"There [is] definitely that intensity of wanting to come back after having lost to [Middlebury] last year," Finnerty said. "We know that we have the ability to be a great team."
The game looks to be well matched. Both teams have 15 underclassmen and stand at 3-1 overall. Though Middlebury has scored more goals so far this season—20 compared to Bowdoin's 11—the Polar Bear defense is strong, with a low goals against average of 0.92 as compared to the Panthers' 1.50.
The team is excited to play Middlebury on its home turf again.
"I think there's something special, especially as a senior, about playing on Ryan Field and the traditions and being in your own locker room. There's nothing like that," said Bumgardner. "But I think the intensity level is still there regardless of where we are."
Despite the rivalry and the added intensity of the home game, the Polar Bears are preparing by working on their own game, fixating on their opponent.
"We're not going to put more emphasis on this game than we are on any other game … The only thing we have control over is how we're going to play," said Head Coach Nicky Pearson. "And we've sort of made a point this year of really not looking at the name on the jersey of our opponent, but really looking at our own name on our own jersey and playing for us."
Having learned from their mistakes and looking to continue increasing their level of play, the Polar Bears are ready to take on Middlebury this Saturday at 11 a.m.