At home in all lands
International students face unique barriers at Bowdoin – and in the United States after graduation
April 21, 2017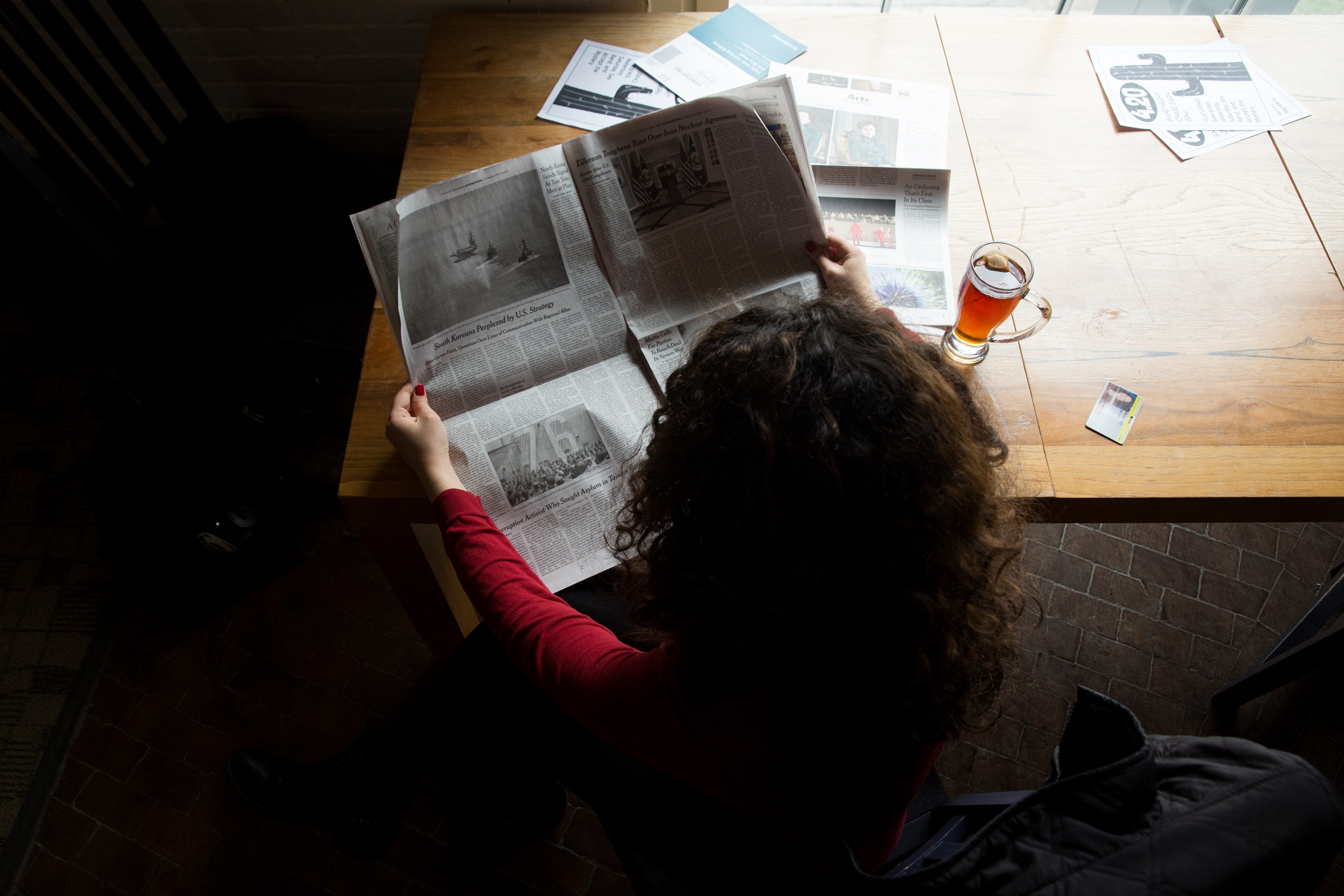 Five percent of Bowdoin students are classified as nonresident aliens, the U.S. government term for individuals who do not hold U.S. passports and are not permanent residents. The College typically refers to this group as international students.
Both the number and percentage of non-resident alien students at Bowdoin are the lowest of any school in the NESCAC. Hamilton has the second-lowest percentage, with 6.5 percent of its student body composed of international students. Colby, which has the highest percentage of international students of any NESCAC school, has 10.6 percent.
According to Admissions, about 10 percent of the student body either carries a non-U.S. passport or hails from outside the United States. While all these students bring international perspectives to the College, students who are nonresident aliens face unique institutional barriers—such as visa requirements and work restrictions—that other students do not have to think about and encounter terminology that most of the student body does not know.
"I'm an F-1 student, and I'm a nonresident alien for tax purposes. I need my I-20 and soon I will file for my OPT," said Parikshit Sharma '17, an international student from India. "All these little things that earlier I didn't even care about institutions swept into my life."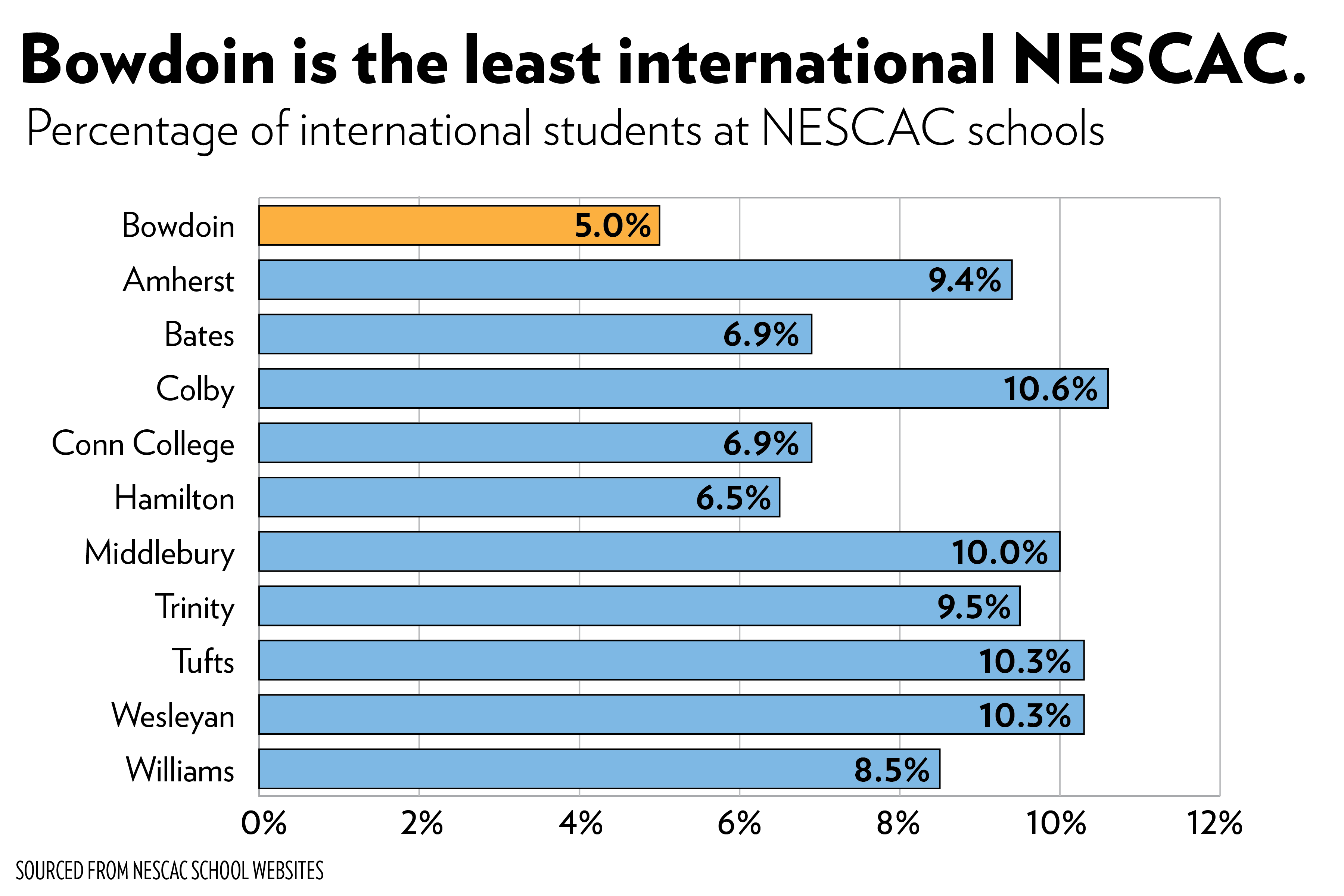 Getting In
Dean of Admissions and Financial Aid Whitney Soule attributes Bowdoin's low international student population to less international recruiting.
"We have a smaller proportion of international students compared to our peer [schools]," she said. "My guess is we do less international travel and have made less of a focused effort in where we are deploying our people."
The proportion of international applicants exceeds that of the international students who ultimately matriculate to Bowdoin. For the class of 2021, 13.2 percent of applicants were international students and 7.7 percent of these students were admitted—significantly lower than Bowdoin's overall acceptance rate of 13.4 percent. Soule noted that the number of international students accepted, 74, was actually greater this year than last.
While international students generally follow the same application procedure as domestic students, students for whom English is not their first language must also submit results from the Test of English as a Foreign Language (TOEFL) or the International English Language Testing System (IELTS).
The greatest difference in the admissions process for international students is the "need-aware" policy with regards to financial aid, meaning that Admissions has knowledge of students' financial needs when reading their applications. For domestic students, the process is need-blind.
Amherst is the only NESCAC school that is need-blind for international applicants.
"For the non-U.S. passport holders, we do know whether or not they've applied for aid, and we do have an understanding of how much it might cost for us to enroll the students that we've admitted," Soule said.
Son Ngo '17, who is from Vietnam, said his family considered how Bowdoin would recognize their needs when he was applying.
"When I applied, I had to think a lot about—obviously we have to be as honest as possible about how much we can contribute, but sometimes we might say, 'Should we try to say we can pay more so [I] have a higher chance even though it's going to require us maybe taking loans from outside or working much harder?'" Ngo said.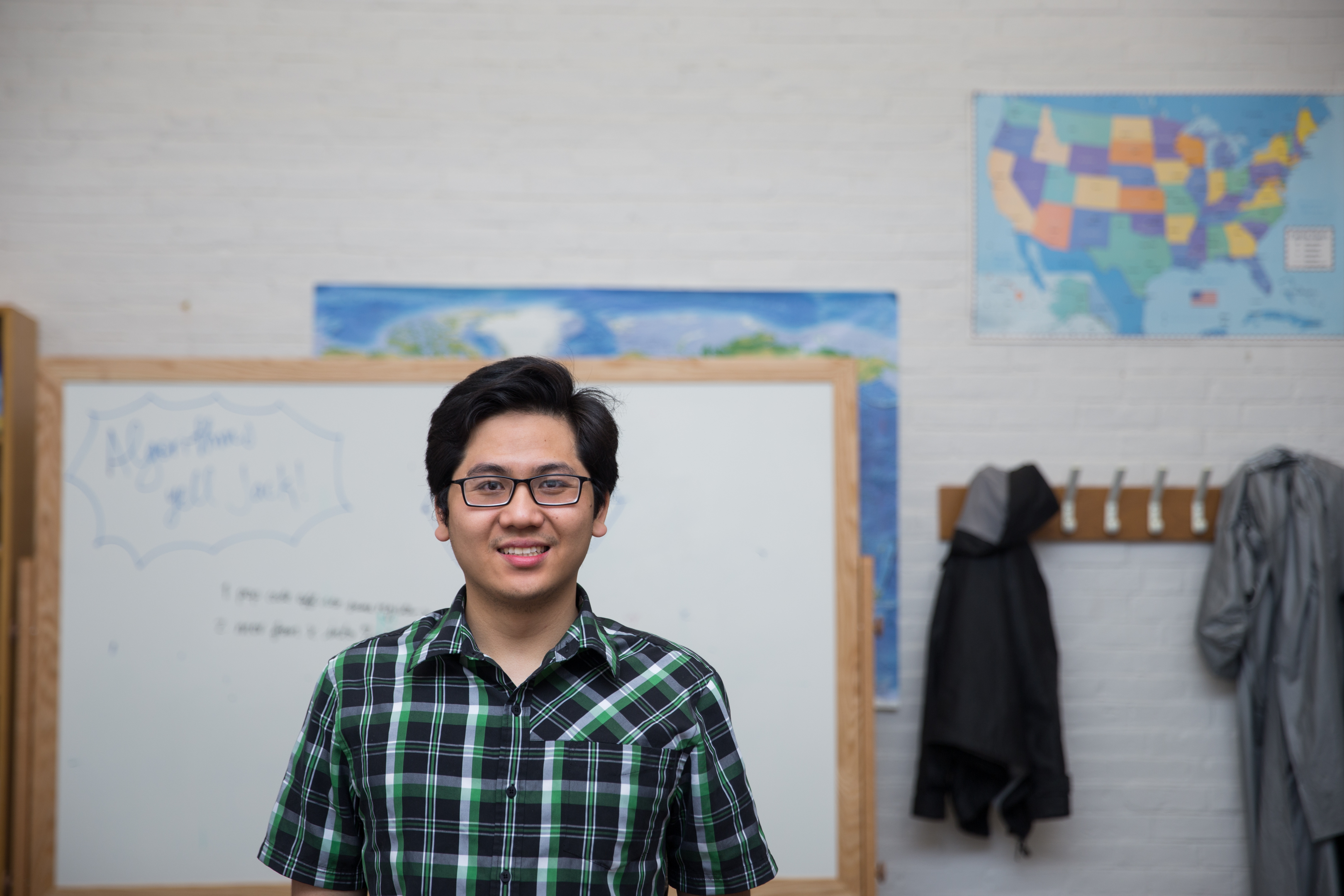 However, Dean of International Students Khoa Khuong said that Bowdoin does not seek to build a class purely of international students who can pay Bowdoin's full price, as is sometimes assumed.
"I think part of the misconception is also [that] a lot of schools … really look for students who can pay full [tuition]," Khuong said. "Bowdoin is not one of those. Fortunately, because we are in a good financial standing, we don't at all target students because we know they can pay."
The numbers support Khuong's claim. Bowdoin meets full demonstrated need for international students who are admitted. Forty percent of international students receive financial aid with an average aid package of $47,118, according to the College's Common Data Set. For comparison, 45 percent of the student body as a whole receives financial aid, with an average aid package of $43,352.
Currency conversions pose an extra hurdle for both the College and international students when it comes to calculating aid packages. Sharma recalled the complexities in negotiating his financial aid after his acceptance.
"My father had moved from a corporate to a government job, so while our financials and income tax returns were from his previous job we were losing a lot of money just because he was in transition," he said. "So that was something I had to negotiate with Bowdoin…It was also strange because everything had to be converted into U.S. dollars and this was also a time where the conversion factor was fluctuating a lot."
J.P. Hughes '17, who is a dual British and American citizen, experienced a similar problem last fall when the British pound depreciated after the country voted to exit the European Union.
"They don't take into account currency issues," Hughes said. "Normally it's fine, but this year the pound has basically collapsed so when they sought out what [I am] eligible for and what [I am] going to pay and stuff … It's a really long process."
Before arriving at Bowdoin, international students must secure a visa to allow them to study in the United States. The College issues students an I-20 form, which proves that they have been accepted and allows them to apply for an F-1 visa.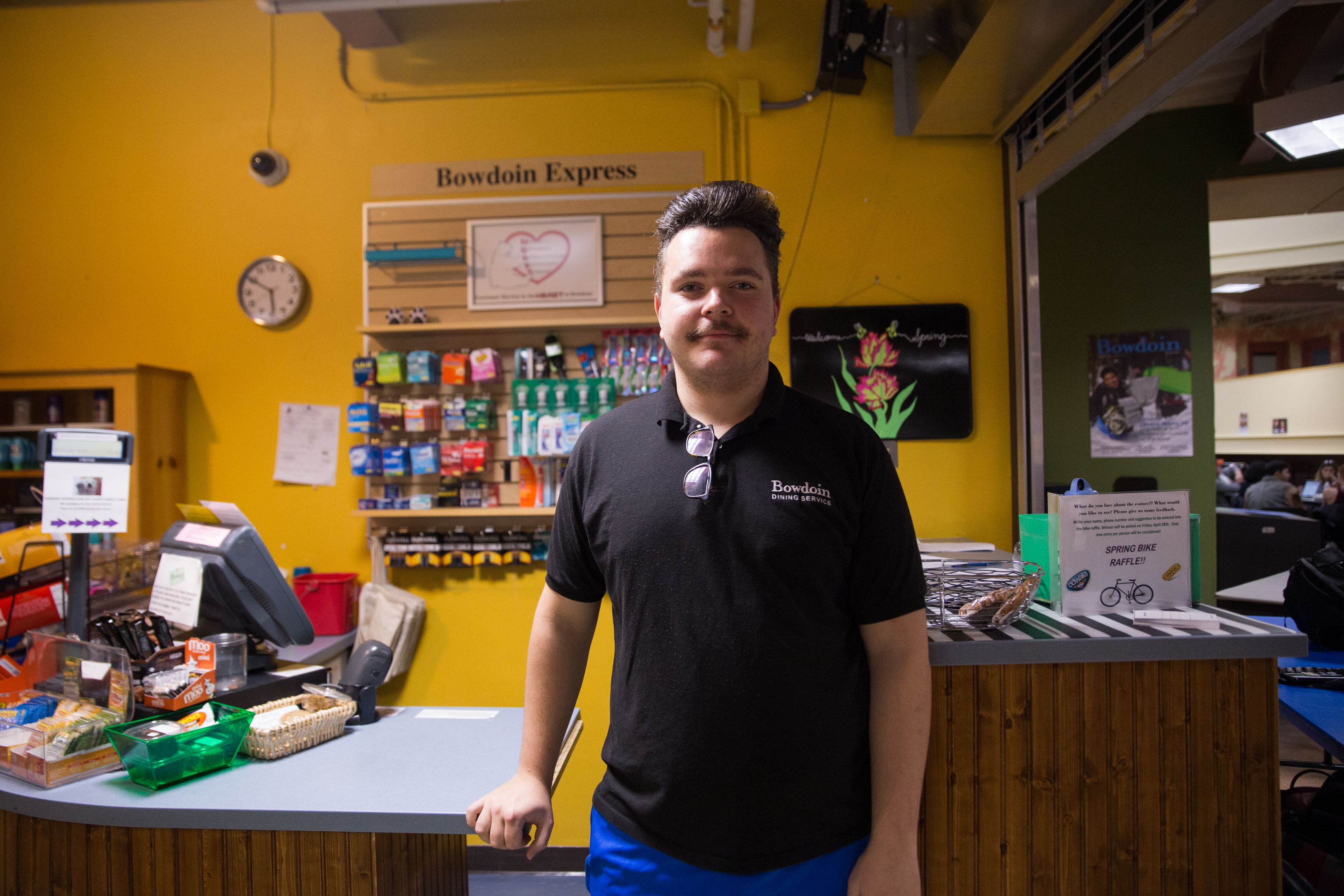 "Bureaucracy is definitely the worst thing you'll have to deal with in your life so I remember getting stressed over that for a bit," said Büşra Eriz '17, an international student from Turkey.
Sharma remembered feeling surprised by the content of some of the forms.
"I still remember and [the form] really has questions like, 'Have you been affiliated to a terrorist organization? Check yes, check no.' 'Will you ever in the future smuggle arms into the U.S.? Check yes, check no," he said.
Getting a Job
Once international students arrive at Bowdoin, they must obtain a social security number before they can work an on-campus job.
Aziza Janmohamed '19, a Canadian citizen who attended high school in Pakistan, began working as a tour guide during the spring of her first year.
"I needed my visa papers, my passport, a letter from my employer [and] a letter from the College itself," she said. "I had to go to the social security office in Portland [to] turn in all the papers … Once my social security number came through I started to be able to get paid."
Sharma had slightly more trouble obtaining his social security number, since his first year fall coincided with the 2013 U.S. government shutdown, which closed the social security office.
"One of the things I remember telling my parents about that night when I was Skyping was that in India, the government stays. India is pretty dysfunctional, but we do have a functional government most of the time. You can have electricity or no electricity, but the government doesn't shut down," Sharma said. "Here you'll have everything you want but the government might shut down. So that delayed my process for another two weeks."
While international students are allowed to work up to 20 hours per week on campus—like any other Bowdoin student—the F-1 visa does not allow them to get paid for work off campus, including work at summer internships.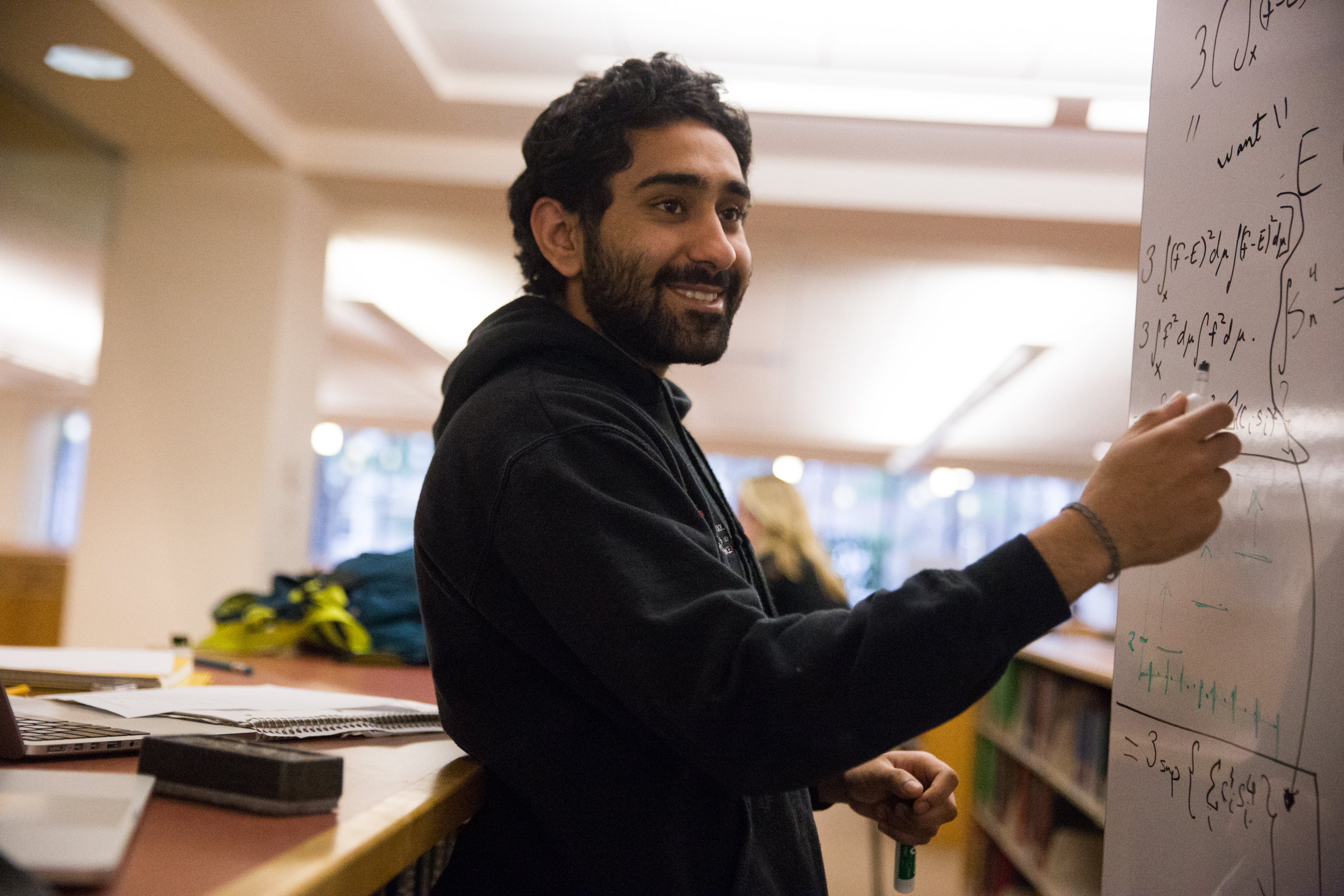 Some international students opt to work on campus over the summer so they can get paid. Others take unpaid internships and receive grants from Bowdoin to cover their costs or return to their homes outside the United States.
The F-1 visa confers students a benefit known as Optional Practical Training (OPT), which allows students to work for pay for up to 12 months in a field related to their major. Students are allowed to use their OPT time over the summers; however, most choose to and are advised to save OPT time for after graduation when they can take a full-time job.
"It has to be related to your major, what you study," Ngo said. "As [an] international student, being passionate about something is actually not just [enough] … if you want to stay in the U.S."
There is a $410 fee which must be paid every time students apply for OPT. Students majoring specifically in STEM fields can also apply for an OPT extension, which lengthens their OPT time by an additional 24 months.
When their OPT expires, students must obtain a visa another way to be able to stay in the United States. The most common visa for skilled workers is an H-1B, which employers submit on behalf of worker they would like to hire. However, the number of visas is capped and not all applications are accepted. Because of fees and uncertainty associated with sponsoring an H-1B visa, some firms avoid hiring international students.
The federal government only issues 85,000 H-1B visas each year, although certain nonprofit and research jobs do not count toward this number. When the application period for H-1B visas opened earlier this month, 85,000 applications were submitted within the first four days. Last year, there were 236,000 total applicants for H-1B visas, yielding just a 36 percent success rate.
Eriz, who is a Government and Legal Studies and German double major, was frustrated by the number of jobs that would allow her to use her OPT time but would not be able to sponsor a visa for her afterward.
"I was like, 'Oh, by the way, I'm an international student and so can you check if I can actually apply, or do you guys sponsor?'" she said. "He was like, 'Oh, we don't sponsor, you can only work for one year and you're welcome to apply if that's something you want to [do].' That happened a bunch of times."
"After a year, what happens is they might sponsor you, but if you don't get picked in the lottery to get this visa you still can't stay," Eriz added. "And if your firm wants you to stay, they can't keep you because the government is basically kicking you out."
Some American colleges, including many NESCAC schools, authorize Curricular Practical Training (CPT) for international students, which allows students to take internships or other practical training opportunities that are considered "a part of an established curriculum," without counting as their OPT time. Because Bowdoin does not typically allow students to obtain college credit for internships, international students do not have the option of using CPT during their summers, which often severely restricts their employment options.
The dearth of American employers willing to sponsor visas make it difficult for international students to benefit from resources such as the Career Planning Center (CPC). Some international students expressed frustration with the CPC's lack of competence in navigating the employment process for international students.
"[The CPC] just keeps suggesting me companies that I cannot apply to. Its really sad," Ngo said. "It's not their fault though—they really try to help you."
Hassaan Mirza '17, an international student from Pakistan, expressed a similar sentiment about the CPC.
"I talked to them about, 'Hey what can I do?' And they were like 'Go to this website.' I was like 'OK I can go to this website but this is really not helping, why are you getting paid for this?' Then they were like 'Oh go to LinkedIn and find other Pakistani students and ask them what they did,'" Mirza said. "They said, 'There was this Pakistani student my year, she was so great, she did something with the White House,' and I'm like, 'But she's an American citizen, there's a difference if you don't have the paperwork for it.' So I think they were very unhelpful in that regard."
Mirza, an English major, said he is considering graduate school. This option allows him to stay in the United States on a graduate student visa.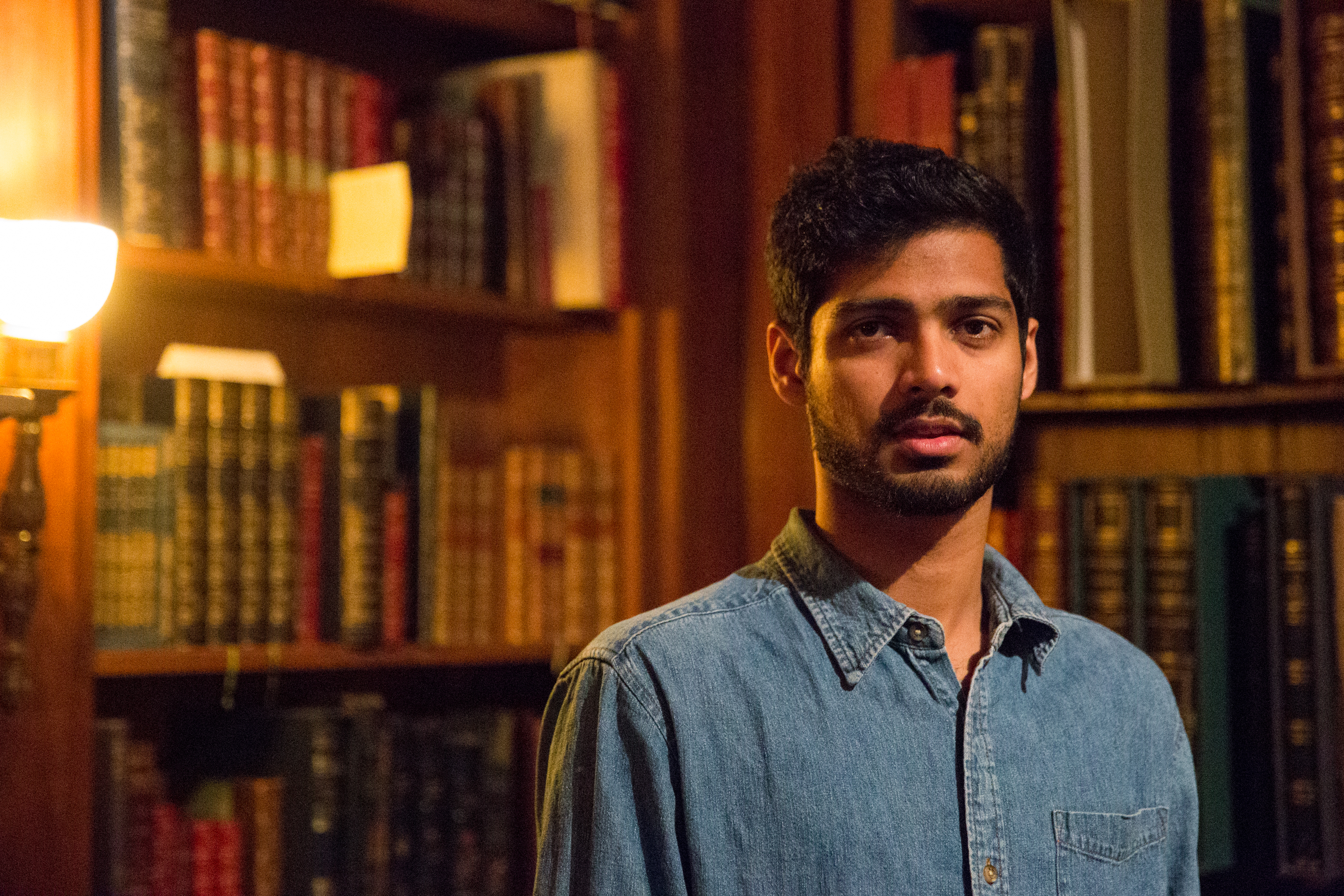 Director of Career Planning Timothy Diehl said companies that tend to be able to sponsor H-1B visas are usually large, multinational companies and those that do so are marked on eBear, the College's job board.
Additionally, funded internships through the CPC are one of the major ways that international students are able to stay in the United States during the summer. Career planning employees meet annually with Khuong to be updated on the latest policies.
"We're providing the same portfolio of services whether they're a citizen or not, so there's not any distinction in working with students that are international in terms of the tools that we're helping them build, [the] skills that we're helping them develop," said Diehl. "The differences come into play when employers in different industries have different hiring practices, which obviously we don't personally control. Our goal is to help students navigate the realities of the market for which they're interested."
Social Life
Along with the practical difficulties associated with attending school in a foreign country, many international students find challenges in adjusting to Bowdoin's social culture. The alcohol and party culture, in particular, are areas where some students do not immediately feel welcome.
"I was new to seeing how people socialize, and I think my proctor didn't really think about that or understand that, so I was at my first pub night and I was like 'What the hell is happening here? I feel so uncomfortable,'" Mirza said. "Because in my culture the idea of drinking is so demonized [that] I felt really uncomfortable. At Bowdoin, often times socializing involves alcohol and partying and both of those things I was very new to."
These types of differences can exacerbate culture shock and further stratify Bowdoin's social scene.
"I just found a really interesting phenomenon that like all of the international students tend to hang out together and those domestic students tend to hang out together," said Rita Chen '20, an international student from China. "It doesn't make me uncomfortable; it's just true."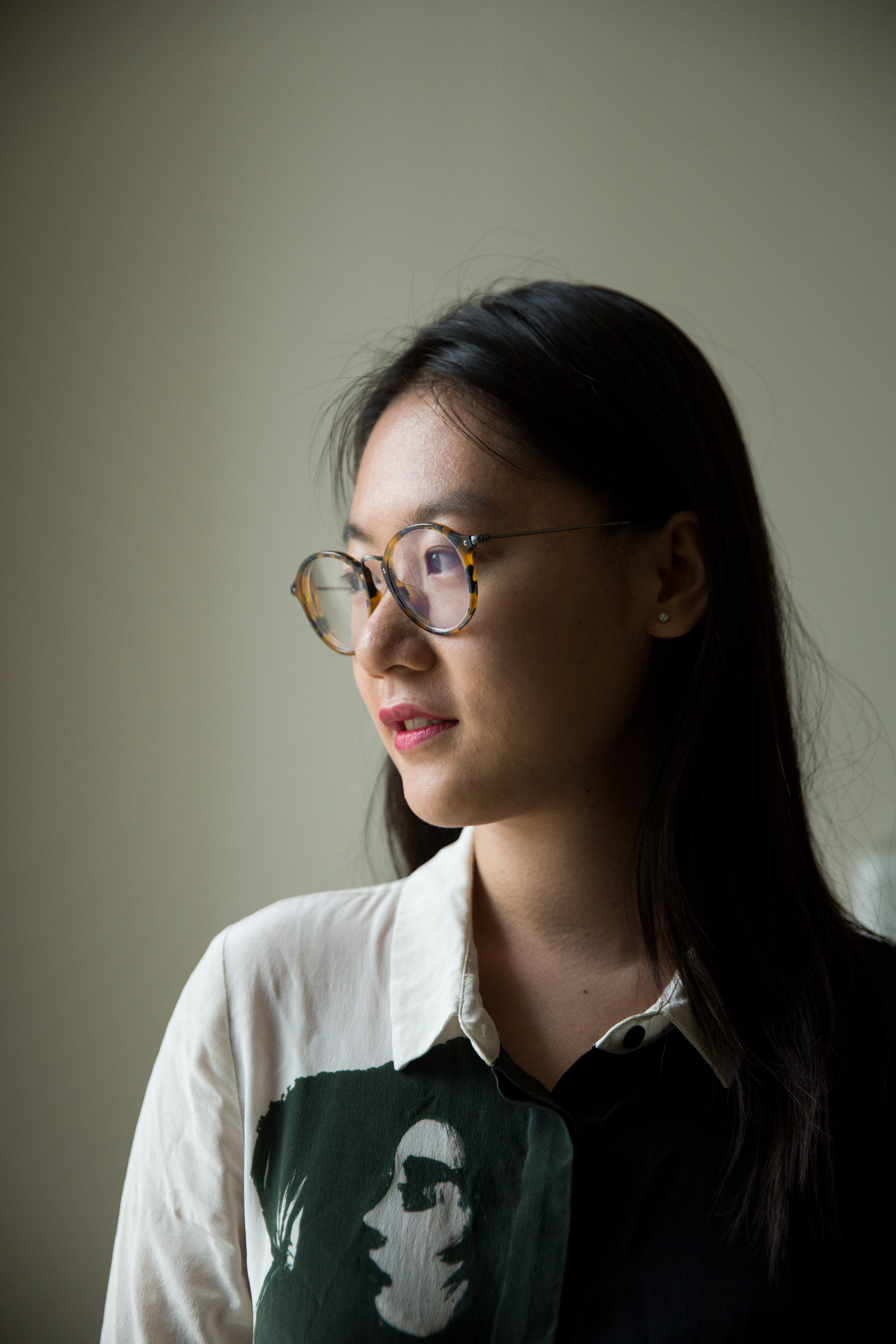 "Bowdoin international students tend to stick to their own communities because they feel comfortable there and they don't feel comfortable in lots of parts of Bowdoin's social scene," said Mirza. "Bowdoin doesn't do a good job of integrating them or inviting them into spaces."
Some international students are white; others are students of color. Many international students are a part of the majority racial or ethnic group in their home country and must navigate being in the minority in an entirely new cultural context in the United States.
"You can't quite fit in in the mainstream group of people on campus if you're not white, like if you're a POC international student, so you're already kind of excluded in that way," said Victoria Pitaktong '17, who grew up in Thailand. "But you [also can't] be in the POC community either because you don't understand the politics, so there's that double exclusion."
Bowdoin's international student population is both small and diverse. While international students make up only 5 percent of Bowdoin's population, they come from over 30 countries. Many international students share the similar experience of entering a new culture, but they rarely share cultural backgrounds with one another.
Both Mirza and Pitaktong spoke to the difficulty of creating a group that could provide support or advocate for international students on issues pertaining to specific cultural origins.
"The international student body isn't a very cohesive body—and it's not as large of a body that if one faction was vocal enough they'd get represented. I can understand why that's a problem when you try to engage with international students, like who do you get? There's no international students association that can speak for all international students," Mirza said.
The exclusion of international students also plays out in everyday interactions and events. Sharma remembers the day during his first year when the Red Cross came to campus for a blood drive. He went, having given blood with the Red Cross in India before, but he was told he could not donate because he had lived in a country where malaria was prevalent.
"That's when I literally felt that, 'Oh yeah, you literally don't want my blood,'" he said.
International students also face restrictions on travel. Many stay on campus over breaks, as the cost of flying home is prohibitive.
"When I went home for winter break, it took me something like 30 hours from when I left my dorm to when I entered my house. Its definitely different than if you live just outside of Boston," Janmohamed said.
In the Classroom
Although social life plays a big part in international students' experiences on campus—as it does for every student—both domestic and international students typically choose Bowdoin for its academics.
"Colleges and universities in the United States are considered the best around the world," Chen said. "That's why I'm here."
In a social culture that can feel stratified and isolating at times, some students find that classwork serves as an equalizer.
"The classroom doesn't care where we came from," said Sharma. "There's so many points of unification. For example, I do math homework with people who come from an entirely different background, but a hard homework hits us all equally hard."
While students at Bowdoin have access to the same experiences in the classroom, there are some features of being international that present roadblocks, including language barriers—and some people are more understanding than others. Chen described a negative experience with peer editing.
"The one and the only bad thing that happened to me as an international student was that when I was in my first-year seminar and we were doing peer editing on a rough draft," she said. "It's just a rough draft—like nobody is going to work on every word—and then a boy who happened to be peer editing my paper [said] 'Did you Google Translate it?' I'm like, 'This is really offensive.' I was so depressed."
The period of adjustment to Bowdoin academics can be more difficult for many international students than for domestic students, especially for students who come from countries or schooling pedagogies that differ from what is expected at Bowdoin. Many international schools are taught in the British system, which emphasizes end-of-year exams and requires students to make decisions about their specific field of study much earlier in their schooling than the U.S. education system does. Additionally, some skill sets that are considered common knowledge for domestic students pose problems for some international students.
"I didn't know how to do citations," said Mirza. "I failed the literacy/library test they make you take over the summer and no one reached out to me and said, 'Hey this is how you cite and why you cite, [and this is how you] write a college paper in the way that people want at Bowdoin.' All of that was new to me and I don't think anyone really guided me."
Study abroad is a quintessential aspect of many students' academic experiences—more than half of Bowdoin juniors choose to study abroad. Friendly visa arrangements with many countries allow U.S. students to live and study around the world fairly easily, but for international students who do not have U.S. citizenship, the process can be far more difficult.
When Eriz was applying for a student visa to study abroad in Germany, the consulate asked her to open a German bank account and put money into it in order to prove she could afford the semester—steps American students do not typically go through. Bowdoin's financial aid was not prepared to put money for Eriz in a German bank account but sent a letter to the consulate explaining how her financial aid would cover her expenses.
Eriz also had to send her passport to the consulate in Boston and, after considerable delays, she considered pulling her application in order to get her passport back in time to return home to Turkey. She ended up getting it back just in time for her visit home to her family. She said figuring out the logistical details of her study abroad took most of the summer after her sophomore year.
"I know a lot of people go abroad, but still it's more unique that you're not a U.S. citizen, but you're going abroad from a U.S. college. The process is different because you have to apply for visas that a [U.S.] citizen doesn't have to apply to," said Eriz. "It worked out thanks to patient people in the financial aid and study away office."
Institutional Interaction
President Clayton Rose affirmed the importance of having international students on campus.
"One of the things that we do well and need to continue to strive to do well is to engage with the broad problems with the world and in the world," he said. "Bringing the world to campus is a great aspect of that, and having a diverse mix of students, some of whom—as aspects of that diversity—bring experiences from being born and raised in other countries is an aspect of that as well. In a world that is globalizing quickly, one that is getting very small in many respects, and where our fates are deeply interconnected, there is enormous virtue in that."
While benefits available to any Bowdoin student are technically available for all students, there are services that do not directly translate as well to international students. Several students mentioned the CPC, where visa restrictions make the type of career counseling other Bowdoin students receive less relevant. But even in areas where visa laws have no bearing, several students expressed disappointment in the support they received from the Bowdoin administration and community. This lack of support does not come from callousness, but rather from what many international students feel is a lack of understanding of their circumstances.
"There's a barrier almost, where at the most there can be empathy for me, but I can't find a place to talk about stuff. For instance, Pakistan has been going through some difficult times, particularly rough in my sophomore year there was a bunch of really horrendous terrorist attacks," said Mirza. "There was one terrorist attack that has been seared in the mind, kind of like 9/11 in some ways, in which these terrorists go into this school and literally slaughter 130 kids and teachers. It was a huge thing, and everyone in Pakistan still remembers it as a traumatic thing, and no one at Bowdoin reached out to me. No one even knew about it."
After a different terrorist attack in his hometown, Mirza's dean reached out to him, but he said she did not provide him with the support he was looking for, insisting on meeting with him and talking when he felt she lacked the cultural context to really understand what was happening.
"It's a difficult thing to approach so I understand you know, it's difficult for anyone to talk about, especially if you don't share that identity, like how can you talk about it," he said. "She was like, 'The counseling center is a great resource for times like these,' and I was like 'You have no connection to what is happening in my life' … Often in those moments I've felt kind of left alone and isolated."
Even when he did try counseling, Mirza felt his counselor was not aware of how his nationality might impact his experience at Bowdoin, or how cultural differences and stigmas surrounding issues like mental illness and sexual assault might impact his relationship with his counselor. At times, he felt like he was asked to educate his counselor, rather than receiving support.
Pitaktong expressed similar concerns.
"They can listen, which is great, but [they] don't understand what it feels like to be constantly excluded," she said.
In some areas, the administration has listened to international students' concerns and made changes. Orientation trips, which send new first years across the state of Maine for four days after their initial arrival at the College, were one aspect of the Bowdoin experience with which international students said they struggled.
Khuong spoke to these concerns.
"A lot of them, they've flown from across the world, so they are extremely jetlagged, and what do we do normally? We put them in Farley Field House, make them sleep on the ground with 500 other students whom they've never met, and the next day wake them up early and send them to the woods and let them sleep in the woods," Khuong said. "They don't get the same experience—the benefit—as other students."
This year, for the first time, international students had the option of flying to campus a few days early to partake in an orientation experience designed just for them. Chen said she thought the experience was a good one.
"We just got familiar with campus resources for international students, for example, the Kanbar learning and studying center. We talked to [Khuong] about international students on campus and we basically spent a day around Brunswick just getting familiar with each other," she said. "It was a very interesting experience because like during the orientation days everyone just came very overwhelmed but we got to say, 'Hi' to people we already knew."
Orientation represents one area where Bowdoin can directly affect the experiences of international students. In some areas, the College is limited—it cannot prevent terrorist attacks in students' home countries or increase the number of H-1B visas available.
"The thing is there's only so much Bowdoin can do when the name of the game is set up by these institutions, right?" Sharma said. "So even if my dean is like, 'Oh, I'm so sorry you have to file all these forms,' at the end of the day I have to come back and start filing them. There's nothing Bowdoin can do."
At the same time, many international students feel there are some areas where the College could provide more support.
"Bowdoin has to reconsider why they want international students on campus," said Mirza. "The idea is, 'Oh their diverse voices will help create the College and a more multicultural space, a better place to learn, exchange of thoughts, ideas.' But then if Bowdoin doesn't do a good enough of a job in trying to help those students assimilate or adapt to life at the College, then they will just stick to themselves and that engagement doesn't really happen. Then it just becomes a figure in a pie chart where you say … 5 percent of Bowdoin is international."
Editor's note, April 21, 1:42 pm: This story has been updated to clarify the role of financial aid in the admissions process for international students. An earlier version of this story incorrectly stated that admissions were "need-based" for domestic students. Admissions is "need-blind" for domestic students, and "need-aware" for international students. Additionally, an earlier version of this story incorrectly stated that Colby is need-blind in its admission of international students. Colby, like Bowdoin, is need-aware.