Men's tennis to face rival Middlebury
April 14, 2017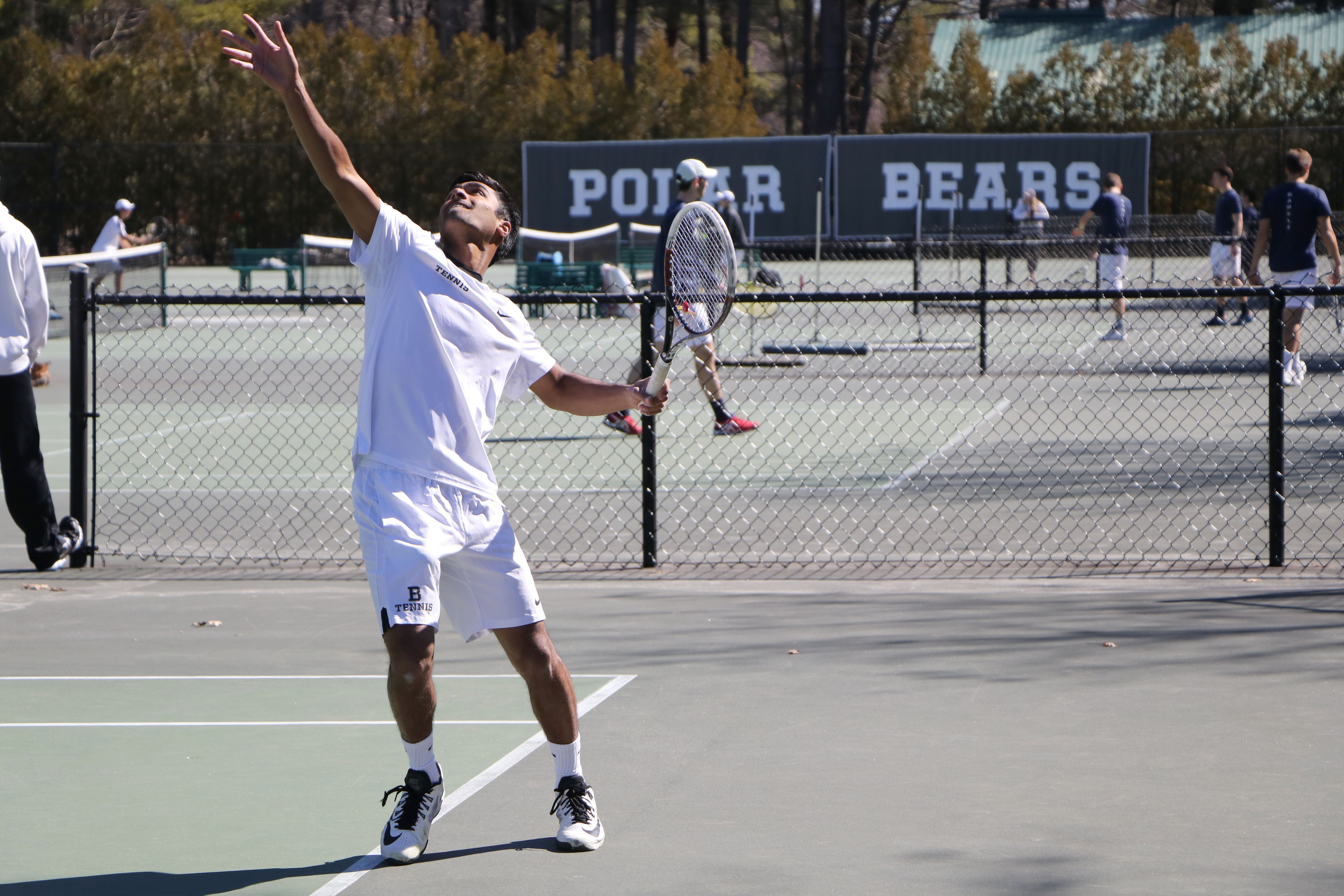 The men's tennis team (11-1, 3-0 NESCAC) will face No. 4 Middlebury (13-1, 3-0 NESCAC) at home tomorrow in another installment of their growing NESCAC rivalry. Last year, the Polar Bears played the Panthers three times and lost in both the regular season and the NESCAC championships. However, Bowdoin evened the score in the NCAA DIII championship, winning 5-0 to claim its first national title.
According to captain Kyle Wolfe '18, the team is expecting Middlebury to playing with a vengeance.
"I think they're definitely going to be ready to go and trying to get some revenge after last spring," he said. "Our team has only beaten them once so we're definitely motivated to get another win against Midd this weekend for the first time in at least seven years since we've beaten them at home."
The team extended its current win streak to seven games with a 5-4 win against No. 14 Amherst (13-3, 1-1 NESCAC) and a shutout win against Connecticut College (4-6, 0-2 NESCAC) last weekend. Despite the rivalry between the two teams, Luke Tercek '18 said the team feels confident going into the match this weekend.
"This is a team we've seen a lot," he said. "I think for most of the guys on the team, it actually gives us confidence because we know what to expect. We were talking yesterday actually and some of the guys thought that they were more nervous going into the Amherst match because the team is so unpredictable because there are a bunch of younger guys on the team."
According to Tercek, the team cannot expect any specific outcome due to the close competition and will instead have to focus on playing their best.
"I expect that we'll compete as hard as we can whether we win or not," he said. "And I think that's really it. Winning or losing, that's up in the air, but I know if we compete as hard as we can and if we stay mentally tough and enjoy ourselves, we'll be putting ourselves in the best spot."
One challenge the Polar Bears are currently facing is shifting from playing indoors to outdoors. This is the first full week that the team has been able to practice outside consistently.
"It's really exciting and the guys just have more energy playing outside, but it is more of an adjustment because the ball plays a little bit differently so you have to factor that in when you're doing shots," Tercek said. "But having most of this week outside, I think we'll definitely be ready and comfortable for Saturday."
Another challenge is Middlebury's dominant singles lineup. While the comeback win against Amherst helped increase the team's confidence in its singles, having a lead after doubles this weekend will still be critical for Bowdoin to secure a win over the Panthers.
"The doubles are going to be really important," said Wolfe. "If we could get a lead after the doubles, that would definitely give us a really good chance to win. Saturday against Amherst was the first time we were losing after the doubles, so this week is just working on that and getting ready for the doubles this weekend."
Tercek won the tie-breaking match 5-7, 7-6, 6-2 at No. 1 singles. Since the match was so close, Tercek believes that he was almost expecting that he would be the one to break the tie.
"All of us are expecting to be in that position at one time or another," he said. "Many guys on the team have been in that position in another match. I think I was confident in that spot because that is what we train for. I think it was a good opportunity and I think I almost enjoyed being in that spot."
Bowdoin will play Middlebury at home at 10 a.m. tomorrow.