Helen Zia discusses activism, journalism, coalitions across identity groups
April 7, 2017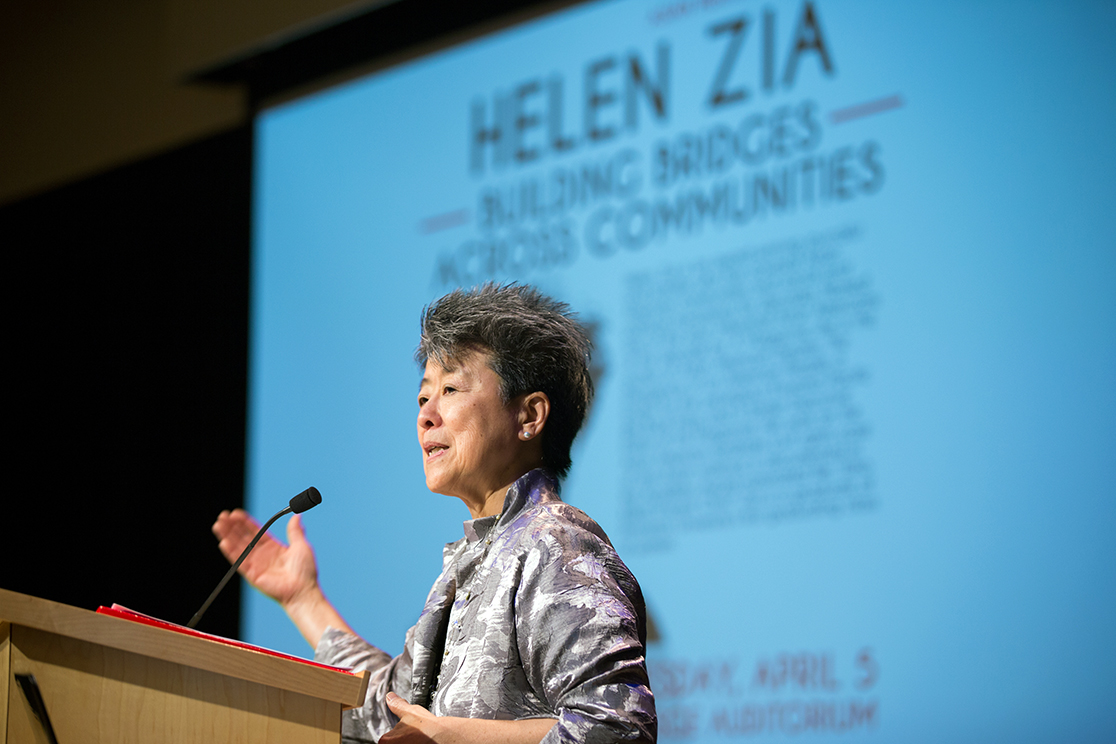 Journalist and author Helen Zia discussed her career as an activist and the future she envisions for America at a talk entitled "Building Bridges Across Communities" in Kresge auditorium on Wednesday. The event was sponsored by the Asian Students Association as part of Asian Heritage Month.
Zia spoke about how legislation in the 1960s allowed for more diverse immigration to the U.S. and argued that the present was also a critically important time for the country.
"It is a most important time to be examining your place in the body politic. We really are standing on the threshold of major global changes," she said.
Zia cited demographic changes that will soon lead to a United States with no majority racial group and discussed global economic developments as reasons for the result of the 2016 election but encouraged students to remain hopeful.
"There is nothing straight-lined about history at all. It moves in zig-zags and swings," Zia said.
She talked about the struggles of growing up as a Chinese-American in the 1960s.
"When I was a kid, growing up in New Jersey, I was like an alien from Mars," Zia said, "I did not have much of a Chinese community to connect with."
She noted divisions among minority groups during her early years as an activist.
"Social change and bringing people together to do something big is always work," Zia said. It has always taken an effort to cross boundaries with other communities, and to reach out."
Zia was a leader in the effort to prosecute the two men responsible for the murder of Vincent Chin, a Chinese-American who was killed in a Detroit suburb in 1982. She discussed how this initiative brought together the Asian community.
"Out of a terrible hate crime … one by one different groups of Asian Americans actually did come together for the first time in American history. A national civil rights movement came out of it, " Zia said.
As a member of the LGBTQ community, Zia spoke about how surprised she was that gay marriage was legalized in her lifetime.
"I thought, 'Marriage? That's never going to happen for me' … There were people in the LGBTQ community who thought 'Why are we fighting for this? We are never going to win,'" Zia said. "We have to begin to imagine that world, where justice and equality and human dignity prevails."
Moving forward, Zia encouraged students to continue fighting for the causes they believe in.
"We don't know what historians are going to write about 2017, but make no mistake—it is your time," she said.
Students responded positively to the lecture.
"I think it's really important to have these kinds of conversations," said Fiona Doherty '20. "I'm glad she was chosen to speak on campus."
Erin Harris '20 said the talk was encouraging and inspiring.
"It made me want to get more involved," said Harris. "I hope people get more involved in communities they aren't directly affected by."
President of the Asian Students Association (ASA) Mitsuki Nishimoto '17, said Zia was the perfect fit to speak at this year's Asian Heritage Month.
"We wanted someone who could talk about Asian-American issues in their presentation but also activism and building peace coalitions and solidarity across communities, rather than just in the Asian-American community," she said. "I think it's really important to celebrate and recognize our different histories and how they intersect."
In previous years, ASA celebrated Asian Heritage Month with just a week of events, but the club expanded the celebration this year in order to include more programming.