Students' Shakespeare clowning adaptation to run Off-Off-Broadway
March 12, 2017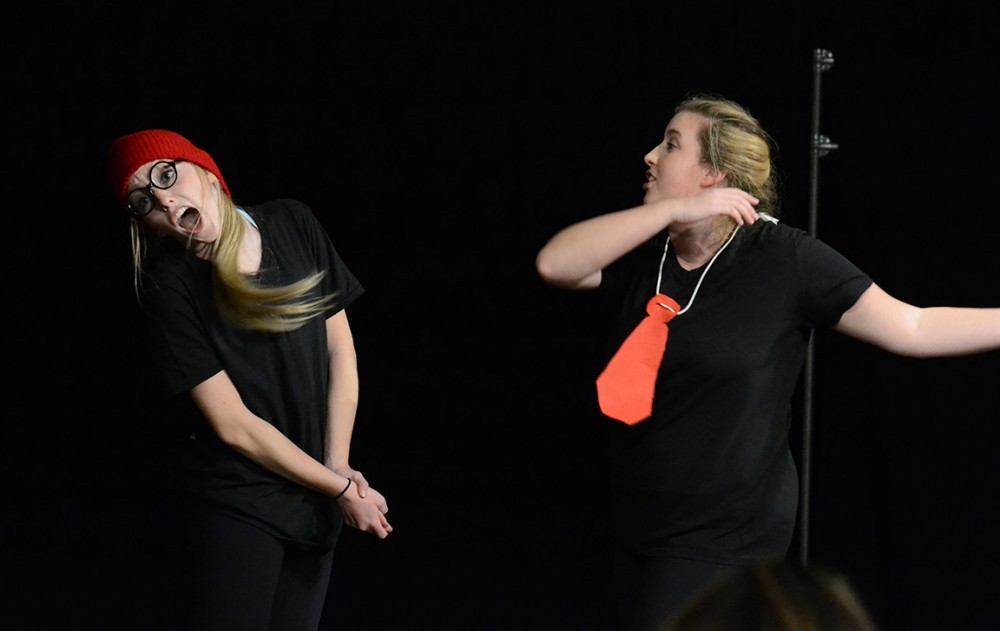 "15 Villainous Fools," Maggie Seymour '16 and Olivia Atwood's '17 two-woman clowning adaptation of Shakespeare's play "The Comedy of Errors," was recently picked up by the People's Improv Theater (PIT) in New York City. The show will be performed at an off-off-broadway venue for two months this summer starting in July.
The 75-minute performance tells the story of two sets of identical twins and their adventures following a boat crash. There are 15 characters in the play, with Atwood and Seymour acting as half each.
"It's just a whole Shakespeare classic dilemma," said Atwood. "It's a comedy so by the end everything gets sorted out and everybody gets married."
Seymour's became interested in Shakespeare during her sophomore year at Bowdoin after taking an acting class with Sally Wood, who made Shakespeare's voice accessible and understandable. Then, when Seymour was studying abroad in London fall of her junior year, she had the opportunity to see a production of "The Comedy of Errors" at the Globe Theatre.
"It was amazing. The control of the language, the accessibility of the show and the sheer joy that everyone was having was something I was very passionate about and wanted to explore," said Seymour.
Through "15 Villainous Fools," Seymour is able to find an intersection between her love of Shakespeare and clowning, a term used to describe physical theater that is rooted in actors finding their inner child or inner joy.
During an improv class Atwood and Seymour were in together, Seymour enlisted the help of Atwood for her honors project, which ultimately became "15 Villainous Fools." It was first performed at Bowdoin on November 20, 2015 and then put on twice more as part of Seymour's honors project. The duo further reworked the play and put on one more show for Admitted Students Weekend last April.
"We were revamping the show for the summer tour," said Atwood. "Having another show at Bowdoin was another really good test run."
Then, last summer—with the help of Axis Fuksman-Kumpa '17 as a technician—Atwood and Seymour took "15 Villainous Fools" on tour, participating in fringe festivals. Fringe festivals are week to month-long theater festivals held in various venues across the country.
"It's a place where people mount their shows," said Atwood. "Most people do one fringe festival per summer. We decided to do five."
Atwood received a Micoleau Family Fellowship in the Creative and Performing Arts from Bowdoin, which helped fund the tour, and both Atwood and Seymour contributed their own money to finance travel expenses. Over the summer, the duo performed "15 Villainous Fools" first in Portland, Maine and then continued on to San Diego, Washington D.C., Rhode Island and New York City.
"The hardest one [to get into] by far is FringeNYC. The application is impossible. You have to submit a cover letter, resume, a video or trailer of your shows, reviews if you have them," said Atwood. "It's a super selective process. We ended up getting up waitlisted and then we got in. That is the reason this play was discovered."
Atwood and Seymour performed five shows during FringeNYC over the course of a week, four of which were sold out.
"We got stellar reviews and having a nearly sold-out run is pretty impressive with 200-plus shows at the festival" said Atwood.
The success of the "15 Villainous Fools" at the festival caught the attention of the PIT and in December, after Atwood met with the artistic director, the PIT picked up the play. It is slated to begin the first week of July.
Unlike last summer, Atwood and Seymour will stay in New York City all summer to perform their show at the PIT, allowing them more stability and the benefits of having a homebase venue. The duo will be performing 13 shows as of now.
"We'll be moving in New York in June to start rehearsing in the space, meeting people, starting to market more in the area, building up toward opening night and trying to sell out all the houses if possible," said Atwood.
Currently, Atwood and Seymour are working on revamping their image, working on graphics, marketing and creating a more professional-looking website. In the summer, the duo will start to focus more on the logistics of the show and figuring out lights, costumes and more.
"Baseline [the show is] the same feel, but I think in a lot of ways it's going to be different just because we won't be travelling," said Seymour. "I think we're putting in a lot of work reimagining it but also cleaning it."
Looking ahead, both Atwood and Seymour are not sure what will happen with "15 Villainous Fools," but the prospect of the show being optioned to go off-Broadway is exciting.
"I think the ultimate goal is to keep doing theater because that's what we both love to do," said Atwood. "And we're going to do whatever we can to keep making that happen."
While Atwood was attending the National Theater Institute the summer after her first year at Bowdoin, she received a piece of advice from a speaker and often thinks back to what he told her.
"He said that if there isn't a space for me in theater, I can make a space for myself," said Atwood.
And that's exactly what Seymour and Atwood are doing with "15 Villainous Fools"—performing a show that allows them to highlight their strengths and to create a space for themselves in the theater world.
Editor's Note: Olivia Atwood '17 is an associate editor of the Orient but was not involved in the production or editing of this article.