Punk guitarist Yonatan Gat to perform experimental set in Ladd House Saturday
March 4, 2017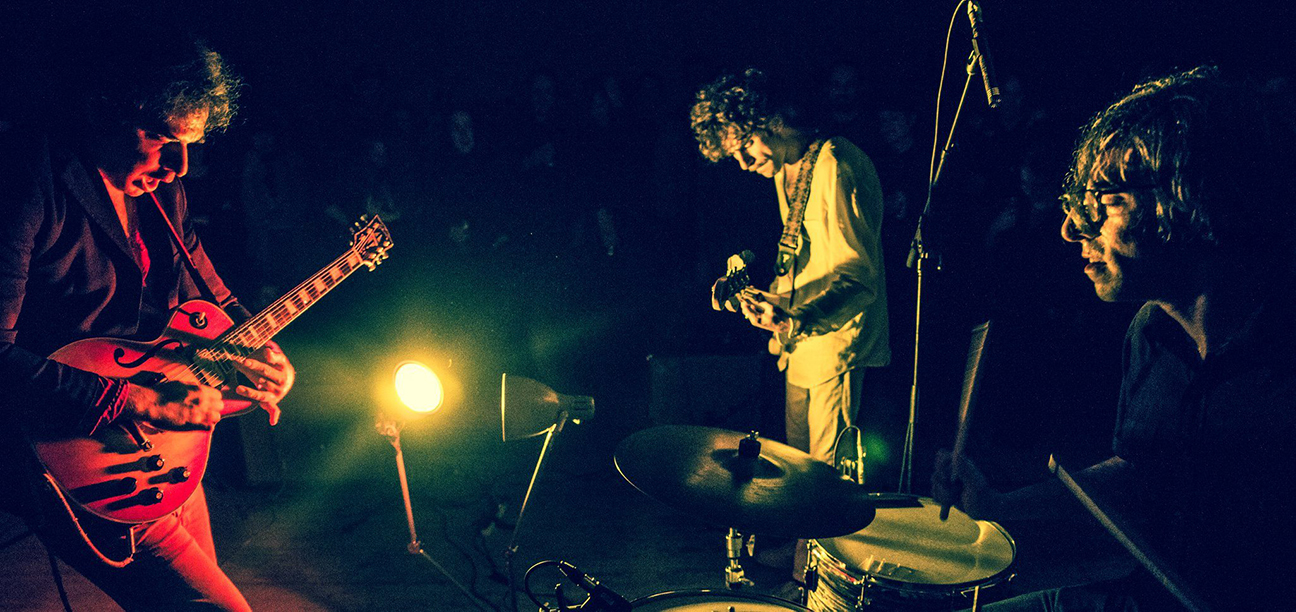 Tomorrow night, Israeli punk guitarist Yonatan Gat and his band will bring their improvisational, atmospheric and eclectic sound to Ladd House's living room in what is expected to be an immersive, synergetic performance.
The concert is sponsored by WBOR and Bowdoin Hillel. Gat's performances are unique in that his band sets up in the middle of the crowd, asks for pitch blackness except for a couple of spotlights and is largely improvisation-based with limited vocals.
"We stand in the middle of the room and we surround ourselves with the audience. We have a very intimate communication with them, it's not direct, we don't talk to each other, but we look at each other," Gat said in a phone interview with the Orient. "But I think they sense what we need and we sense what they need and certain atmosphere just gets built in the room. It's very special."
Gat, the creator of the trio, started playing guitar during his teens growing up in Tel Aviv. Along with two friends, he formed the band Monotonix in 2005 and it went on to perform around the world until 2011, when it disbanded.
Gat has been inspired significantly by punk and rock 'n' roll music over the years and finds the physicality of the two genres particularly influential.
"I remember the first times I saw really good bands playing … I was really, really struck by the fact you could stand in the first row or something like that and you can feel the wind from the stage," said Gat.
In 2014, Gat started a solo project, performing under his own name, eventually recruiting bassist Sergio Sayeg and drummer Brian Chase.
Gat's songs draw from music around the world and incorporate elements found in a variety of musical genres, from Brazilian beats to Israeli punk music. All of his shows are improvised, which means that the trio goes into a performance with a blueprint but has the ability to change its sound within that framework.
"When you improvise, you just teach yourself because you cannot rely on anything, you can't really rely on music you composed before or things you agreed on. You have to get yourself to a pretty high spiritual place," said Gat.
Gat has performed over 1,500 shows around the world and finds each show to be different and exciting in its own way. He looks forward to every performance and the interactive relationship his music forms with each audience.
"I love the energy, I love the atmosphere, I love the communication with the audience," said Gat. "I think music is a much better way of saying things than any other language that I know of."
While performing, Gat tries to create a particular experience for his audiences. In his albums, such as "Iberian Passage" (2014) and "Director" (2015), he experiments with music that can fit different moods.
"I want [the album] to work in your life when you wake up in the morning, when you go to sleep at night, when you're sad, when you're happy," said Gat. "I want it to be something that becomes a part of your life, something a bit more permanent, different, timeless."
WBOR's concert director Nick Benson '17, who invited Gat, was struck by the organic, improvisational and cyclical feel of Gat's performance style when he attended his show in Portland last October. Once Benson realized Gat was within WBOR's budget, he was determined to get Gat to perform on campus.
"It's one of those moments in life when you feel like ultimately explaining something to someone who wasn't there is futile, because no matter how you describe it, it cannot even compare to the reality," said Benson. "It's frankly out of this world how intense the whole experience is. It's ridiculous."
Bowdoin students will have the opportunity not only to see Gat's performance style first-hand, but also to attend a talk by Gat on Saturday at 4 p.m. in MacMillan House. Later that night, student band 20/20 will open for Gat, who plans to begin his set around 11 p.m.
"The whole night is going to be pure music," Benson said.