MENASA aims to fill cultural gap with welcoming space
April 27, 2023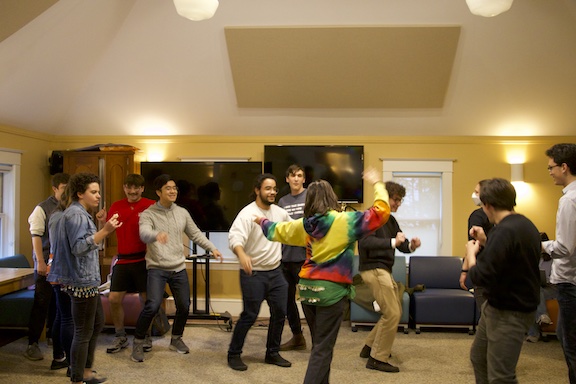 Set to the tune of Tunisian music, the Middle Eastern and North African Student Association (MENASA) hosted a jubilant club kickoff on Tuesday in the 30 College Great Room. The event, which featured lively dancing and Middle Eastern and North African (MENA) snacks, marked the organization's first. The club hopes to provide a space for students connected to the region to build community and share cultural experiences.
During a break from dancing, co-founder Nur Schettino '24 described the impetus for the group's creation.
"We wanted to create a space that was inclusive to all sorts of identities, regardless of national specifics, religious specifics," Schettino said. "A space that is open for anyone who identifies with a heritage, or is from the MENA region, or is even just interested in being in that space and enjoying that culture, that food, that music, that language."
The organization's founding addresses a critical gap in cultural representation at the College. Though other religious and cultural groups on campus provide necessary affinity spaces for students of myriad backgrounds, there has not yet been a space dedicated to students from the MENA region outside of a religious context.
Schettino's co-founder Yassine Khayati '25 detailed his experience getting in touch with his culture and identity on campus.
"There's a gap in terms of the identities represented [in Bowdoin affinity groups]," Khayati said. "I describe myself as culturally Muslim, not necessarily practicing, but I still want to be in touch with my culture, and having to go through the [Muslim Student Association, MSA] … something was missing."
Similarly, Yusur Jasim '25, who attended Tuesday's event, noted their appreciation for other campus affinity groups but voiced the feeling of a lingering absence.
"I felt like something was missing always because there are a lot of affinity groups, and I felt like I didn't really belong to [them]. When I would go to those events, people would always be welcoming, but it's different going to an affinity group where you're actually part of it and feel like you're part of that [group]," Jasim said. "I appreciate this as an event that captures people from a similar background as me and share that culture. Even though, obviously, not all of the Middle East is similar, I appreciate having the space to share my culture with others and learn about other cultures."
The MENASA aims to fill the gap in cultural representation on campus, while also cultivating relationships with existing affinity groups.
"We hope to collaborate with all of those other affinity groups, whether it be the Arabic club or the Muslim Student Association," Schettino said. "We hope that [the MENASA] is a very inclusive and open space for everyone on campus, because we feel like that reflects the best parts of ourselves and the goal that we're trying to accomplish."
Selima Terras '26, who also attended Tuesday's kick-off event, expressed her excitement about the future of the organization.
"I hope that, with this organization, we can find space to celebrate all the things that aren't religious enough to fall under MSA but also are very important to our specific countries and national identities," Terras said.
The group plans to host one more event—a karaoke sing-along featuring Arabic music—before the end of the semester, and hopes the Bowdoin community will join in the festivities.
"Come learn how to shake your hips," Khayati said.