Tristan Bradley '23 wins Intercollegiate Tennis Association New England Championship
October 14, 2022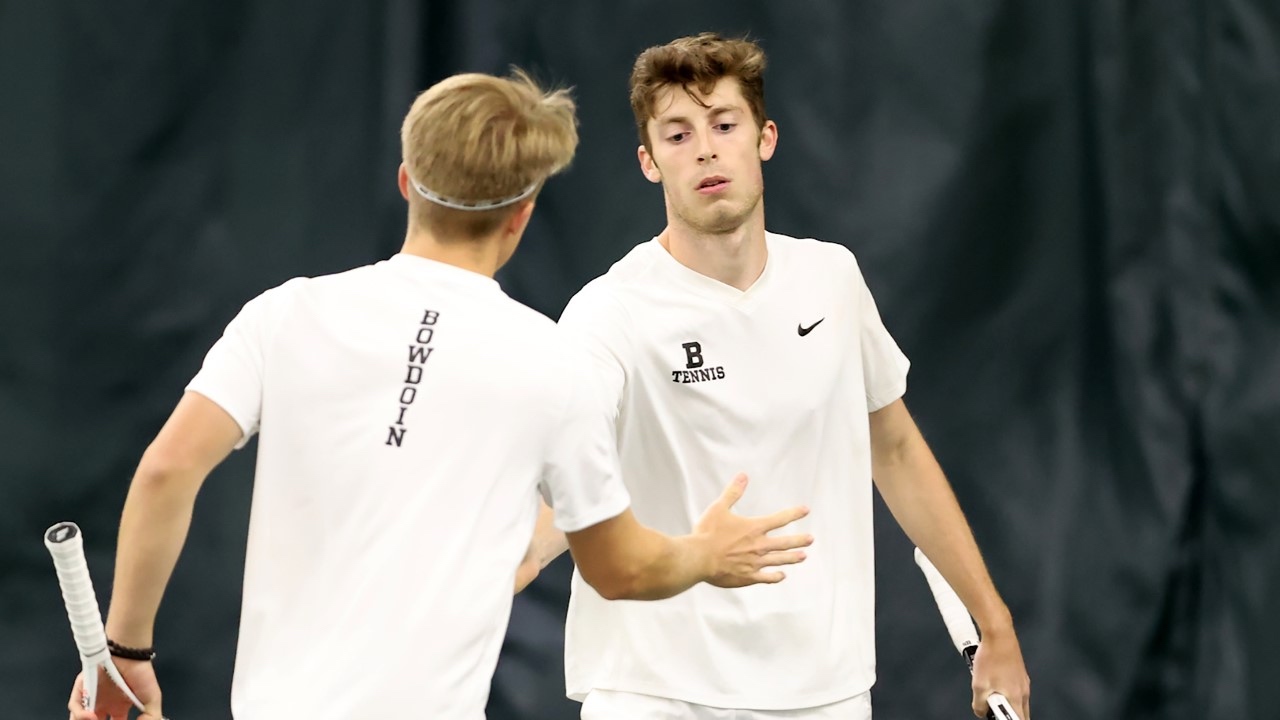 From September 30 to October 2, Bowdoin hosted the Intercollegiate Tennis Association (ITA) New England Regional Championship. Players Reid Staples '24 and Tristan Bradley '23 advanced to the finals and played each other. Bradley was crowned as champion and qualified for the ITA Cup, which is being hosted by Berry College in Rome, Ga. from October 13 to 16. In the doubles championship which consisted of 64 teams, three Bowdoin teams made it to the third round of the tournament.
Bradley was seeded second in the singles tournament, losing only one set in his first four matches to advance to the semifinals round. He persevered through a tough match against Williams College player Matt Kandel to move on to the final round against his own teammate Staples.
Bradley's favorite match of the day was the semifinals match because his fans—tennis alumni, parents, grandparents, aunts and uncles—were there to support him.
"It just had a great atmosphere, especially because I was playing right on the court right next to them," Bradley said.
Staples was seeded eighth in the tournament and, despite a persisting injury, dominated all four matches preceding the semifinals round, where he won against Tufts University player Derin Acaroglu.
Last year, Staples made it to the semifinals round and lost, so this year, he was excited to win a tough match in the semifinals. Staying healthy and recovering from his injury has been Staples' biggest obstacle this season and throughout the tournament.
"Fighting through [my injury] made it kind of more rewarding getting to the finals because I was not 100 percent," Staples said.
In the finals round, Staples made the decision to withdraw after the second set to prioritize his health because his injury had worsened over the weekend.
"We both played three tough sets, and it was kind of brutal on my body, so when I got into the finals, I was imagining this crazy match with my teammate, and it was unfortunately kind of a blowout since I was injured," Staples said.
Bradley added that he and Staples each played a series of close matches against talented competitors to reach the finals. After both making it to the semifinals round last year and losing, they both wanted to reach the finals together.
"The weight had been taken off our shoulders just by being in the finals," Bradley said.
After practicing so much together, and due to Staples' injury, the final matchup was not as thrilling as one might imagine.
"It was a little bit anticlimactic because he was also recovering from a bit of an injury," Bradley said. "It didn't feel like a true match. It's always a little bit awkward playing a match with a teammate because we play so much in practice anyways."
Despite the subdued nature of their last game, both players expressed pride in their performance.
"At the end of the day, if you had told me that there would be two Bowdoin players in the final, I would say, 'That's amazing!' It hasn't happened before, so I'm happy about it," Bradley said.
Looking ahead to the rest of the season, the team hopes to build on not only its successful performance on the court but also the trust and community it has developed among players.
"If you're on the sideline watching your teammates, you build trust, and if you have a sense of trust, you're going to be able to perform your absolute best. It's really nice to have that trust," doubles competitor Geoffrey Golan '25 said.
The Polar Bears will attend the Wesleyan Invitational this weekend, while Bradley and Staples travel to Rome to compete in the ITA Cup.