Community host program holds indoor reception
September 9, 2022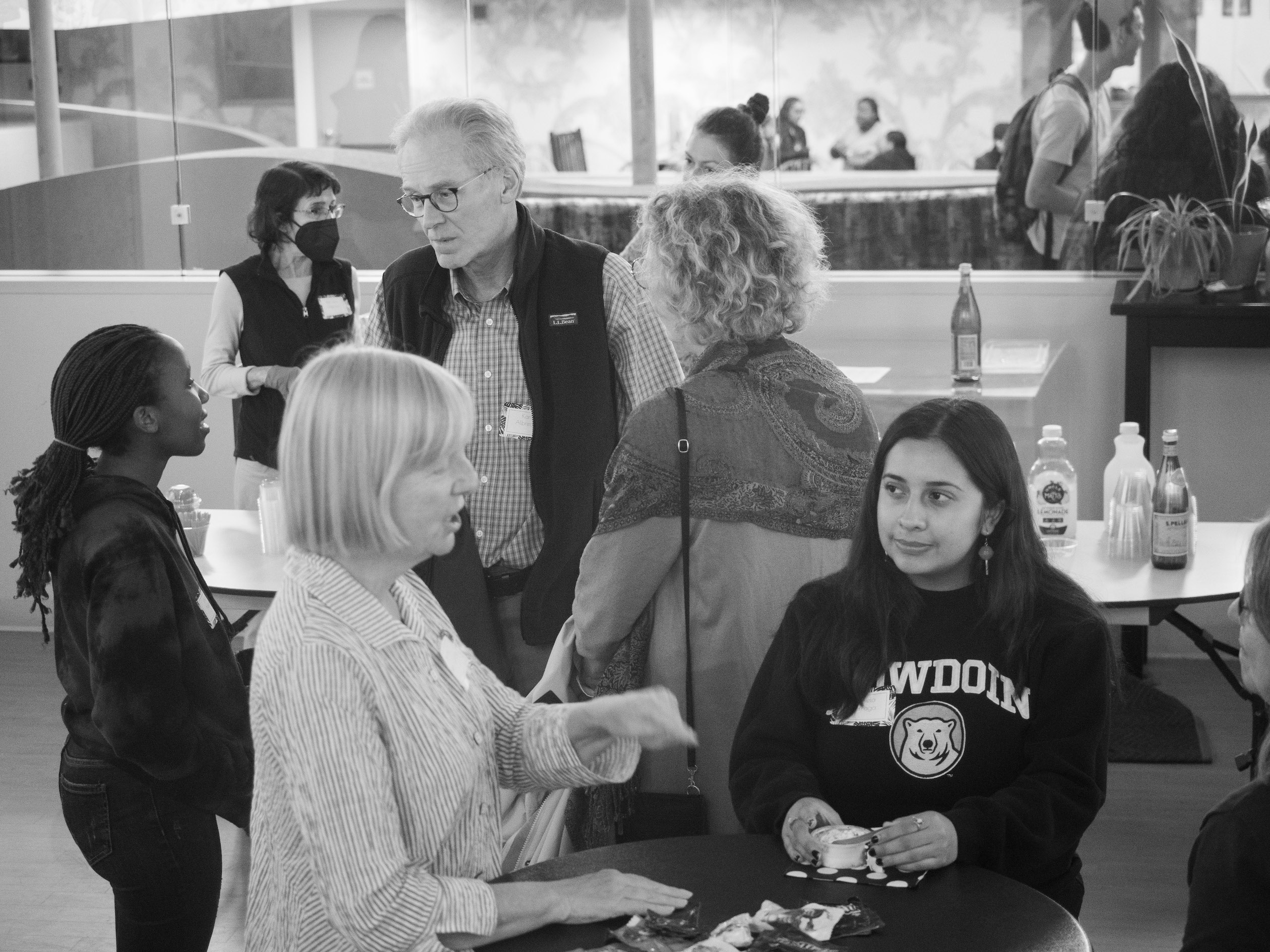 On Monday, the Office of Student Activities hosted an initial meet-up event for first years and their host families who have been matched through the Community Host Program. The event, which took place in the Lamarche Gallery in Smith Union, marks the first time since 2019 that the initial reception for the program has taken place indoors.
The Community Host Program matches first year students with volunteering host families in the Brunswick area to create a home away from home for first years, especially students from outside New England. In recent years, the program has seen some hard times: in the 2020-2021 academic year, the program was put on hold due to the pandemic and first years were not able to be matched to families.
"We couldn't assign [families] because there were no in-person events. So we assigned [families to] them for their sophomore fall, when everyone was back on campus," Senior Associate Director of Student Activities Silvia Lorrain, who  acts as liaison between the College and the program, said.
The initial reception event for the 2021-2022 academic year was held outdoors, in line with the College's Covid-19 policies at the time.
"Last year, we matched the Class of 2025 and the Class of 2024, and we had two separate meet-ups. Those were outside on Coe Quad, and we had refreshments and seltzers. Folks met and went for a walk outside with their students. This was at the time when we were not really allowing anyone in the buildings," Lorrain said.
The initial reception event is one of the highlights of the Host Program's calendar, which also includes dinners and events during Family Weekend. Many involved with the program welcomed the return to near-normalcy and the opportunity to mingle with others over drinks and gelato.
"There's more interaction, [and] there's more people gathered. The energy is nice, it's a different energy," said Beth Ann Nickerson, who chairs the Steering Committee of the program and currently has six host students of her own.
Bob Howe, another host parent, says he appreciated the College for organizing an in-person, College-sponsored initial event.
"I think for the hosts to meet one another is useful, and [it's good] to meet other students," Howe said. "I think that the interaction is great. It's what we really like about the Host Program, and this is kind of doing it on steroids for an hour or so."
The Community Host Program serves as an important part of the college experience for many students who hail from the U.S. outside of New England or abroad.
Having the chance to leave campus and have a home-cooked meal can be important for students, Nickerson explained.
"Being on campus all the time for five, six months and never getting into a home is a real challenge," Nickerson said.
Zoe Buettner '25 agreed with Nickerson when speaking about her host parent, Bunny Andrews.
"I met her at the beginning of last year—my first year fall—and I'll have dinners with her pretty regularly," she said. "It's really nice to have a home-cooked meal; it makes me feel really at home here."
Though numbers of first years requesting hosts hasn't quite reached pre-pandemic levels, the momentum of a return to normalcy seems to be on the Host Program's side, and Lorrain is largely satisfied with how the event went.
"We're back open for visitors to come to campus, and I was really excited that we were able to have that event last week," Lorrain said.
Ari Bersch contributed to this report.