Chamberfest leaves audience impressed
May 12, 2022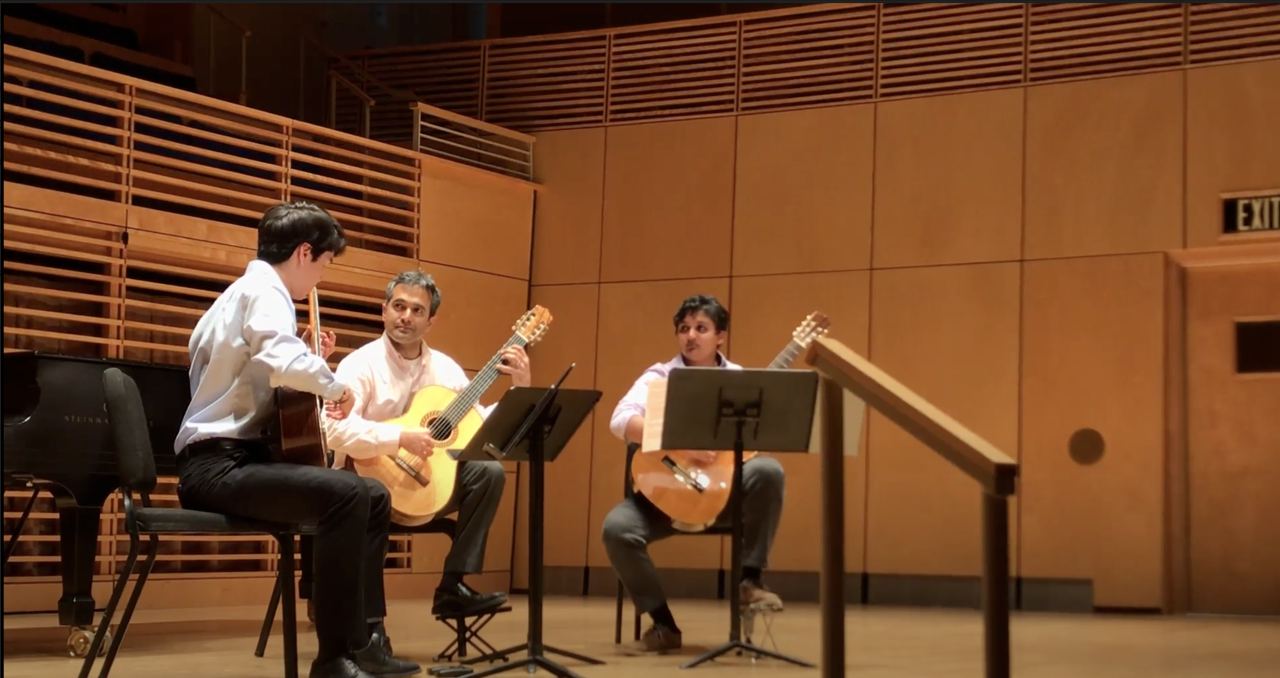 Early on Monday evening the Department of Music held Chamberfest, a performance featuring groups of musicians and soloists that spanned across many different genres, traditions and eras of music. Listeners heard everything from a cello solo to a classical guitar duet to a trombone ensemble in Studzinski Recital Hall.
For many groups and performers, this concert represented finishing what was left unfinished by Covid-19. Kate Ishida '24 and Enzo Zhou '24 performed Navarra for Two Violins, a notoriously challenging Spanish dance piece.
"Originally we just wanted to do it for fun last school year," said Ishida. "But because of Covid-19, there were no performances and we decided to just drop it."
Ishida also performed in a string quartet at Monday's concert, which featured "Karnerdinian'' by Sergei Prokofiev. Ishida attributed the group's skill and cohesion to Kirsten Monke, the quartet's coach.
"She's not super strict, but she doesn't hold back and she gives us a lot of useful feedback," Ishida said.
Ishida remarked that Monke's style reminded her of the teaching she received as a child growing up in Saipan in the Northern Mariana Islands.
"I'm used to very Spartan teaching methods," Ishida said. "When I came to Bowdoin and didn't receive as much criticism as I was used to getting, I felt that I wasn't being taken seriously as a musician. When I started working with [Monke] and the group, I felt like we were being taken seriously as musicians, and I really appreciated that. I definitely feel more motivated to improve under her coaching."
This year also marked the Trombone Choir's first time back since the Covid-19 pandemic initially hit. The one-of-a-kind group has been a part of the campus' music scene since the early 2000s.
"This trombone ensemble has been here for, I think, 15 to 20 years," Gabe Sarno '25 said.
One of the pieces the group performed was the English folk song "Scarborough Fair," a piece that Thomas Daley '22 and Atticus McWhorter '22 had originally planned to play during their sophomore spring when the pandemic interrupted.
Similar to Ishida, Sarno talked about how the trombone choir's respective coach, Anita-Ann Jerosch, has helped the group grow. Jerosch not only coached the ensemble but also performed with them, playing bass trombone.
"[Jerosch is] super talented and she's not just good at playing, but she's really good at breaking down the piece, listening to us and giving us very constructive feedback," Sarno said. "She does it in a way that's really chill, but helpful."
Sarno also talked about the group's excitement at being able to play at a performance like Chamberfest.
"It was really fun. It was rewarding to see the fruits of our labor," Sarno said. "Everyone [in] trombone choir was really, really excited to be playing this stuff."
Ishida was also grateful to perform but expressed some frustration with the low turnout.
"All the students who played that night worked so hard all semester perfecting these pieces, so it was kind of disappointing to see a small turnout," Ishida said.
Ishida suggested that the lack of advertising for the event contributed to the low turnout.
"I understand not everyone is available on a Monday night, especially when it's finals, but I also think it's an issue of advertising," Ishida said. "Nowhere did I see any mention of Chamberfest on the student activities list they email out or on the Bowdoin IG stories. … I hope this changes in the future."