Stuck in February 2020
February 25, 2022
This piece represents the opinion of the author.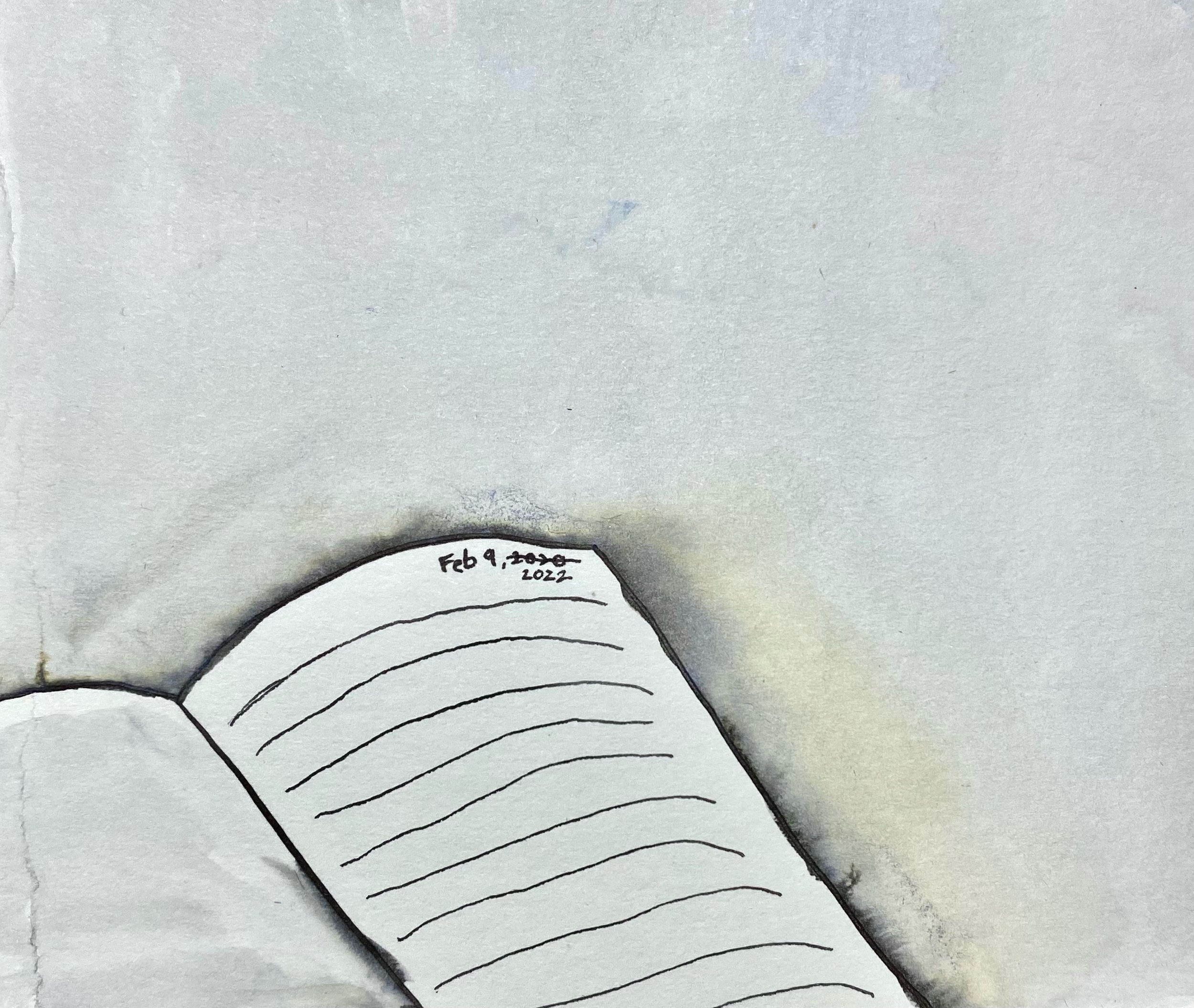 Today I wrote an entire page of notes with the date "February 9, 2020" at the top of my notebook. With 20-or-so minutes left in my class, I realized that it was, in fact, the year 2022 and not 2020. I then fell into an existential crisis about the past two years of my life and why I am subconsciously stuck in February 2020.
Two years ago today, my boyfriend of a few years broke up with me suddenly. While I may have been broken-hearted over the loss of an important relationship, my life was seemingly normal. I was a sophomore living in Baxter. I was on track to graduate on time with the Class of 2022. The threat of Covid-19 was largely unknown. Life was simple; uninterrupted. By the end of February, I thought I was back on track post-breakup. I was content with being single and felt supported by a great group of friends.
February 2020 is sentimental. We were all naive about many of the unexpected troubles life would throw our way. February 2020 marks the last month before life as we knew it ended. I think of February 2020 as the end of my old life—my pre-pandemic life.
In quarantine, I did a lot of the things other people probably did: I taught myself how to cook, read books and spent a disgusting amount of time on TikTok. I reformed my connection with my parents that had weakened in my teenage, "I-hate-my-parents," years. I ran for fun and clarity of mind. Life was scary, but it was simple.
I did a semester of online school in the fall of 2020 and lost my love of learning. I dreaded my classes, and the little social interaction I had made my social anxiety resurge.
I made the decision to take the spring semester of 2021 off to avoid another semester of online classes. I temporarily moved to Boulder, Colorado with a few people I was friends with and some I barely knew. Over the course of five days during my road trip from New Jersey to Colorado, I had to become an independent adult. I worked as a cashier at the Salvation Army. I was living independently, paying for my rent, groceries and everything else. It was one of the most formative periods  in my life, full of anxiety, growth and lots of fun.
Returning to Bowdoin in the fall of 2021 was a shock to the system. I had to revert to being a college student, depending upon my parents and practicing with my teammates. It felt as though all the lessons and experiences I had had in the past year were nothing but a dream, if not a nightmare. I found little-to-no joy in the things that once fueled me. Returning to my pre-pandemic life made no sense to the person I was at that moment. The two were disjointed and I couldn't remedy the fragments of myself that once fit perfectly in place.
2022 was the year I originally intended to graduate from Bowdoin. I find myself wondering, as I am sure many people do, about what my life would look like today had Covid[-19] never happened. Where would I be? Would I have better post-graduate plans (hopefully)? Would I recognize myself? The lessons I have learned and the person I have become over the past two years are markedly different from the girl I was in February 2020. I am grateful for the maturation I have done, but I mourn for the person I once was, when my biggest problem was pretending I was moving on from my ex-boyfriend.
Today, February 9, 2022, against all odds, life seems as though it is returning to normal. States are dropping their mask mandates, and Bowdoin has greatly relaxed its Covid[-19] guidelines. It is the first sunny and relatively warm day in a while. As I love to tell my friends, things are looking up. I am an optimist (maybe to a fault), but it is hard to ignore the signs that keep hitting me in the face.
There are so many lessons to be learned from the past two years, most of them painful and unfair. I understand why I may choose to pretend as though the last two years haven't happened—it's much easier that way. I am writing this as an active way to remind my subconscious of the past two years, and now I have plenty to talk to my counselor about this week.
Fiona Ralph is a member of the Class of 2022.