Bowdoin Labor Alliance demonstrates with union
February 25, 2022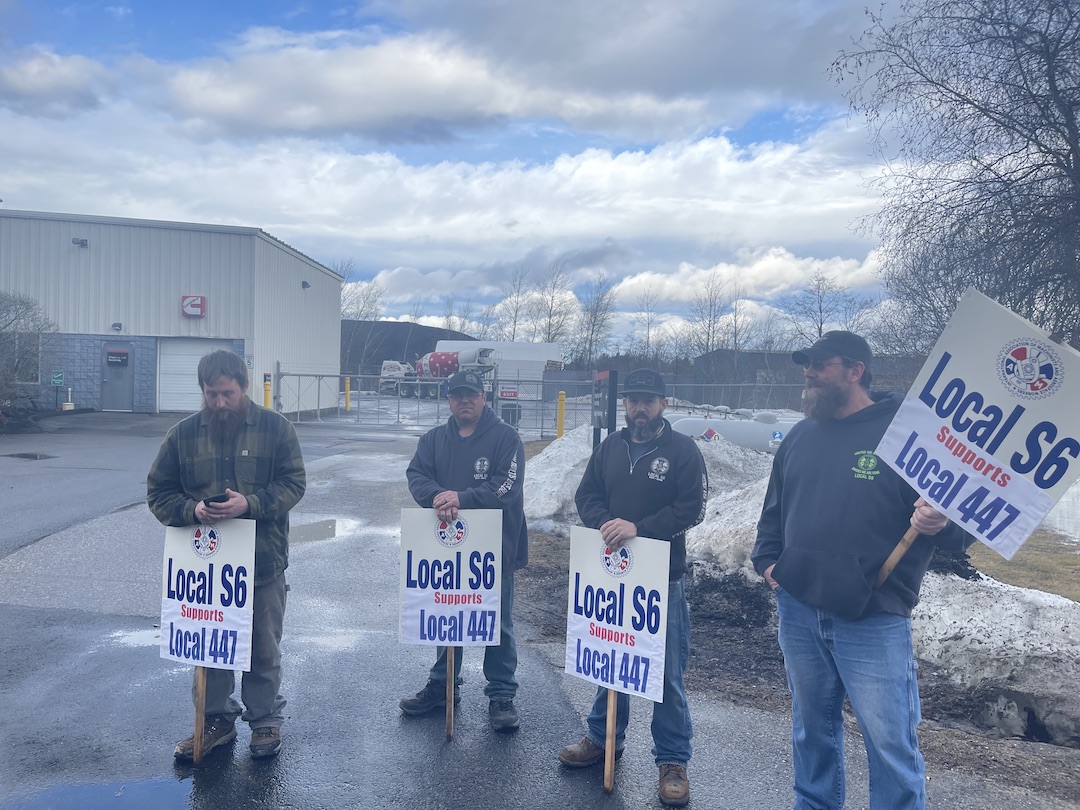 Last Friday, the Bowdoin Labor Alliance (BLA) joined the Machinists and Aerospace Workers Union Local Lodge 447, a union chapter of machinists located in Scarborough, on the picket line. The union, composed of machinists employed by heavy equipment manufacturer Cummins Incorporated, began striking last Monday after contract negotiations between Cummins and the union deteriorated.
The union is fighting for what it sees as a fair contract. For the better part of two decades, machinists at Cummins have been operating with guaranteed wages, where every employee is given a percentage wage increase each year. During recent contractual negotiations, Cummins attempted to renegotiate with the workers and implement merit-based wage increases, which the union views as an unfair labor practice.
"Don't fix something that isn't broke[n]," Thomas Campobasso, the union chapter's shop steward, said.
"[Cummins] is a billion-dollar worldwide corporation," Michael DiCocco, a business representative for the union, said. "This is a union; we're all together. The company can't dictate who gets what [wages]."
The strike in Scarborough is part of a larger labor movement occurring across New England, with other machinists union demonstrations occurring in Dedham, MA and Concord, NH. So far, Cummins has not responded to the union's demands, and the strike has no end in sight.
"We'll strike until [Cummins] comes back to the table and gives us a fair deal," DiCocco said. "We're always willing to talk."
The BLA connected with the union through connections with the AFL-CIO. BLA members hope that their participation in the strike will help draw attention to the union's situation and the broader struggles of blue-collar Mainers. The student group sees their work with the union as a form of impactful community engagement.
"At Bowdoin, we talk so much about reaching across the aisle and this [idea of] community engagement," BLA member Radu Stochita '22 said. "I think this is true community engagement."
The BLA encourages all its students to become involved with the local Maine community.
"We're focused on creating tangible material results for workers on campus and the greater Maine community," BLA member Ahmad Abdulwadood '24 said. "Rather than just rhetoric, we're interested in substance."
Community support for the union has been largely positive. Local residents of Scarborough have provided  food and water, as well as moral support, to show solidarity with the striking machinists.
"Support from the local community has been overwhelming," Campobasso said. "I'm honestly sorry to say that we have a lot of waste because so much has been dropped off. Between food, coffee and sodas, it's been incredible."
In addition to local, individual support, the machinists were also joined by IAM Local S6, a union of ironworkers from the Bath Iron Works. Although the two groups do not work together, Campobasso welcomes the support and believes that each group's commitment to their respective unions creates a strong relationship between the two.
"A union is more or less a brotherhood. You create a bond," Campobasso said. "I mean, [issues are] something you're all fighting for. Everybody wants the same thing."
Though the machinists' commitment to strike is steadfast, union officials hope that they will be able to reach an agreement with Cummins and get back to work soon. With 16 of the shop's 20 employed machinists on the picket line, the union worries about the community in the event of an emergency.
"If a generator goes down, say a life safety [generator system] or Maine Medical Center, it could cause a real issue," Campobasso said. "You know that you've got the people that take care of these generators on strike … we don't wish for anything like that."