Men's basketball: a season in review
February 24, 2022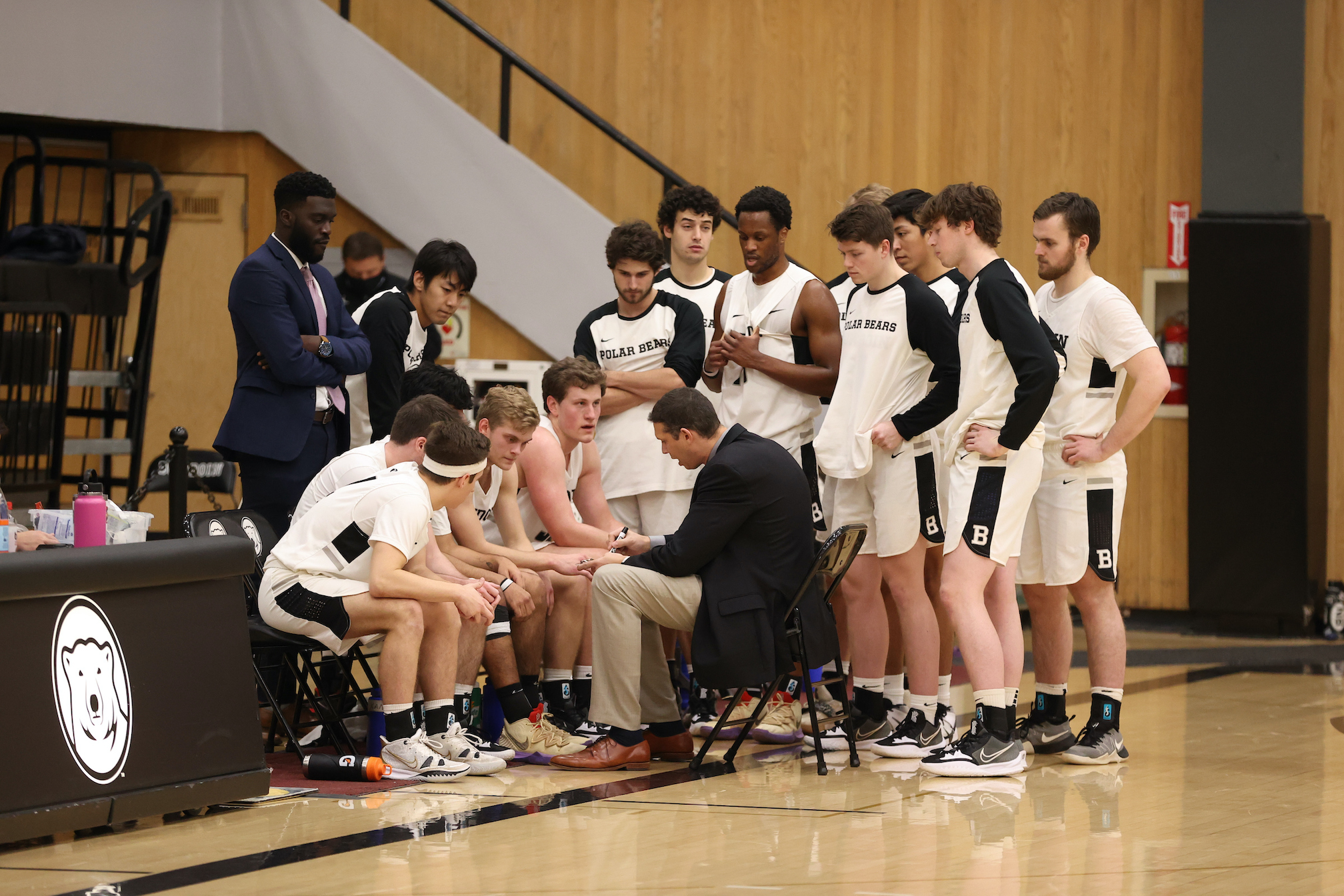 Before Alex Lloyd was named the men's basketball coach last May, Lloyd worked as the lead assistant for the Memphis Grizzlies' G-League affiliate, the Memphis Hustle. While Lloyd is no longer working for the Grizzlies organization, he remains a supporter of his former employer. So, when Grizzlies standout Ja Morant shared his approach to the game, Lloyd felt that his team would benefit from a similar mindset.
"Ja Morant's mantra is 'in the dark,'" Lloyd said. "It's the work that you do in the dark that nobody sees … The hours where it's midnight and you decide to go for a run or watch film. It's these hours that nobody sees."
With Morant's mantra sitting in the heart of the team, Lloyd led the Polar Bears to the program's first NESCAC tournament win in seven years—an accomplishment Lloyd was especially proud of.
"[A standout moment] was our playoff win at [Connecticut College]," Lloyd said. "I thought that our guys really peaked toward the end of the season and to be able to go on the road and win a playoff game, and do it with great defense, was phenomenal."
In addition to the on-court performance in the victory, Lloyd was impressed with his team's approach to the game in the lead-up to tip-off.
"I love how confident our group is," Lloyd said. "That is the first thing you need in order to win in the playoffs. You need to have a group that believes that they can, and then we also have a group that isn't afraid of doing the hard work."
This past season, the men's basketball team finished with a regular-season record of 12-14 (2-8 NESCAC), but Lloyd has continually insisted that his team focus on subjective goals over objective aims. His emphasis on constant improvement served as a season-long goal for the team, and by the end of the year, Lloyd believed that the team had achieved it.
"I thought that our guys approached the year with the mentality of trying to continue to get better and trying to not plateau or pursue some objective goal that's out there," Lloyd said. "Our group's connectivity, communication … trying to improve, focusing on development—those were things we made strides on throughout the year."
With the season wrapped up, Lloyd has shifted all of his focus to the team's offseason training regimen.
"My hope is that guys are in the gym working, lifting, doing speed and playing pickup as we get into April, and that sets them up to have good summers," Lloyd said. "The work that we do from March to October will largely be the work that sets the stage for whatever success we have next season."
Looking back on the season, Lloyd felt like his inaugural Bowdoin team will be one to remember.
"It's special when a group of guys decides they are going to buy into what you're saying and collectively try and make your vision work," Lloyd said.  "Our group's investment in that and care for trying to bring my vision, as a first-time head coach, to life was awesome. I am incredibly appreciative of their work and thoughtfulness and am excited to see what we can build in year two."