Back out there … for the first time in forever
February 11, 2022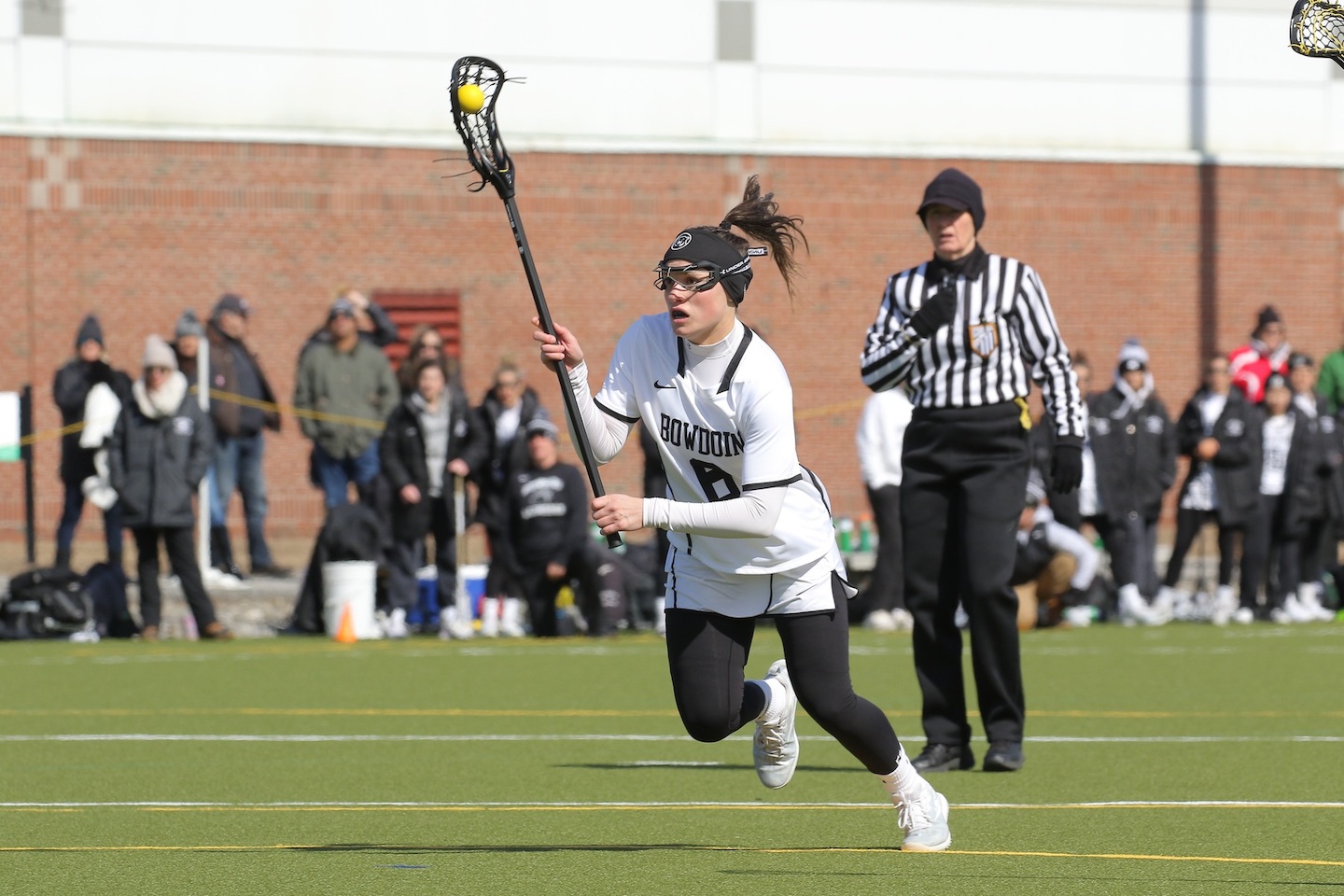 Charlie Pyne '22 is a senior on the men's lacrosse team, but he has only played one season. He wasn't injured, he didn't ride the bench and he didn't take time off. Pyne just belongs to one of the few teams on campus that has not played a game since March 2020.
"I didn't think about playing for two years, and all [of a] sudden we are back, and it is everything all at once," Pyne said. "Usually you have expectations of what the team is going to look like, but I have no expectations of what our team looks like or what other teams will look like [this year]."
After the hiring of new Head Coach Bill Mason, there are essentially no similarities between Pyne's first season and what will now be his last.
Due to the timing of the pandemic and Bowdoin's COVID-19 protocols, some spring teams haven't played a regular season in two years. Baseball and lacrosse teams, for example, are entering the season with a particularly green roster; the majority of players have never experienced college competition.
Some spring teams, like tennis, had a condensed season in the fall of 2021. Other teams, such as softball, were able to compete this past spring, as they had a high number of athletes on campus. However, the lacrosse and baseball teams did not have such luck and have gone the longest without competition.
So, when practices began on February 1, it proved to be a reset for many teams.
"The most amazing part about the first week of practice is that it was literally as if we had not missed the last two seasons," Baseball Head Coach Michael Connolly said.
All other NESAC baseball teams competed last year in some capacity, but the Bowdoin team was unable to, as only three players were on campus in the spring.
"Considering all the disruption we've had, the first day of practice was the exact same as it's been in the 24 years that I've been here—and that is a testament to the players," Connolly said.
While predictions about the season are uncertain, there is one thing Connolly is confident about.
"I've probably never had a team that is so excited to simply play a baseball game," Connolly said.
Mason understands that his player's lack college experience.
"We've got to keep it simple and rely on our athleticism and skills," Mason said. "We are playing checkers right now, not chess. You are probably going to make mistakes. You aren't going to be perfect – what [you are] going to do next is the focus."
The newness of it all is also seen as a chance for the team to lean into its sport with less pressure and more confidence.
"I used to put a lot of pressure on performing," Pyne said. "Our coach has done a really good job pushing us to go out and enjoy ourselves which makes a massive difference."
This year, spring teams were able to practice with coaches in the fall and begin the spring season two weeks earlier, a welcome change for players. The majority of spring-sports-seniors have not played for two years, while younger players on the teams were able to train in a non-competitive environment during their time on campus.
"The older guys were the rustiest, which is not the way it usually is," Pyne said.
"It's definitely weird to be an upperclassman and be one of the senior guys on the team and have no experience playing in the games," Jack Olcott '22 said. "We have some guys who played six games, some guys who played one full season, but pretty much all of our upperclassmen, all the leaders on the team, haven't really played for this program."
Despite seniors having only one full season under their belt, underclassmen have still felt supported by their teammates.
"The seniors and the other upperclassmen have done a great job making us feel at home, always encouraging us, always pushing us," Grant Collins '25 said., "I think the first month of practice, going to the Hamilton series, going to Florida, is really about building the culture back and the identity of this team."
Coach Mason is using the novelty of the season and his position as new head coach to set norms and create a team culture that moves past results and encourages a simple love of the game.
"We haven't played in so long that they just want to be out there, and that's the point of sports. I think if everyone leans on being confident with themselves, that experience will come with time," Mason said.
"And hey, nobody can scout us," Mason said with a laugh.