Women's Journaling Break reboots with new, online format
February 12, 2021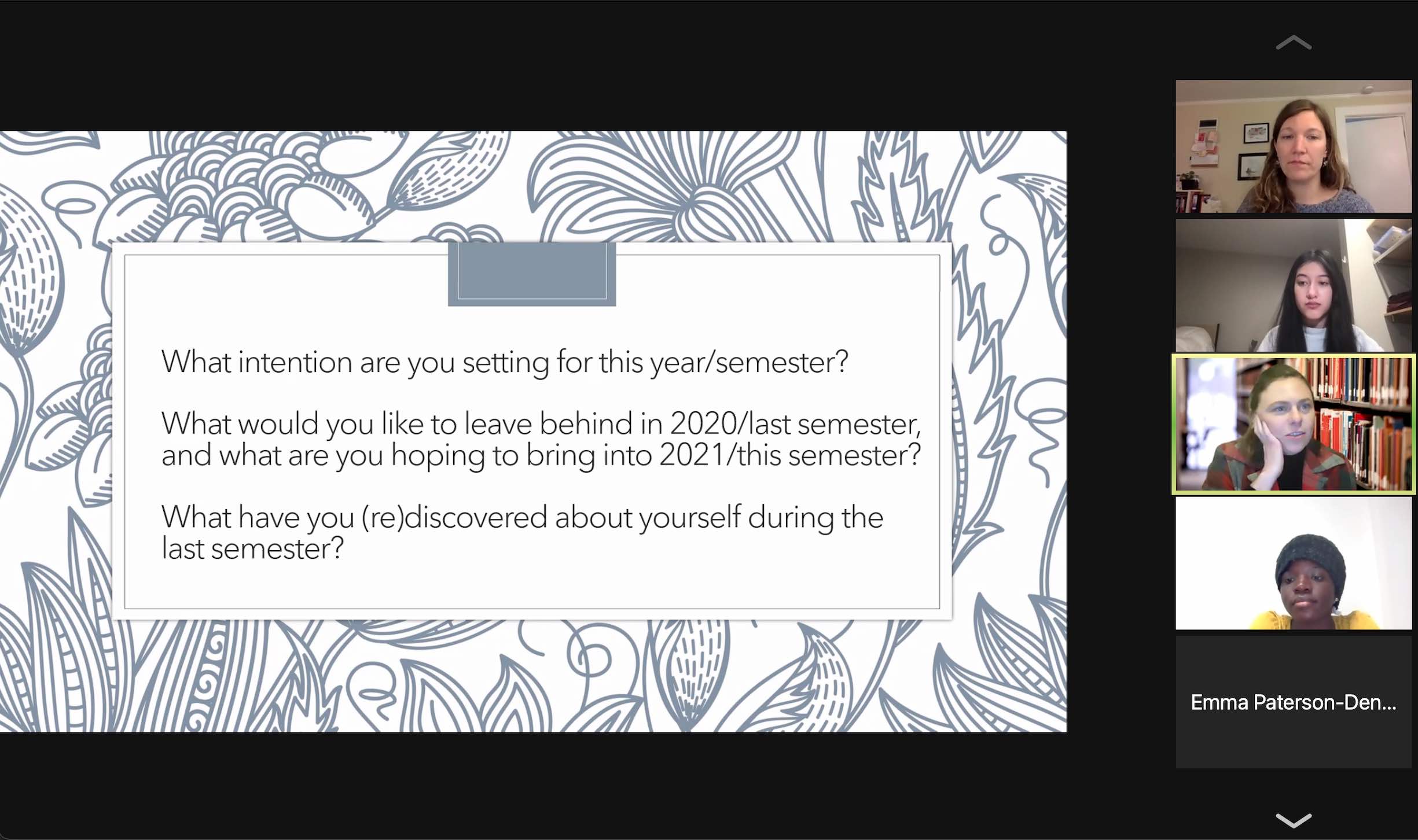 On Wednesday, the Office of Gender Violence Prevention and Education (OGVPE) and the Sexuality, Women and Gender Center (SWAG) held the first Women's Journaling Break of the semester. The group plans to meet every Wednesday evening, from 6 to 7 p.m., via Zoom. The workshop is open to all self-identifying women at Bowdoin, and it gives students the opportunity to respond to journaling prompts and then to reconvene afterwards for a group reflection.
The workshop hosts—Lisa Peterson, director of gender violence education and prevention, and Rachel Reinke, associate director of SWAG—have run Women's Journaling Breaks for the past three years. When campus life moved remote this past March due to the coronavirus (COVID-19) pandemic, Peterson and Reinke tried to adapt the workshop to Instagram Live, but they ultimately found that a livestream format was not the right substitute for in-person meetings.
"I think it was a little bit of a learning curve," Peterson said in a Zoom interview with the Orient. "[Instagram Live] wasn't necessarily meeting folks' needs and didn't really offer the chance to really get to chat with other people and form community."
After taking  a hiatus for the Fall 2020 semester, Peterson and Reinke decided that Spring 2021 was the right time to reboot the workshop and begin holding weekly meetings over Zoom.
"We thought that it would be a good fit for the "Hibearnation" period because students who are not really able to hang out can get to see each other again and have some time for reflection," Reinke said in a Zoom interview with the Orient. "It seemed like a good, natural fit to start it up again."
"We felt like it accomplished a lot, and hopefully in an easy-to-access, fun package," added Peterson.
In this week's session, Peterson and Reinke encouraged students to reflect on the previous semester and calendar year with prompts such as, "What intention are you setting for this year and what would you like to leave behind?" Reinke intends to keep the prompts relevant to students' shared experiences, both as Bowdoin students and as young people living through unprecedented conditions.
"We try to take a close look at what's going on in the world and tap into places where folks might have feelings about things but might not have the opportunity to express them in other places," Reinke said.
Peterson hopes that the prompts will also provide unique opportunities for participants to reflect on their lived experiences as women.
"We try to think about conversations that folks who have been socialized as women don't always get to have," Peterson said. "We're thinking about ways of celebrating people's accomplishments and strengths in a societal context where that can sometimes feel inappropriate for women to do."
Attendees of the Women's Journaling Break have found value in the comfort and camaraderie of the all-women's space.
"I'm going STEM, so many of my classes are male-dominated," Elliot Noorwood '24, who attended Wednesday's workshop, said in a Zoom interview with the Orient. "Anytime I log into a Zoom and there's more female faces than male, I'm so excited."
Peterson and Reinke believe that the opportunity to connect over Zoom for low-pressure, non-academic reflections will be essential during an isolating semester, even for those living on campus.
"I think that the chance to be together, but still be taking a break from the hectic business of the school day, seems really appropriate for the particular moment," Reinke said.
Workshop attendee Thais Carrillo '23 also sees the importance of having journaling breaks and looks forward to having another support system while navigating the uncertainty of the coming year.
"With the pandemic and how we're dealing with it, especially now on campus, I think it'll be a really awesome space and community to be in," Carrillo said in a Zoom interview with the Orient. "Hopefully over time I'll be able to develop relationships with them and talk to them just about how I'm feeling."
Carrillo appreciates Reinke and Peterson's leadership and believes that their roles at the College make them well-suited to host these sessions.
"[Peterson and Reinke] are both amazing people, and of course confidential resources, so I feel like it was the best space to have an event like this," Carrillo said.
Peterson wants the Women's Journaling Break to be a safe space for all Bowdoin women, but she also hopes to connect these installments to her work in the Office of Gender Violence Prevention and Education at large. She is excited for the opportunity to continue growing a creative community for those in need of support.
"Part of my interest in creating opportunities for journaling is also thinking about what opportunities might exist for creating safe spaces for folks who have experienced violence to think about writing as a tool of healing," Peterson said. "There's something really powerful about writing in community that I'd love to think about how to harness."