For men's basketball, time apart means focusing on community
December 4, 2020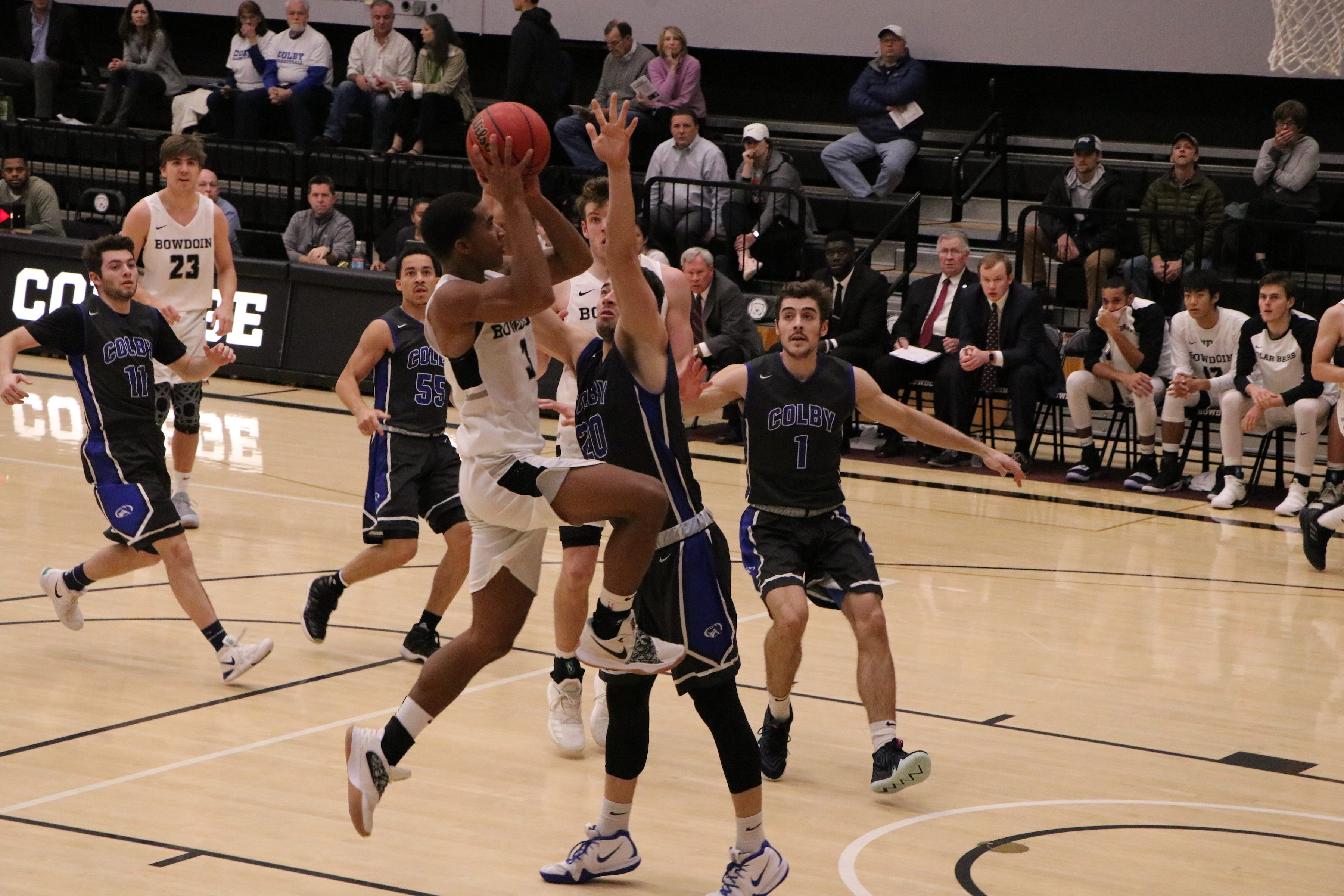 Instead of focusing on the cancellation of their season, the men's basketball team has shifted to cultivating a sense of community between upperclassmen and first-year members. Inspired by the push for anti-racism in athletics, they have been hosting biweekly meetings that are dedicated to discussions on diversity, equity and inclusion.
Seniors on the team have been trying to maintain high spirits and lead by example. Men's basketball co-captain Sam Grad '21 does 100 push-ups and jogs a mile every day, even though he may never play another game for Bowdoin.
"It's kind of hard to hold yourself accountable knowing the next season is a year away, but it's not about getting pumped up and ready," Grad said in a phone interview with the Orient. "It's more about maintaining the culture."
For Grad, this goes beyond setting an example. It also means helping organize biweekly Zoom calls that focus on building community, particularly for first-year students missing out on their inaugural season and accompanying social opportunities.
"It's a chance to actually talk to the other guys on the team," said first-year guard Michael Simonds '24 in a phone interview with the Orient. "We never get a chance to [talk] outside of those meetings so that's really helpful."
The calls are part of an ongoing effort to build up positive energy for a team that is currently separated.
"I feel really horrible for the first years who don't get to connect with upperclassmen teammates in the same way I did," Grad said. "We want to leave the program in a place where the team, especially first years, feel like they are a part of something big and a group of friends they can rely on."
The biweekly discussions have also provided an opportunity for the men's basketball team to develop its Diversity, Equity and Inclusion Action Plan, part of a campus-wide initiative to address incidents of racial bias in athletics.
"It's been really beneficial and interesting to hear people talk about issues of racial bias and try to develop something that would fit our team," Head Coach Tim Gilbride said in a phone interview with the Orient.
While time away from the court has been a strain on the team, the work being done on racial justice is part of a broader theme of cautious optimism expressed by their leadership.
"The situation is really rough, so I do wonder what the experience is like for other teams that aren't as close and aren't as small as our team is," Grad said. "As for us, I'm not really concerned. As far as how well we play, things can change year to year, but I know this group will be ready to go next season."
From a coaching standpoint, a semester with only first years on campus provided a silver lining in helping players grow.
"It's an opportunity for me to really zero in on them and teach them some things that we like to do as a team," Gillbride said. "We spend more time breaking things down the things we do offensively and defensively, even more so than they would have gotten had it been a regular year."
While first years recognize the benefit of building personal relationships, they still feel anxious to return to regular training.
"It definitely helps create the player-coach bond," Simonds said. "You have to be pretty focused because there [are] only five or six guys on the team. But it's a little weird not having an actual practice."