New vigor in athletics brought mixed results in the 1950s
November 13, 2020
Editor's Note 11/16/20 at 7:27 p.m.: This article has been updated to reflect the correct names of Dayton Arena and Garry Merrill, as well as the amount of time that Ed Langbein '57 spent as manager of Bowdoin's football team.  
The 1950s brought a return of vitality to athletics at Bowdoin. During the previous decade, various teams had seen their rosters dwindle as athletes were drafted to serve in World War II, and from 1942 to 1946, the football and hockey seasons were suspended due to lack of players.
In 1950, homecoming weekend would include both football games and a memorial to those who died in the war. In the following decade of peace and prosperity, the school recovered from World War II. Through opening Dayton Arena, onboarding new coaches and running fraternity intramurals, Bowdoin athletics once again became a key element of Bowdoin College.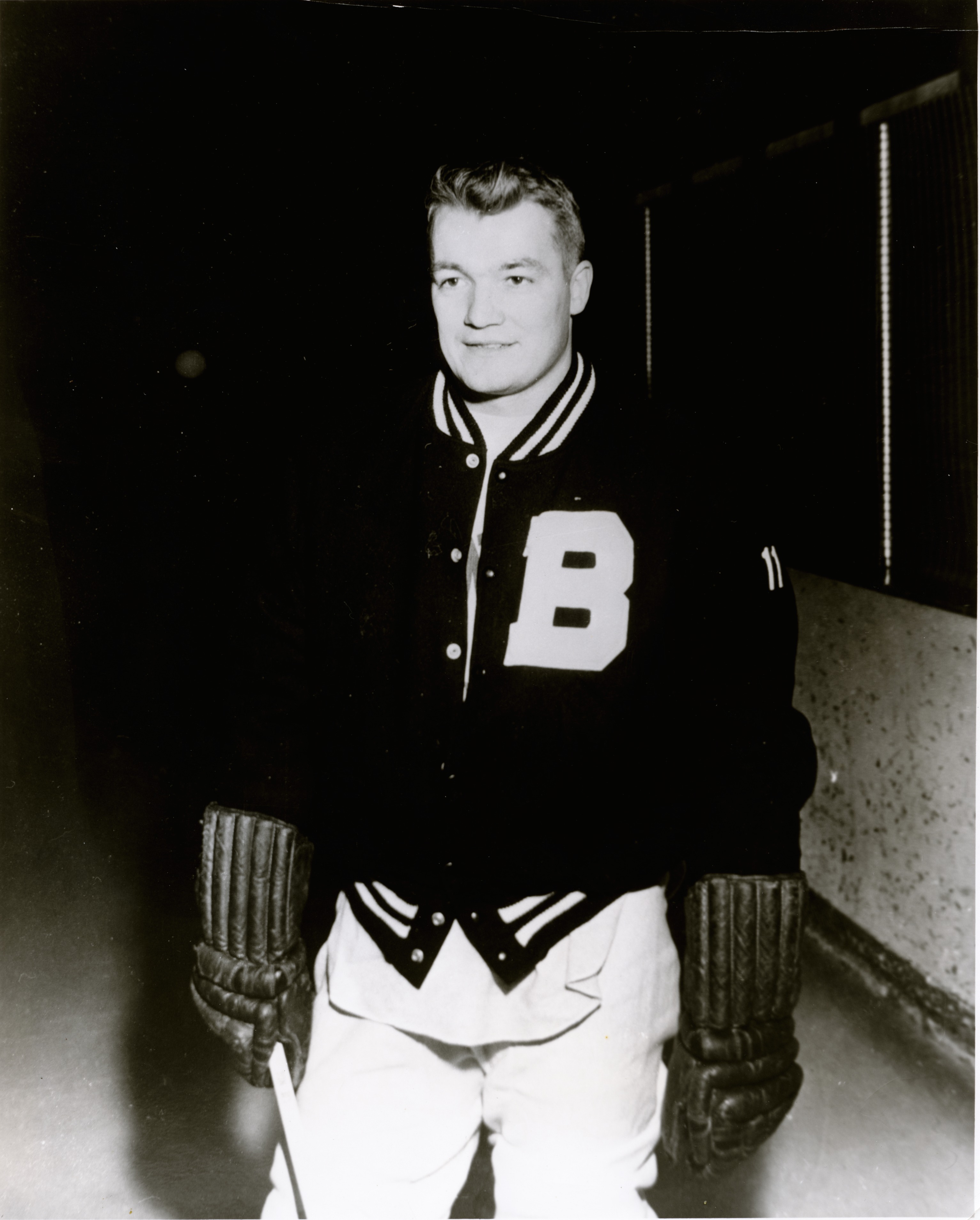 Unlike today, it was not uncommon for Bowdoin athletes in the 1950s to play multiple sports.
Ted Gibbons '56 played football and lacrosse, ran track, played baseball for a year and tried basketball for a week. While he did not play hockey, he remembers how much changed when the Watson Arena ice rink was built in the spring of his junior year.
"Prior to that, the freshmen, they had to go out on a cold night and spray water on the hockey rink," Gibbons said in a phone interview with the Orient.
The construction took place after lots of student support and a fundraising drive from the student council for the indoor artificial ice rink, according to the April 30, 1955 issue of the Orient.
The rink opened with an ice skating exhibition that had the audience nearly, "banged down the rink applauding," the Nov. 13, 1956 copy of the Orient read.
Ed Langbein '57, a manager of the football team for his four years, remembers that, after the construction of Watson Arena, there was a large turnover in the coaching staff as a result of lobbying from Bowdoin athletes.
"A couple of [the students] met with the athletic committee of the governing board and told it there [needed to be] some dramatic shuffling," Langbein said in a phone interview with the Orient. "There was a beautiful new ice facility, beautiful field at Whittier, and you just didn't have the coaching to go with that type of investment in the facilities."
Despite this new vigor in Bowdoin athletics, Langbein says that the wins for Bowdoin football were few and far between. Two back-to-back issues of the Orient from the fall of 1956 had the headlines "Trinity Tromps Bowdoin 40-13" and "Amherst Smashes Bowdoin 39-12," followed weeks later by "Bowdoin Faces Winless Season."
While this football record might sound familiar to current Bowdoin students, the Bowdoin football games of the 1950s often had two movie stars in attendance. According to Langbein, celebrity couple Bette Davis and Gary Merrill, most famous for co-starring in the film "All About Eve," would frequently be in the crowd, as they lived in Portland at the time.
"[Davis and Merrill] would regularly come to football games. Maybe they were somewhat disconcerted with the performance," Langbein said. "But they usually dressed appropriately [in] stocking caps and raccoon coats. And they carried a suitcase filled with baby bottles loaded with gin … because it was cold."
Attending sports games was central to social life at Bowdoin 70 years ago. With classes six days a week and cars only allowed on campus for those not on financial assistance, games were one of the only sources of regular entertainment. For the all-male student population at Bowdoin at the time, sporting events provided an opportunity to invite over female company from another school, such as the nearby co-ed Colby or Bates Colleges.
However, Langbein recalls that, since very few people had personal cars, getting their dates from their respective campuses to Bowdoin football games took some creative thinking.
"The vehicle of choice was a hearse, because you could get a lot of people in them, and they were generally well-maintained and had low-mileage, so people would chip in … Volkswagens just didn't make it," Langbein said.
In addition to bringing excitement to life at Bowdoin, sports games also provided the opportunity for athletes of different sports to show up for each other on campus and strengthen their community.
"I think we all supported each other," Gibbons said. "We were 700 guys, [so] you went to a lot of games."
Like Gibbons, many of Bowdoin's Hall of Honor athletes from the 1950s played multiple sports. Inducted into the College Hall of Honor in 2005, Elford Stover, Jr. '58 was a star in basketball, baseball and football, going all-state in all three sports and serving as a captain for basketball and baseball teams.
In a football game his sophomore year against Bates, his four interceptions are still what the Hall of Honor calls the, "greatest single-game performance by a pass defender in Bowdoin history."
Another outstanding multi-sport athlete of the decade was Frederick G. Flemming '53. Considered to be one of the greatest all-around student athletes in Bowdoin's history, Flemming excelled in football, track, basketball and most notably baseball. After leading the Polar Bears to the all-state championship for three years in a row, Flemming signed on with the Detroit Tigers after graduation and played in the national minor league for three years.