With new health guidelines, intramural badminton thrives
November 13, 2020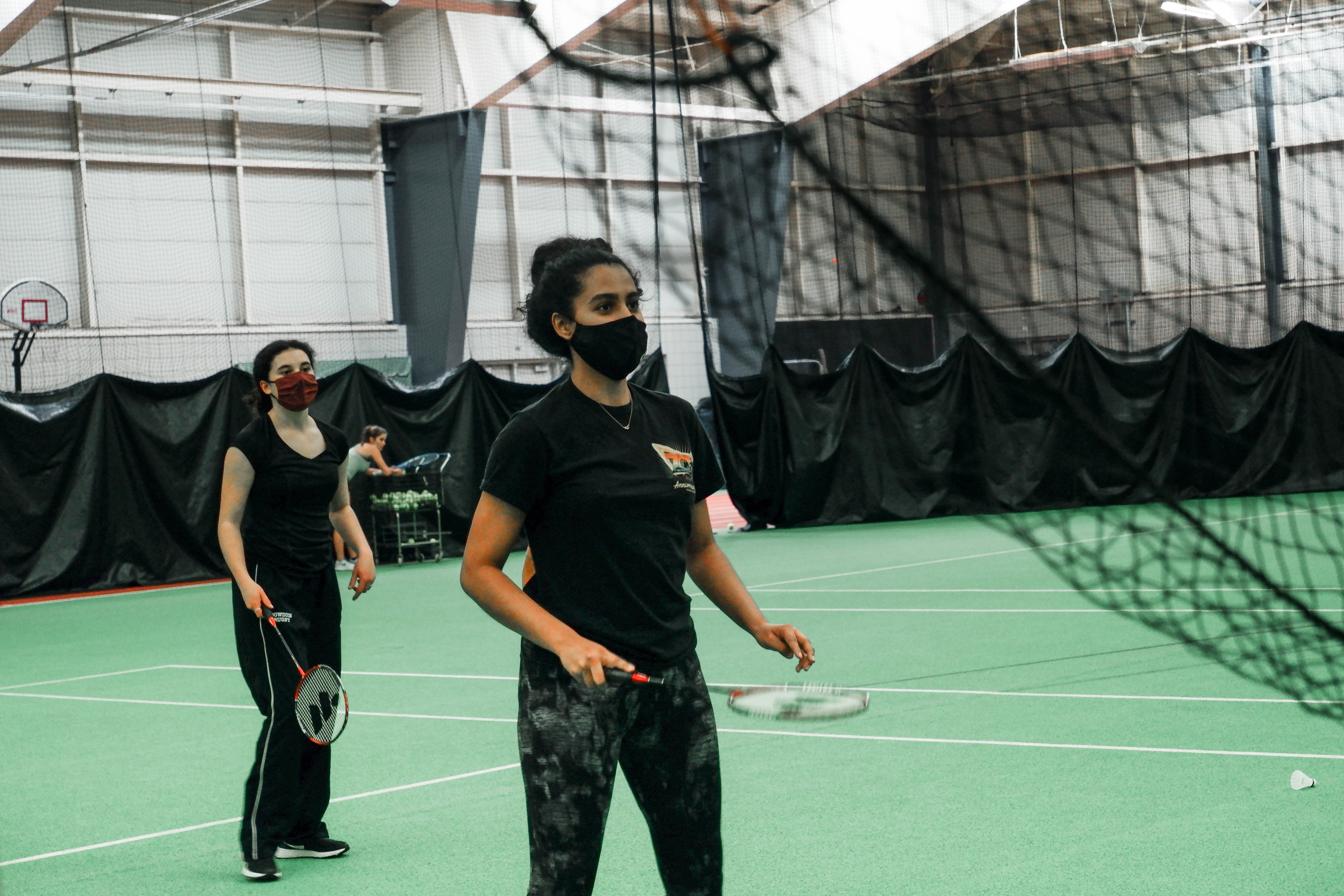 Intramural badminton has adapted to the College's health guidelines without losing its spirit of competition or its fun atmosphere.
"I thought [badminton] was a good way to get out of my room, especially because it's different with COVID this year," Ben Heinrich '23 said in a FaceTime interview with the Orient. "So it's fun to do something and move even for a little bit and go to Farley [Field House] and play."
This fall, badminton is the only intramural from last fall that could accommodate new health and safety restrictions caused by the novel coronavirus (COVID-19). Director of intramurals and softball head coach Ryan Sullivan notes that holding badminton this year is only possible because it is a less strenuous activity, so mask wearing is not difficult and fewer respiratory water droplets are produced by players.
"Badminton isn't extremely strenuous as far as the respiratory part of it, whereas intramural basketball, for example, would be far more difficult with mask wearing," Sullivan said in a Microsoft Teams interview with the Orient. "It allowed us to tread into an intramural program in a sport that would allow us to have students participate while wearing masks."
Because of social distancing, badminton this year is held in Farley Field House so that two games can be played at once, and more equipment was purchased to make sure no one had to share racquets or birdies.
"As soon as a racket is used, we put them in a separate pile, so we have, for lack of a better term, fresh rackets that have not been used or touched, and used rackets," Sullivan said. "Between sessions, they will end up in one of the locker rooms in Watson Arena where we use a halo ozone process [to clean the equipment] every evening."
The fall badminton season will be shorter than in previous years, with only five matches allotted per team. Fifteen teams have signed up.
Heinrich, a member of one of the teams, had played intramural badminton at Bowdoin in the past and was surprised by the number of teams that signed up.
"There are a lot of teams that signed up this year [for badminton]," Heinrich said. "And last year there were tons of no shows, just because people were busy all the time and there would always be conflicts. I think there's less conflicts this year, and even though it's mostly just the first years, I think it's still pretty popular. There's a lot of teams that signed up and they're always all there."
Others, including Howard Wu '22, who has also played in the past, were also excited to have badminton available again this year.
"I started playing badminton when I was in grade three and then I played until grade five, and then I stopped playing it, because there are very few people who play badminton, especially in America," Wu said in a Zoom interview with the Orient. "So, after I saw there was intramural badminton [at Bowdoin], I played some with my friends, but it's not competitive at all. It's very chill and it sparks my memory back to the good memories from elementary school."
Wu has noticed that other students are also excited to play.
"I can definitely see that there are a lot of passionate first years who want to play badminton," Wu said. "[They're] either seeing it as a social event to meet other people during the pandemic or just to exercise."
With all the change that athletics has endured over the past few months, students are excited to have some resemblance of normalcy. For Sullivan, intramural badminton can succeed as long as everyone is safe and having fun.
"We're not trying to make the next Olympic Games here," Sullivan said. "So let's just have some fun."