Community responds to death of George Floyd
June 9, 2020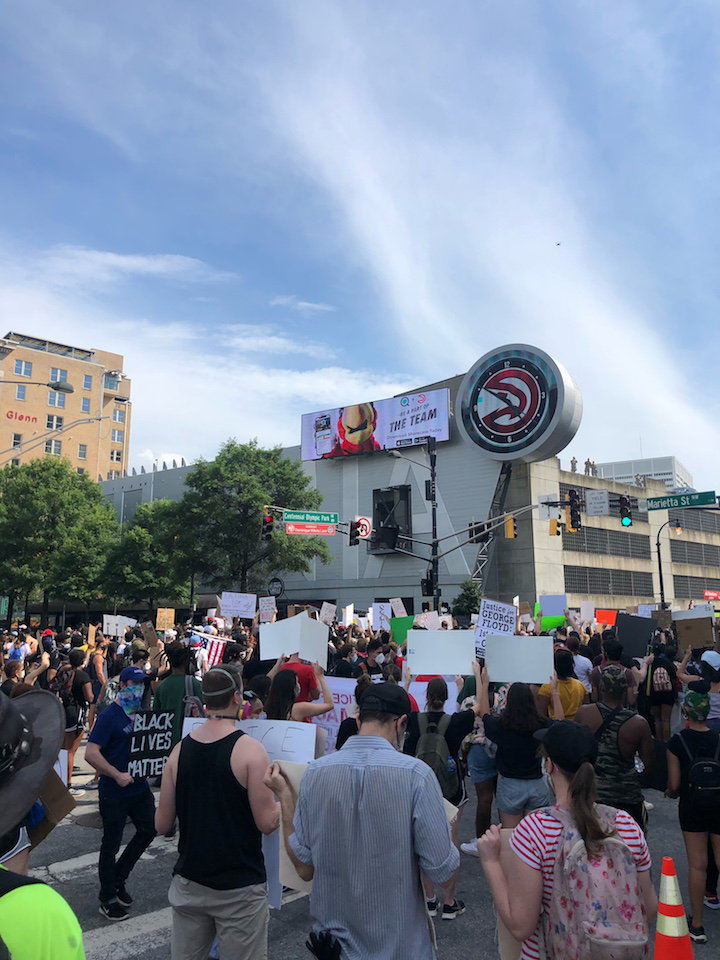 As Minneapolis erupted into protest in response to George Floyd's killing in police custody, communities across the nation followed suit, with large-scale anti-racist demonstrations occurring in more than 75 cities. As Bowdoin students watched the protests unfold on their screens and in their streets, with some choosing to join in, sign petitions, make donations and spread awareness on social media, the College formulated its own response. President Clayton Rose sent two emails to the campus community—a set of initial comments on Friday, May 29, and a follow-up on Tuesday, June 2.
"I have been sitting here at my desk staring at the blank page on my screen for quite a while. I am thinking about George Floyd," President Rose's first email began. "We mourn those who have died, we grieve for their families, and we join together with those who protest peacefully, who seek answers, and who want change. We thank the many police officers who strive every day to do the right thing and keep us safe, and we require accountability for the small handful who abuse their power and stain the work of their colleagues. And we condemn the violence in the name of those who died."
Students turned to social media platforms, such as Twitter and Instagram, to criticize Rose's email, which many saw as too conciliatory and as failing to address the roots of police brutality, specifically systemic racism.
"It was very disheartening … It didn't make me feel confident in my college, the place that I decided to call home," Thando Khumalo '23 said in a phone call with the Orient. "I don't know why he thought it would be productive to mention that there are good cops. I know there are good cops—I've seen good cops, I've interacted with good cops—but it's obvious that policing in this country needs reform. I don't think it's very productive to be like 'there are good cops.' That's not the focus right now."
Outspoken students also took issue with Rose thanking certain police officers without explicitly voicing support for the Black Lives Matter movement.
"Mentioning gratitude for police officers in a time when they have been seen mercilessly taking the lives of Black people around our nation was honestly insensitive and was not what I needed to hear after the passing of so many Black lives," Mason Freeman '22 said in a phone call with the Orient. "What would have been more comforting is a 'Black Lives Matter' and a clear zero-tolerance policy for racism or hate of any kind on Bowdoin's campus."
Some campus organizations quickly began crafting statements in response to Rose's email. Bowdoin Democrats, the first student group to respond, issued a statement to their members less than ten hours after Rose sent his first email.
"We are deeply troubled by President Clayton Rose's statement to the Bowdoin community regarding the deaths of George Floyd and Breonna Taylor," wrote Bowdoin Democrats in an email to their members. "President Rose's choice to thank officers for their work without critiquing the American police force as an institution suggests that he is naïve to the racism in this country and the way policing systematically perpetuates it. To be frank, President Rose's response is irresponsible and dumbs down the debate around police brutality."
The email sent by the Bowdoin Democrats also called for specific reforms, such as asking Rose "to limit ties with the Brunswick Police Department (BPD)."Further, it encouraged club members to donate to fundraisers such as the GoFundMe in support of Ahmaud Arbery's mother, Reclaim the Block and Black Visions Collective. They also suggested that members engage their family and friends in discussions about anti-racism.
Rose sent a follow-up email on June 2 in which he took a stronger stance against police brutality and anti-Blackness. In the second email, Rose acknowledged that George Floyd was murdered, and he stated that Black lives matter. He also encouraged the student body to get involved—whether through protests, donations or education—and he announced the creation of a page on the College's website that would hold access to a multitude of resources regarding structural racism in the United States.
Some students thought the second email was not an authentic follow-up.
"I didn't want to set myself up for disappointment so I did not really read it. The parts I skimmed made me laugh because it wasn't sincere, but an attempt at appeasing backlash," Johari Joseph '21 wrote in an email to the Orient.
Other student groups such as the Athletes of Color Coalition, the Bowdoin Labor Alliance, Sunrise, Bowdoin Republicans, Bowdoin Womens' Basketball, and Bowdoin Reproductive Justice Coalition published statements condemning Floyd's killing and supporting Black Lives Matter, which were focused more on events and movements beyond the Bowdoin community. Only some student organizations mentioned Rose's email.
Students and the College work towards change
As students grappled with their disappointment from Rose's email, many began looking for ways to call for or create real change.
Sunrise also sought to engage its members and created a document filled with links to petitions, places to donate, emails to send and recommendations on books to read regarding race.
The Athletes of Color Coalition held a Zoom call on the evening of May 31, which gave members a space to mourn together and to discuss tactics for addressing racism on campus. One issue raised was the difference in attention that discussions of anti-hazing and anti-racism receive.
"I feel that racism is a bigger issue in teams, more so than hazing," Khumalo said. "I'm speaking from my own experience, but hazing was not something I was ever fearful of. It was experiencing microaggressions, prejudice; that's what people are more scared of. It's obvious that it's something that pushes people off teams."
The Black Student Union (BSU) shared resources on how to stay safe during protests and implored their members to focus on self-care during this time.
"The BSU is worried about our members. A response will come, but right now our focus is on finding ways to best support our membership. We have signed onto a letter in response to Clayton's first email with several other groups," wrote Joseph.
Within social groups, some students have been having conversations regarding race with friends and peers who may not have had these discussions before.
"As Bowdoin is a predominately white institution, I have seen a lot of people who have never spoken up on this issue before speak out, so that is one thing that I have found moving right now. I have been having a lot of hard and uncomfortable dialogue with people that I would have before, and that just shows how this is not about race anymore, but it's about humanity against racism," said Audree Grand Pierre '21.
Freeman processed the recent events through poetry. He wrote "I can't breathe," a response to George Floyd's murder, almost immediately after news broke of Floyd's death.
"I don't want to have to write these pieces. I remember after Ahmaud Arbery died, I wrote 'The Faceless Man,' and I remember just tearing up writing that and really it being tough for me to write," Freeman said. "And then I wake up another day and I see the George Floyd video, and I'm just like, 'wow, so I really have to go back to my notebook and address this again.' I'm feeling so many different things. That's the reason I titled the poem 'I can't breathe.' Not only out of respect for George Floyd, but as an explanation for how I feel about the entire situation. I'm breathless about the entire situation."
Outside of their extracurricular groups, students mourned and found ways to get involved in the Black Lives Matter movement. Some are not able to attend protests due to risks associated with the coronavirus (COVID-19) but are turning to other avenues for engagement.
"I've not been actively protesting, but I've been trying to donate to different groups—mostly for food—and then also for community groups that are larger than just this particular event, like the Black Vision[s] Collective and the Minnesota Freedom Fund," Anna Leitner '23 said in a phone call with the Orient.
Grand Pierre lives in the suburbs of Atlanta—a city transformed by the decision of Georgia's governor to call in the National Guard and by an increased presence of tanks and police—and has attended two protests. According to Grand Pierre, the tenor of demonstrations can vastly change from day to day.
"The first day [I went] was hostile. We were still protesting but everyone was on edge. I only stayed for an hour that day, and right after I left, that's when things started to escalate and people ended up getting arrested and there was tear gas," she said.
"Interestingly, I decided to go back two days later, on Wednesday, and the vibe was completely different. People were protesting, but having a dialogue with the police. We did a four mile walk around the city and we had a police escort," she added.
Director of the Student Center for Multicultural Life Benjamin Harris has been collaborating with Senior Vice President for Inclusion and Diversity Michael Reed and Director of Title IX and Compliance Benje Douglas to support students of color during this time. Harris invited self-identified students of color to a Zoom call on June 3 to process and express their feelings in a safe space and has also hosted a conversation with the Black Men's Forum.
"Students from all over the country were on that call, and being able to be in [a] community with each other and support each other, I think that was good," Harris said in a phone call with the Orient. "Being remote, of course, is a challenge because we're not close [to] each other, we're not in the [same] space … but I think people find a way to stay connected."
Director of Religious and Spiritual Life Eduardo Pazos and Reed also planned a Black Lives Matter vigil to be held on the Walker Art Building's steps on June 3 for those still on or around campus, but the event was cancelled before it began.
Additionally, Janet Lohmann, dean of student affairs, and Reed will host an anti-racism student forum for white-identifying students today.
Some students approve of the College's efforts to support and engage the community.
In an email to the community on Saturday, June 6, Vice President for Inclusion and Diversity Michael Reed announced the launch of a "matching gift program inspired by a student request." Until June 16 the Office of the President and the Office of Inclusion and Diversity will match donations up to $250 to Black Lives Matter, the NAACP, Maine Community Foundation's Racial Equity Program, Maine Inside Out, Maine Youth Justice and The For Us, By Us Fund—Building Capacity for PoC in Maine.
"I think the administration is trying as hard as they can to be supportive and doing a lot of things and facilitating a lot of dialogue," said Grand Pierre. "Collectively, I think Bowdoin has been trying to talk about this and be proactive about the situation."
As students continued to speak out about racism both at Bowdoin and across America, some voiced concerns regarding performative activism. While many students posted online in solidarity with Black Lives Matter, these actions on social media did not always cross over into real life. Khumalo emphasized that the best way to be an ally is to act in real life.
"I'm really worried that some of this activism might be performative and that some people are just piggybacking right now so they seem 'woke,'" Khumalo said. "The best thing that any person can do is to be an ally. When you see an assault on a Black life, on a Black body, when you hear an assault, use your voice. Use your body. You say something. Step in and say, 'this isn't okay.'"
Although many see solidarity statements as a first step, several students also  feel that Bowdoin, both as an institution and as a community, must do more to address issues of race.
"Sometimes, I just want to go on the quad and put my Black power fist up, and not have anyone look at me weird," Freeman said."I need us to be more vocal about Black issues."