Men's hockey returns to NESCAC quarterfinals
February 28, 2020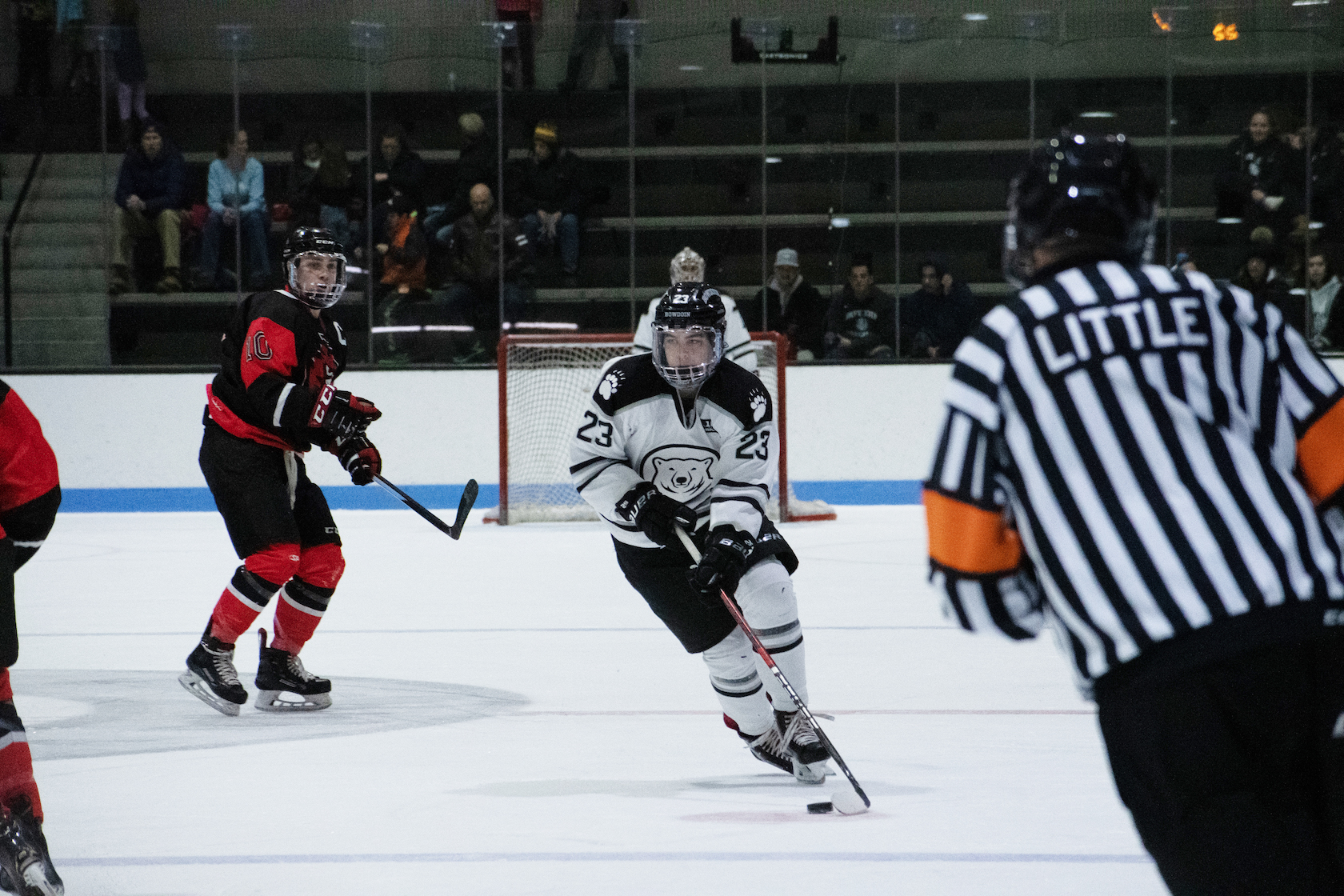 After missing out on the NESCAC playoffs for the last two years, the men's hockey team has bucked the recent trend and earned a qualifying spot for this year's tournament. The third-seeded Polar Bears will be traveling to upstate New York on Saturday, where they will take the ice against sixth-seeded Hamilton.
"It is a tremendous accomplishment; [it's] such a challenging league. The team is very excited and certainly not taking it for granted," said Head Coach Jamie Dumont in a phone interview with the Orient. "Come gameday, our mindset is to continue to play defense and continue to play complete 60-minute hockey."
For the team's senior players this year, this will be the first playoff game since their first year.
"We're super excited. The last two years, we haven't been in [the playoffs], so it's kind of come full circle because we went up to Hamilton my [first] year, and now we have another chance to do some damage there," said captain Pat Geary '20. "But any time you get into [the] playoffs, it's like a whole new season. It's a fresh start for us, and just getting there … was a super big accomplishment."
For everyone else on the team, a stab at the postseason brings anticipation and excitement.
"At least for the [seniors], they made it their [first] year. This is everyone else's first time being [in the] playoffs, and I think everyone's just got kind of a new sense of urgency, being excited," said Bradley Ingersoll '21. "We've beaten Hamilton once already this year, so we definitely want to do it again."
To prepare, the team has been sharpening the work it has already put in this season.
"I think we're just trying to reinforce everything we've been doing over the past month or so … keeping the confidence up, just trying to keep that going and not get too stressed about the game," said Geary.
The team attributes its success this season to various factors, ranging from young players contributing to the game to adopting a new formation.
"I don't know if there was a magic potion that we drank and all of a sudden got into the playoffs this year [or something]," said Geary. "We have a really strong [first year] class that's been tremendous for us offensively and defensively. We also got a new assistant coach, Stan Moore, who's been a great asset to the team. Fresh blood in the program is always good. We also changed our structure, which is a big thing."
Typical hockey strategy includes three forwards and two defensemen. For the past two years, the Polar Bears have been playing with three defensemen and two forwards, called the "three back" structure. This system was used by the team when Terry Meagher was head coach, from 1983 to 2016. But earlier this year, the team ultimately decided to go back to the standard formation of three forwards.
"I think it kind of gave us some new life. People were excited about it, and it worked out for us," said Ingersoll. "We were all in favor of it, and [our coach] was too."
Apart from adopting a new structure of play, the team attributes its success to great leaders and its culture over the years.
"The seniors have been great leaders on and off the ice," said Dumont. "[Captains] Ronnie [Lestan '20] and [Geary] have been unbelievable leaders, [and I] have seen a good contribution from all four class years."
While senior leadership has been key to the team's success, contributions across all class years have propelled the team to a playoff spot. None of the team's top four point scorers are seniors, and the seven-man first-year class has already made a sizable impact.
"It's a good culture," said Ingersoll. "There's not much divide between the younger guys and older guys. It's just one team, everyone's close on and off the ice. I think that's been a huge part of our success, and [we] want to keep that going as seniors next year."
As for long-term goals, the team hopes to continue to make the playoffs every year and one day win the NESCAC title for the first time since 2013-14.
"I think our goal every year is to win the NESCAC championship. The last couple of years, our focus has been to make the playoffs since we haven't done it [in a while]. But I think building off this year … I expect us to make playoffs next year and hopefully win the NESCAC championship," said Ingersoll.
The Polar Bears face Hamilton on Saturday at 4 p.m. The game will be live streamed on the NESCAC website.
"If you're not doing anything Saturday, definitely tune in, because it's going to be a good game," said Geary.