Women's hockey enters new season with fresh state of mind
November 15, 2019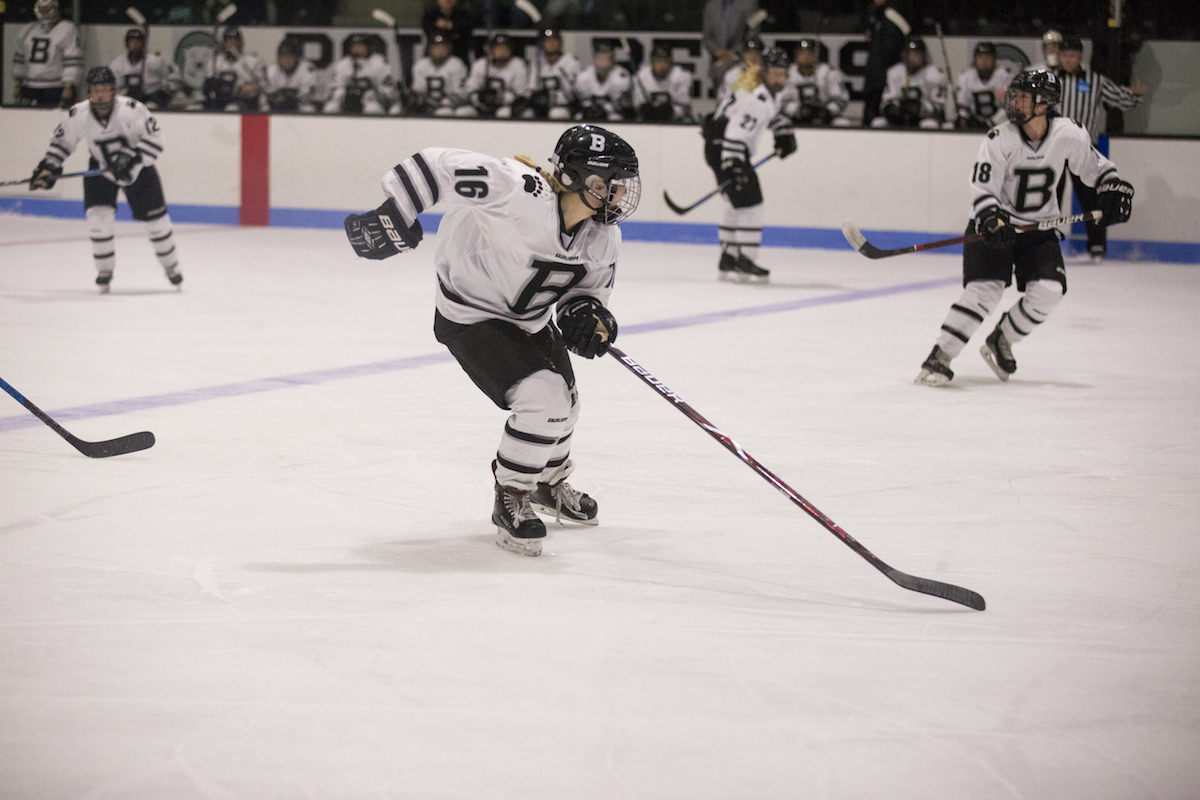 Last year, the women's ice hockey team had a disappointing season, finishing with a record of 3-19-2 (NESCAC 2-13-1) and missing out on the NESCAC playoffs for the first time since 2001. This year, however, the team is looking to turn last season's disappointments around. Head Coach Marissa O'Neil sees this season, which starts this weekend with back-to-back home games against Wesleyan, as a new beginning for the Polar Bears.
"We're not rewriting anything here. It's a new year, a new team. We graduated eight [and] we brought eight [new players] in," said O'Neil. "[This season] is about making the best of the unit we have right now. It's a clean slate. We can't carry [last season's] baggage behind us, it's not going to benefit us."
Last season, the Polar Bears struggld to develop scoring ability. The team's scoring average was only 1.33 goals per game, despite tallying 29.2 overall shots per game.
"We created scoring chances in many games that we didn't win. Statistically we showed that we had more shots … we've got to find a way to put the puck in because it's a goal sport. You can't win the game without that," said O'Neil.
Last season, the team's woes extended beyond the ice. Frustration and mental performance barriers proved challenging to overcome. This year, the team is making systematic changes that extend beyond in-game strategy.
"We are running a new system this year," said captain Tala Glass '20. "[We] are focusing a lot on putting the puck in the net and also that as a player you're performing your role [on the team] to the best of your ability and trusting that everybody else is going to [as well]."
Additionally, the team has been focusing on accountability this season.
"We talk a lot about accountability, and breaking down what that actually means and how we hold each other accountable while being supportive," said Glass. "Also [as a team] knowing that each individual is a little bit different and needs something different, while [acknowledging that] everybody needs to be held to the same standards."
To improve their mind-body awareness on the ice, the players have started to attend weekly yoga classes.
"We've started doing yoga this year once a week. So far, everybody really likes it," said Glass. "It's a nice way to focus on improving our bodies [while] being relaxed going into game day."
Up and down the roster, the team will be looking at each player to contribute this season.
"We want to play an aggressive style of hockey and create those [scoring] chances. We can't look to one person on the team, it's got to be scoring by committee. Whether it be forwards or defensemen, they all have a huge part in that," said O'Neil.
As the winter season kicks off, hopes are high that the team will be able to hit the ground running and move past last year's uninspiring record.
"We're excited to get going and see what our team has. We learn and develop each day at practice, but we can learn a lot more from getting that game experience and going from there, so we are excited. I'm excited to kick off and it's great to be home a lot this first semester, too," said O'Neil.
The Polar Bears will face Wesleyan this weekend for their first two home opener games on Friday at 7 p.m. and Saturday at 3 p.m..