Faced with more of the same, Bowdoin football takes the long view
October 4, 2019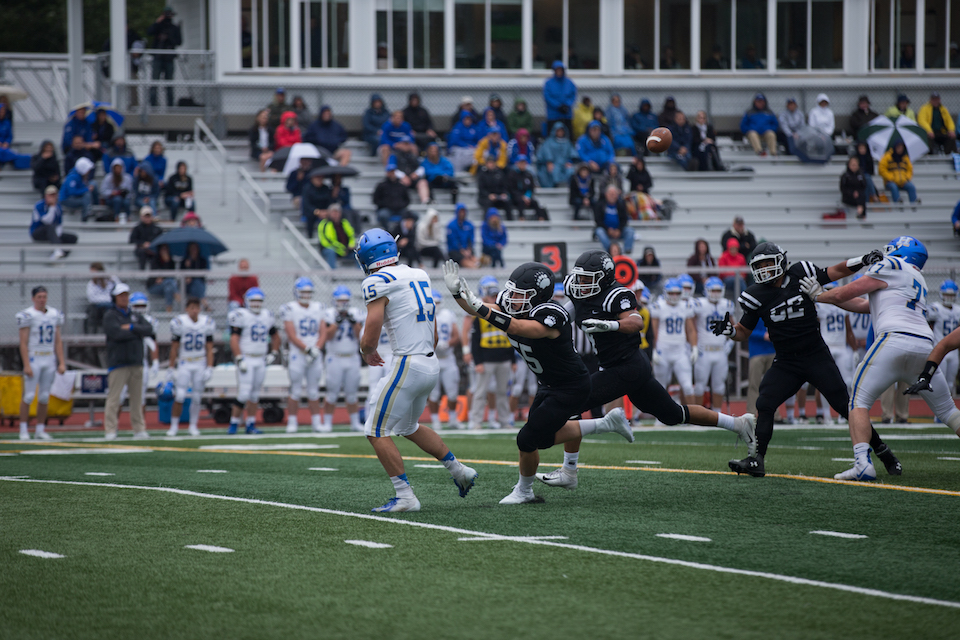 Bowdoin football has had a historically bad start to its season. Not just a bad start—a historically bad start. And history has not been kind to Bowdoin football.
So get out your record book and some Wite-Out, because it's time for an update.
On September 21, Bowdoin suffered the third-worst loss in program history during the modern record era (dating back to 1921), falling to Trinity (1-2) 61-7. Along the way, the Bowdoin defense allowed Trinity to rack up 572 yards of offense, the sixth-most all time, 391 of which came in the air, good for second-most of all time. Trinity's 61 points were the third-most allowed by any Bowdoin team during the modern record era (the most being 63 in 1993).
Last weekend, en route to getting clobbered 41-10 by Williams (2-1), the defense again surrendered 481 yards, this time 398 on the ground. Pencil that in for second-most all-time.
Throughout the first three games of the season, Bowdoin allowed 139 points while scoring only 41. That's the largest point differential across the first three games of any Bowdoin football season in the 21st century.
Got any Wite-Out left?
In the NESCAC standings, Bowdoin now sits at 0-3, tied for the bottom spot with Bates. Out of nine teams, the Polar Bears are eighth in points scored, first in points allowed, first in yards per game allowed and second to last in total offense. And they have yet to face any of the three teams tied for the top spot—Amherst (3-0), Middlebury (3-0) and Wesleyan (3-0).
By Head Coach BJ Hammer's own estimate, "We're not very good. When you're not very fast and you're not very physical, that happens."
Mince words. I dare you.
For some, all of this might be a cause for concern. But not for Hammer, who doesn't seem too worried about winning football games this week, next week or even this season. When it comes to turning Bowdoin football into a program that wins games, Hammer doesn't think in terms of days or weeks. He thinks in seasons, in blocks of multiple years.
"I feel bad [for] the seniors, because they'll take lumps and then a couple years down the road they're gonna see a program that's winning games," said Hammer. "But they'll be a part of that by their leadership and how hard they work and contribute to it."
Above all, Hammer, who has built a program from the ground-up before, is realistic about his prospects.
"There's a reason Bowdoin's won one game over a three or four year period," said Hammer. "I've been coaching for 20 years and I can tell you when you're outmanned and when you're not outmanned, and that's been the case."
In other words, Hammer seems to have all but accepted that the season will continue much as it has begun: with a lot of losses.
But that doesn't mean that the season is totally a wash.
Hammer often refers to the present moment as "Phase One" of the rebuilding process. Part of Phase One is developing talent that's already here—turning young players into consistent contributors on the field. But a more significant part is recruiting new talent that is bigger, stronger, faster and more physical than the talent Hammer's got now. That means tapping into new geographic recruiting pools—California, Arizona and Hammer's home-base in Indiana.
But none of this changes the fact that 70 or so guys still suit up to get clobbered weekend after weekend. And what for Hammer appears as a multi-year, big-picture structural issue appears to current players as a very immediate problem.
"Systematically we're in a lot better place than we were before," said running back and captain Nate Richam-Odoi '20. "A lot of the things we're doing right are working in the right ways, but at the end of the day us as players are shooting ourselves in the foot."
In this sense, Bowdoin football suffers from a kind of dual consciousness; winning is a matter of effort, but effort isn't enough for a 190-pound lineman to slow down his 240-pound counterpart. It's a problem of execution, but even a perfectly executed pass will rarely make it to a receiver who's being guarded by a safety who's an entire head taller than he is.
And while it might be too soon to reap the benefits of future recruiting classes, it's never too soon for an attitude change. And, in Hammer's mind, that change is a change for the grittier.
"We need to become more aggressive. I wouldn't mind a few aggressive penalties, to be honest with you, because we need to start developing a little bit of an edge in the attitude around here," said Hammer. "Don't get [me] wrong, I don't want penalties, but football's not a soft sport. You can't be soft and play on the edge … in football."
This is more than a tactical decision for Hammer—it's more like a life philosophy.
"In today's society, everyone treats you with kid gloves. Guess what: your opponent in football never will," said Hammer. "They don't care who you are, where you're from, they don't give a crap about that. They wanna kick the living hell out of you, and our guys need to recognize that and learn to play."
Put that on a bumper sticker.
In this, at least, Hammer and his players are in agreement: if you're going to lose, at least raise some hell doing it.
"I despise losing with an absolute passion," said Hammer. "We need more football players that do that."