What the hell is the Bowdoin football team doing online?
April 12, 2019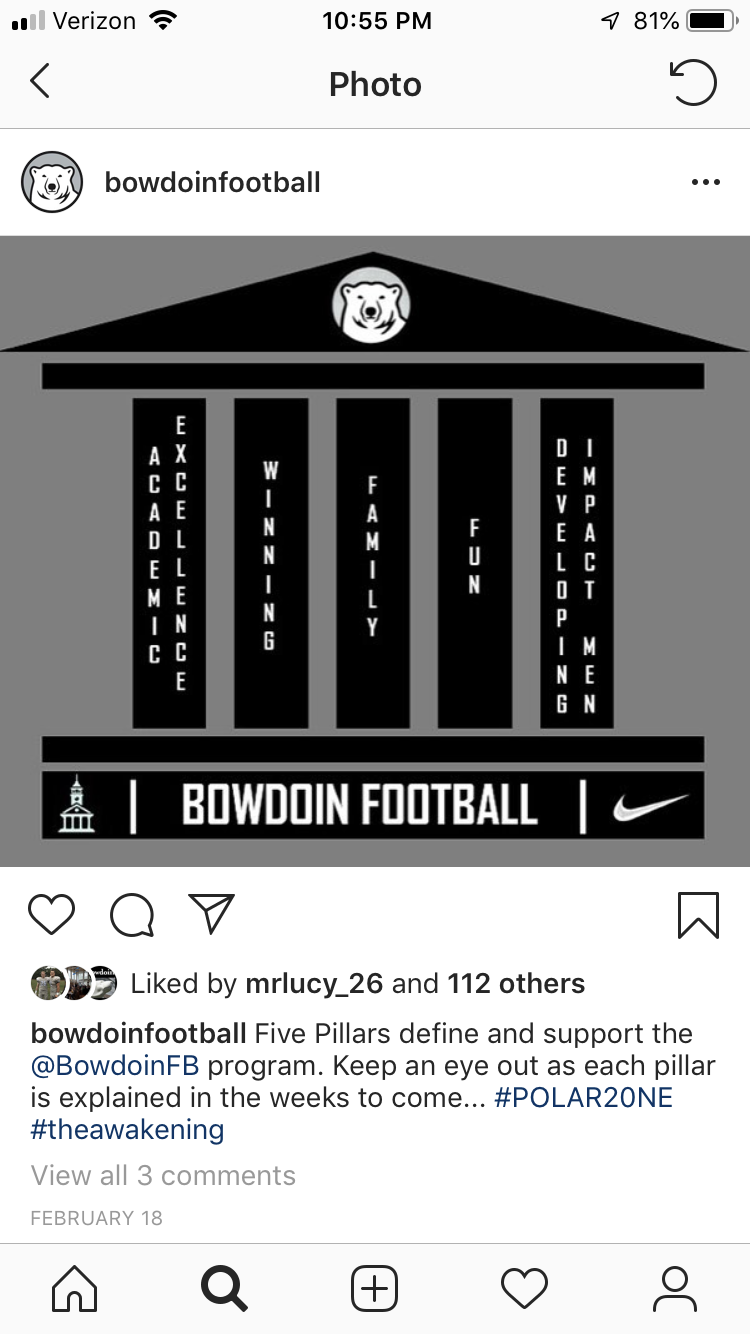 Anyone who follows Bowdoin football's social media account has probably asked some variation of this question in the past few months. Even a cursory glance over the team's Instagram page makes it clear that the Polar Bears' new coaching staff, led by Head Coach B.J. Hammer, is doing something new with the team's online messaging. Gone are the days of dramatic, high-contrast action shots of players drilling on the turf or banging out reps in the weight room. Welcome to the days of, well, something … new.
If the Wells-era aesthetic prioritized form over substance—minimalistic, vivid images of athletic dynamism, mostly devoid of text—the Hammer aesthetic prioritizes the opposite: substance over form. #FacilityFridays show off the team's new locker room facility, complete with a new "hydrotherapy room" (read: small jacuzzi). #JOBALERT posts, complete with photoshopped picture and inlaid text, announce when a senior player has locked down a new job or internship. (Casting some doubt on the sincerity of a recent post which announced that "40+ majors @bowdoincollege means student-athletes have plenty of options to choose from!", four of the five #JOBALERT posts have featured economics majors. But shh!)
The team Twitter account regularly retweets prospective players' posts, which all follow a suspiciously similar format, including a perfunctory thanks to the coaches for the visit, a picture of Bowdoin's campus and, last but not least, a snap of the oh-what-could-be locker set-up, complete with a correctly-numbered jersey and personalized nameplate.
In a series of five posts featuring an abstract geometric graphic of a five-pillared temple-like structure, the team enumerated the "Five Pillars of Bowdoin Football:" "Academic excellence" ("[Bowdoin Football] DOMINATED in the classroom once again this fall with a 3.29 Team GPA. You can have it all here!!" reads one post); "Family" ("Bonds that can't be broken"); "Winning" (presumably a work in progress); "Building impact men" (perhaps ill-advised wording for a sport built around literal impact); and, of course, "Fun."
The only deviations from this trend come on #WallpaperWednesdays, which feature Fathead-esque photos of players pasted inelegantly onto generic gradient backgrounds. It can't all be substance, after all.
These otherwise eclectic posts do, nevertheless, contribute to a unified message, summed up in the two hashtags that adorn nearly all of these posts: #theAwakening, #POLAR2ONE (sic; "zone"). 2019 is the year for an emergence, a (re)birth of Bowdoin football. Or so the messaging goes.
"I want these guys to get a fresh start with everything," said Hammer when asked about the team's reinvigorated online presence. "For our players and our recruits, this is a fresh start for Bowdoin football, and we're going to take it to a different level of expectation than it has been in the past."
Speaking of expectations, Hammer goes about setting them in an unorthodox way. At least so say his players, who are months into their offseason training with the new staff.
"During the workouts, I don't think me or any of my teammates have ever received a compliment," said captain Joe Gowetski '20. "You're either doing the best you can do, which is what you're supposed to do, or you're doing less. There's no way to exceed expectations, because they're already as high as they can possibly be."
Hammer's demeanor, described by players as "no-bullshit" and "businesslike," has quickly earned him the respect of veteran players.
"Wells talked about high expectations, but I don't think they were as much of a reality as they are now," said Gowetski. "Hammer's not talking about it. He's doing it and living it."
Aesthetics, in the end, are only aesthetics, and athletic performance is another thing entirely. But there is something to be said for consistency. On its surface, Bowdoin football's new message screams out from its profile in brutal block font: "#theAwakening." But this is only the message on the surface. Buried beneath the photoshop and the graphics, the real message—the one being sent in the weight room as much as online—lies latent in the structure of the posts themselves: Form be damned. Substance is king.
Editor's note, 4/13/2019 at 11:26 a.m.: This article has been updated to remove a passage that mischaracterized Wells' pregame rituals.