Men's basketball looks to improve defensive strategy
November 30, 2018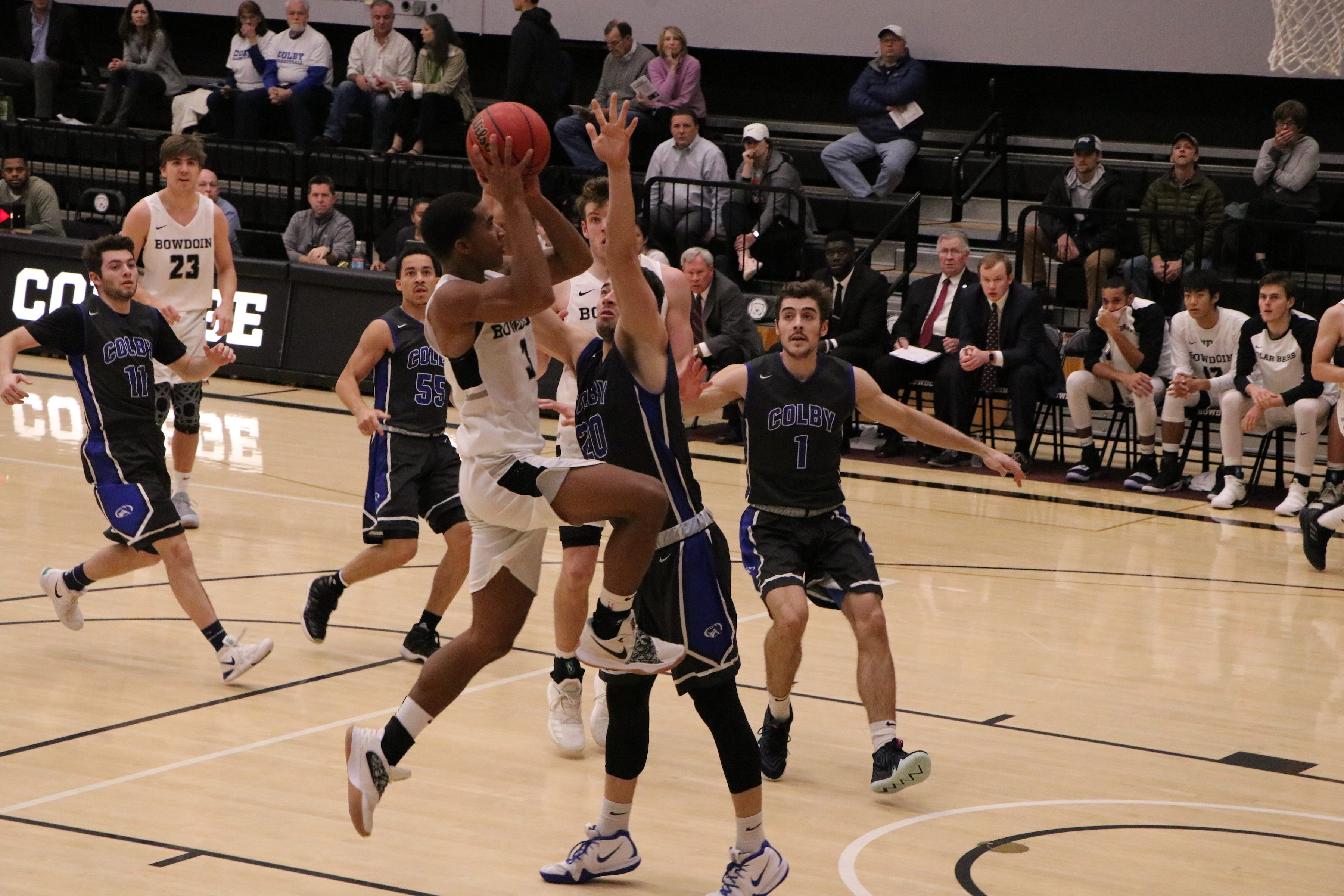 With five games under its belt (2-3), the men's basketball team is in full swing with high expectations for the season. Coming off a 83-70 loss against Colby (5-1) yesterday, the team will face Pine Manor (1-6) on Saturday in Morell Gym at 1 p.m.
"We are guardedly optimistic about this season," said Head Coach Tim Gilbride.
Gilbride acknowledged that the NESCAC is a competitive conference, but he has faith in his team.
"We're just going to take things one game at a time, but I think we are capable of competing with the top teams in our conference," said Gilbride. "So that's certainly going to be our goal—to try to win it."
The team's dynamic is a key component to meeting these high expectations.
"We have a nice balance of guys that are coming back that are experienced and some newcomer players that we think can contribute as well," Gilbride said.
He also noted particularly strong play by Zavier Rucker '21, the starting point guard, and Sam Grad '21, one of the team's forwards.
After a 2-3 start to the season, including wins against Worcester State (3-4) and the University of New England (1-5) and losses to Albertus Magnus (5-2) and Babson (4-2), the team has learned its strengths and the aspects of the game that it needs to address.
In their wins, the Polar Bears have averaged a stellar 102 points per game.
"We're a good offensive team, and shoot the ball well when we're executing," said Gilbride. "We're very unselfish; it's always a team effort and guys move the ball to find better shooters, to get them a lot of shots when they can. So that's when we are at our best—on the offensive end."
At the same time, Bowdoin has run into some difficulties.
"Defense is the biggest challenge for us. Whether we can consistently make it difficult for other teams to score and whether we can take away what they like to do best [dictates our success]."
However, the team has showed promise due to a new defensive strategy. The team plans to mix up its defensive schemes, switching between man-to-man coverage and zone coverage in hopes of keeping opponents off balance.
The team is currently in the middle of its non-conference schedule, which consists a total of 14 games that take place throughout the first semester, and will be mixed in with the 10 conference games in the second semester. While these games are non-conference, they are still important to the team's success.
Even if Bowdoin does not finish the season as the Men's Basketball NESCAC champions, there is still a hope for them to get the prized bid to the NCAA DIII tournament. But it all comes down to non-conference games.
"You want to have a good overall record, strength of schedule and all that kind of stuff to help you get a bid," said Gilbride.
Since the NESCAC is competitive, it usually sends multiple teams to the NCAA tournament.
"There is an automatic bid for the conference winner for the NCAA tournament, and usually our conference gets three or four and, sometimes, even five [bids]," said Gilbride.
The NESCAC league consists of 11 teams, and the top eight teams proceed to playoffs at the year's end. So, as long as Bowdoin is able to maintain a spot in the first eight spots in the conference, it will have a chance at achieving its goal of finishing at the top.