College launches new plan to attract veteran students
November 16, 2018
Although Bowdoin announced a new initiative to enroll military veterans last week, the strategy the College will employ to integrate these non-traditional students into campus life once they are admitted, remains to be seen. With the absence of a Reserve Officer Training Corps (ROTC) at Bowdoin, this is a surprising development for the College.
Historically, Bowdoin has had a significant connection to the military, most notably Bowdoin President Joshua Chamberlain's heroic command at the Battle of Gettysburg. More recently, the College hosted the U.S. Navy's Radio Corps Training Facility, attached to the former Brunswick Naval Base, until its closure in 2005. Despite this history, only a few students currently participate in the Marine Corps Officer Training Program or enlist in the military after graduation each year, although a few international students have served in the military in their home country before coming to Bowdoin.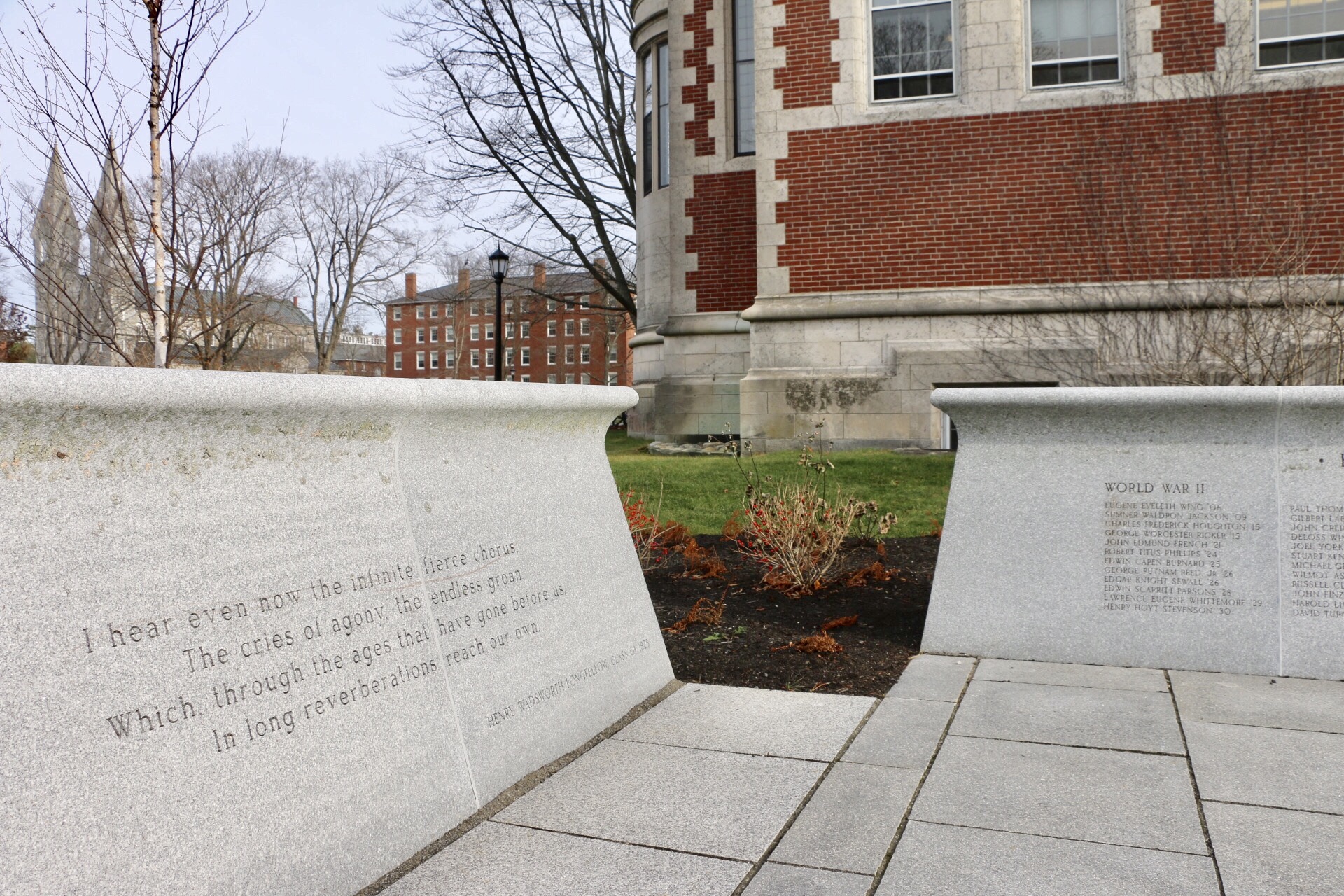 With encouragement from the alumni organization, Bowdoin Marine Corps Society, and a partnership with the nationwide Service to School initiative, the Office of Admissions is committed to finding veterans that meet the College's entry requirements and expectations.
Ryan Ricciardi '00, associate dean of admissions, has been a point person for the veteran initiative. She spent the week in Washington, D.C. at a college fair in the Pentagon, among other engagements. It's not typical for veterans to enroll in a full-time college program after leaving the military; part-time options are more flexible and less of a time commitment, especially for students who also support a family while enrolled.
Yet Bowdoin's generous financial aid policy, when bundled with federal GI Bill benefits, has the allure of a free or relatively cheap college education at a prestigious school. Post-9/11 GI Bill annual tuition and mandatory fee allowance covers $23, 671.84 per academic year. The remaining fees are split between Bowdoin and Veteran Affairs through the Yellow Ribbon Program. The Yellow Ribbon program ensures colleges match the aid given to veterans. There is not a cap to the amount Bowdoin will match or the number of students that can be enrolled in the Yellow Ribbon Program.
Additionally, veterans are listed as independent students when filing for federal aid. This means they are not required to report the incomes of their parents, thereby reducing the total amount of income that could be attributed to these students and increasing the federal aid grant.
Ricciardi has received many emails from veterans interested in joining the College. Despite a hefty financial aid package and the academic preparedness of these individuals, there will be social, economic and personal challenges in the way of full integration into student life.
For the last year and a half, a committee made up of representatives from the Office of Residential Life, Financial Aid, Office of the Registrar and Athletic Department, among others, have met to anticipate and solve problems that could affect veteran students while on campus. The committee members also reached out to their counterparts at schools such as Williams and Amherst, which have similar programs.
Whitney Soule, dean of admissions and student aid, explained that the committee created a framework to address the needs of veteran students, but that actual policy "will evolve as we [gain] experience meeting and reading applications from veterans and then having them enroll and see what they're asking for, what they need."
Senior Associate Director of Financial Aid Andrea Cross, who served on the committee, explained one of its top concerns before veterans arrived was identifying a network of resources on campus.
"We have really worked hard to make sure we're identifying people, point persons, in areas for [veterans to turn to]," said Cross. "It's pretty complicated, the type of benefits [veterans] might receive, and they could have any number of experiences coming in, so we want to make sure they can go to a person in the financial aid office or a person in the registrar's office and always have that kind of infrastructure. That was number one."
Bowdoin expects to change some housing and credit transfer policies in order to accommodate older students that may be on campus with families. For example, veterans with small families are given the opportunity to live in off-campus housing for all four years.
Soule acknowledged that the College will have to adapt policies to meet the needs of veterans on campus, but declined to comment on how hypothetical policies could affect other students. As of right now, there has not been a discussion on whether veteran-specific school policies apply to non-veterans as well.
At the root of the veteran initiative is Bowdoin's commitment to meeting the individual needs of each student. Much like the College's policies toward students who take a medical leave of absence or return home mid-semester, reservists that are called to active duty can theoretically work with the College to finish the remainder of the term. Since Bowdoin has no online class platform, though, there are few options to finish the semester with anything other than an incomplete.
It is typical for enlisted soldiers to compile a list of college credits from various community colleges and technical schools. The initiative's changes to Bowdoin's credit transfer policy imply that these credits could be used toward graduation, but right now, Admissions still expects these students to spend a full four years on campus.
"The expectation is that they would be coming for a four-year experience," said Soule. "They could use transfer credit to advance in a department, but unless they're actually applying as a transfer student, our expectation would be that they'll have four years here."
This means a veteran enrolled at Bowdoin will have to meet all of Bowdoin's typical graduation requirements—including 32 credits, a first-year seminar and division requirements—before they can graduate, even if they have already accrued a substantial number of credit hours at another university. In effect, the policy is much like that for Advanced Placement test scores, in that they allow students to skip introductory courses but not get credit toward a major.
In the face of policy changes and new programs, it is easy to lose sight of what can be gained from a veteran presence on campus. Unlike most Bowdoin students, veterans have a unique insight into much that cannot be contained in a textbook.
Christian Potholm, DeAlva Stanwood Alexander Professor of Government, has a bulletin board full of pictures of alumni serving in the military outside his office. He is encouraged by Bowdoin's initiative to admit veterans and believes they will add another perspective in classes.
"Over the years, I have had a number of veterans in my courses on War and Government, the Korean War and even Maine politics, and I've always encouraged them to participate, even as auditors," Potholm wrote in an email to the Orient. "They all brought a different perspective on both the material and the learning process. Students always seemed to appreciate their input. We can learn so much from them."