Women's cross country grabs first place in Bowdoin Invitational
October 19, 2018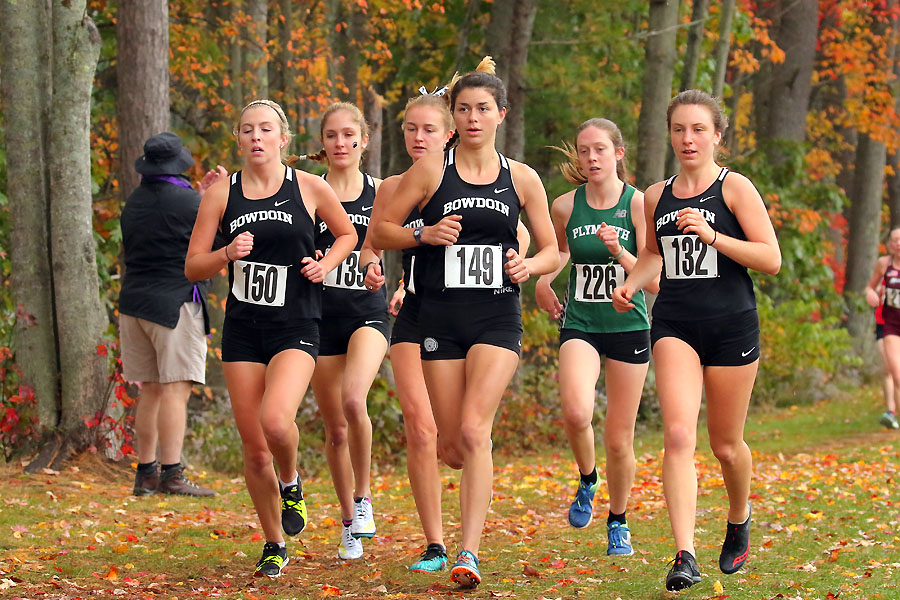 The women's cross country team dominated the competition last weekend at the Bowdoin Invitational with five of the top six finishes. Captain Julia O'Rourke '19 led the first pack of runners, finishing second overall. She was followed by Delaney Bullock '22, Sarah Hanson '20, Abigael Osmanski '21 and Erin Hollenbaugh '20 who placed third, fourth, fifth and sixth, respectively.
Bowdoin's top five runners vary in class year—a sign that the team has a great new crop of recruits in addition to a strong core of upperclassmen. In future seasons, the Polar Bears can use their youth to rebuild after seniors graduate.
The Bowdoin Invitational was another great opportunity to put the team's skills to the test against NESCAC competition while also challenging the runners to race in rainy conditions.
"We ran very smart and tough in the rain," Head Coach Peter Slovenski wrote in an email to the Orient. "This team doesn't get flustered by course conditions. It does its best on any course, in any weather."
Despite the rain, the team excelled. Each top seven runner posted a personal best race time, mirroring the men's team's spectacular season opener a few weeks ago. Rather than running individual races, the Polar Bears raced together as a team.
"Strategy-wise, we're always trying to close the gap between our top five [runners]," said O'Rourke. "The crew that finished together in the top five ran together for nearly half the race. When you're running with the people you always train with, it feels like a simulation of practice, and it feels safer and more familiar."
Captain Martha Boben '19 agreed.
"When I'm running with one or two other people, and they find a pocket to pass someone, that motivates me to also pass, even if I don't have a good space to."
Passing is an important skill in cross country races as dozens of runners stride along narrow trails. Bowdoin's course is wooded, which usually entails less opportunities to move ahead. Runners must take full advantage of their straightaways and open fields to move forward as a pack.
This strategy, known as pack running, proved beneficial for the Polar Bears, who had only a 43-second spread between their first and fifth runners—well below their goal of a 60-second spread.
The team aims to continue to improve this figure as the runners prepare for the upcoming NESCAC championship at Franklin Park, a hilly course in Boston on the site of an old zoo. After that race, the team will compete on Bowdoin's course once again for the NCAA Regional Championship on November 10 at 11 a.m.
"For Regionals, I would emphasize that I'm more confident in our chances, because we have the home field advantage," O'Rourke said.
Given the mental nature of the sport, this confidence and familiarity on the course amid competition will prove invaluable as the season progresses.