Women's soccer chases another NESCAC win
September 21, 2018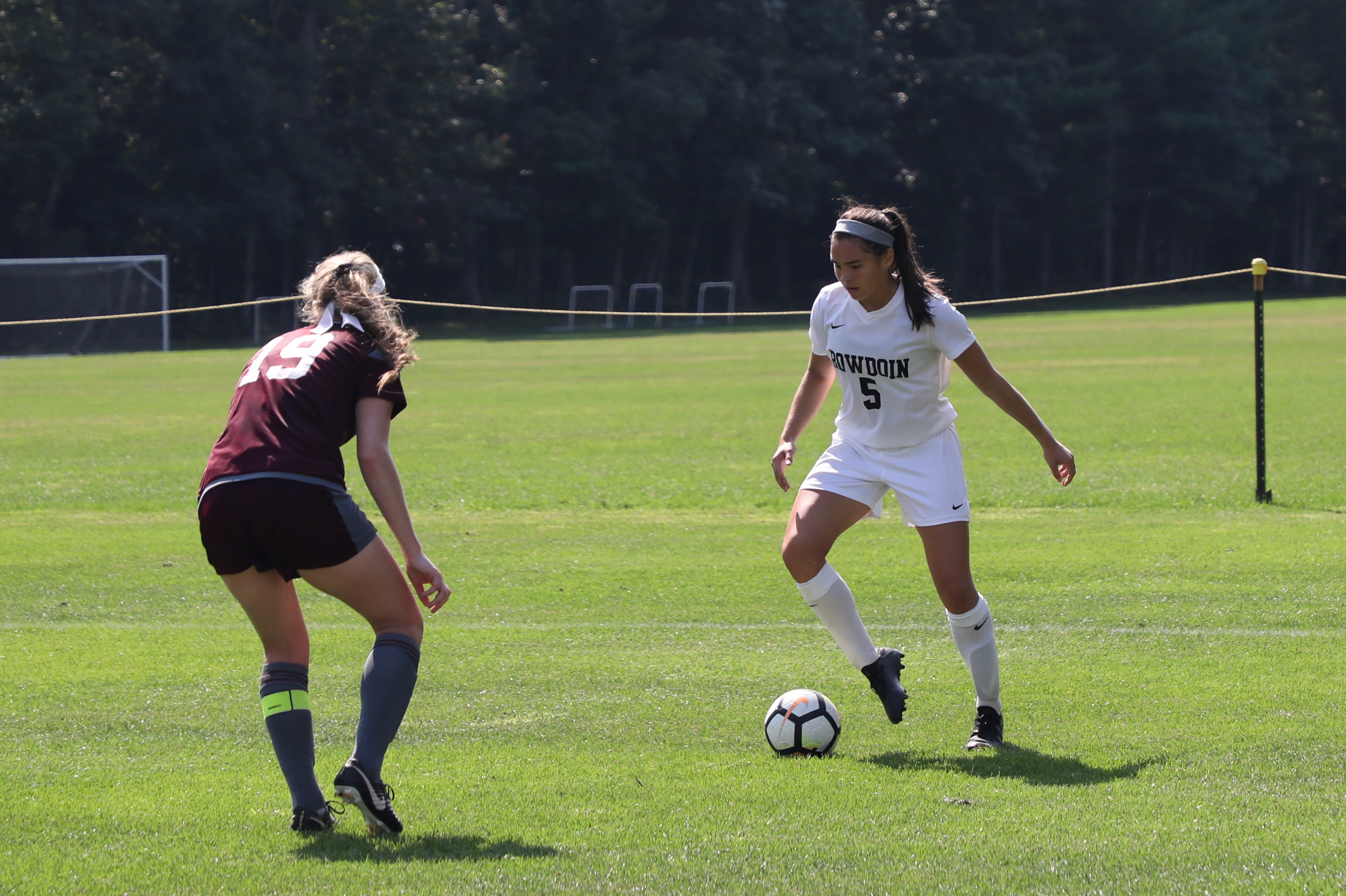 For the women's soccer team, the 2018 season has begun with intense training, learning and excitement for the future.
After five games, the team stands at 2-2-1 (1-2-0 NESCAC). It started the season off with a draw against Babson College (3-3-1), followed by a 1-0 loss to Amherst (4-1-0), a 4-0 win against Bates (2-3-0), a 2-0 loss against Wesleyan (4-2-0) and a 7-0 win against the University of Maine Farmington (0-7-0).
The team experienced notable shifts in both its roster and leadership as it prepared for the season. Two seniors, Julia Patterson and Emily Pawlak, are leading a 32 -person team which includes 10 sophomores and 11 first years.
First implemented three seasons ago, the team's leadership model does not rely on senior captains. Instead, players from any grade can be asked to join a leadership group. Although the soccer team's unique form of leadership hasn't spread to Bowdoin's other teams yet, Pawlak believes in its many benefits.
"[The leadership group] helps maximize leadership and representation because it is a more fluid model," wrote Pawlak in an email to the Orient. "It also helps bring together players with different leadership styles and personality strengths which allows for more effective leadership."
Whether due to its leadership skills or intelligent game play, the women's soccer team was awarded the United Soccer Coaches Platinum Team Ethics award in January. The award recognized teams who completed a soccer season without earning a single red or yellow card. Bowdoin was one of only 10 teams in the nation to receive this honor.
This season presents a new set of challenges to the Polar Bears as they face harsh competition from rival NESCAC teams, being in one of the most competitive DIII regions.
Pawlak said that the team has taken from its losses a better understanding of its flaws and has worked to address these weaknesses in practice, which she stated have been "intense and productive."
Head Coach Brianne Weaver expressed a similar enthusiasm for the season and also noted the hard work the players have dedicated toward practices so far.
"We appreciate their positive outlook, determination and willingness to put the team before themselves," wrote Weaver in an email to the Orient. "It is an honor to coach each one of these young women."
The team is on the road this weekend to face off against Middlebury (5-0, 2-0 NESCAC). The players hope to take what they have learned from recent losses with them to Vermont.