Women's lacrosse heads to semis
May 4, 2018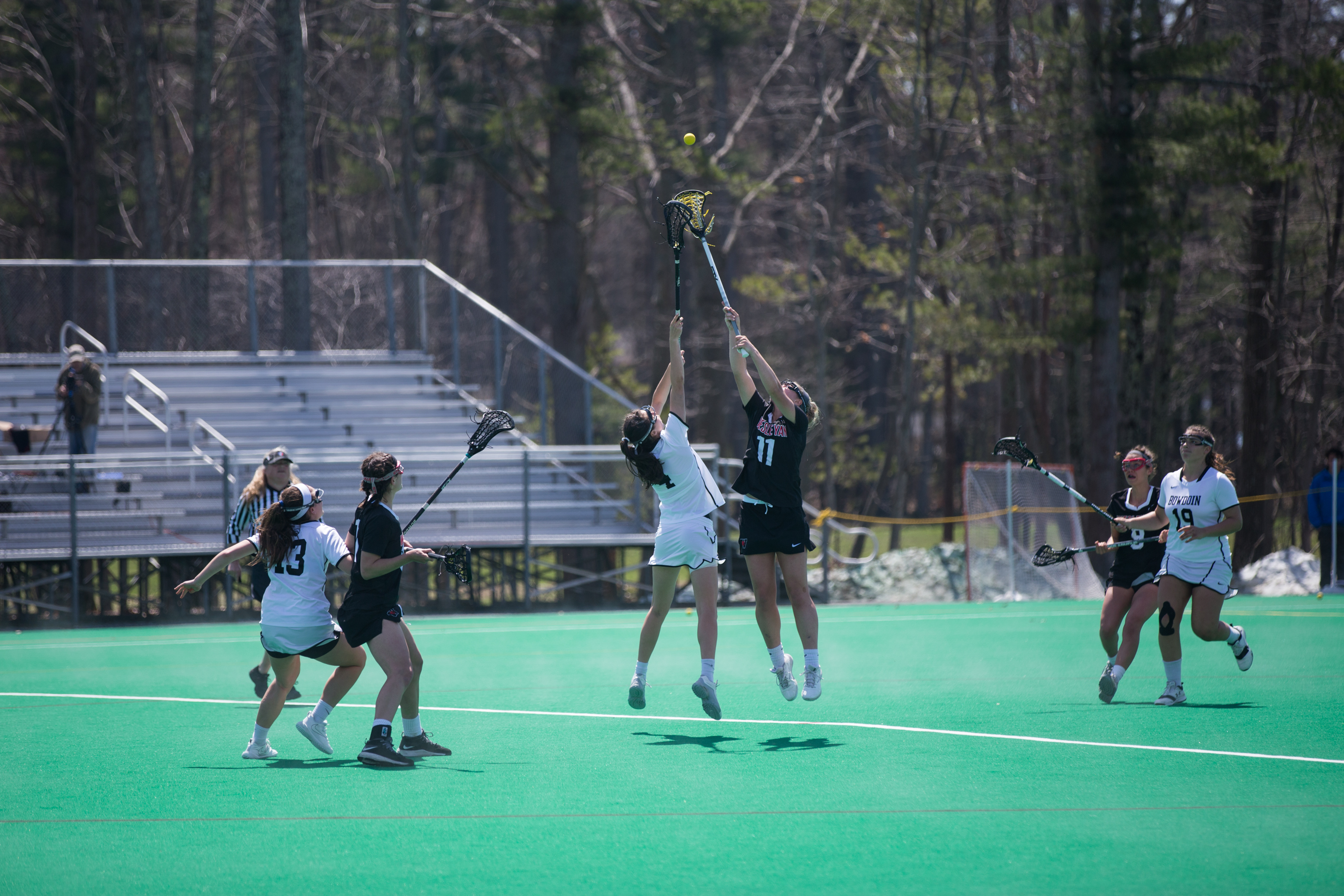 After beating Wesleyan (10-6, NESCAC 6-4) in a close 11-10 game at home on Saturday, the women's lacrosse team (12-4, NESCAC 6-4) advanced to the semifinals for the first time since 2015. The Polar Bears will battle No. 2 Amherst (15-1, NESCAC 9-1), to whom they lost 16-10 during the regular season, tomorrow.
According to captain Alexandra Logan '18, the win against Wesleyan proved that the Polar Bears can hold their own in close-scoring games. When the teams met last, Bowdoin also won by a small margin, topping the Cardinals 13-11.
"Going through the season we talk a lot about building resilience," Logan said. "In the past it would either be win by a lot or lose by a lot, and now we have worked up to where we can win in close games and that's really important."
Although the game was tight, the Polar Bears were ahead of the Cardinals throughout the game, which was a point of accomplishment for them.
"We were up the entire time," Paige Brown '19 said. "Wesleyan battled back a few times, but we held on to the lead which is huge for us."
Eliza Denious '21 scored four straight goals within nine minutes during the second half of the Wesleyan game, making her the top scorer for the Polar Bears. Brown noted that individual players have stepped up during different games throughout the season.
"We have had different players step up at different times," Brown said. "The first time we played Wesleyan, [Hannah Hirschfeld '18] stepped up, and this last game Denious scored four goals in a row. Individuals have been stepping up when they need to. It hasn't been just one person."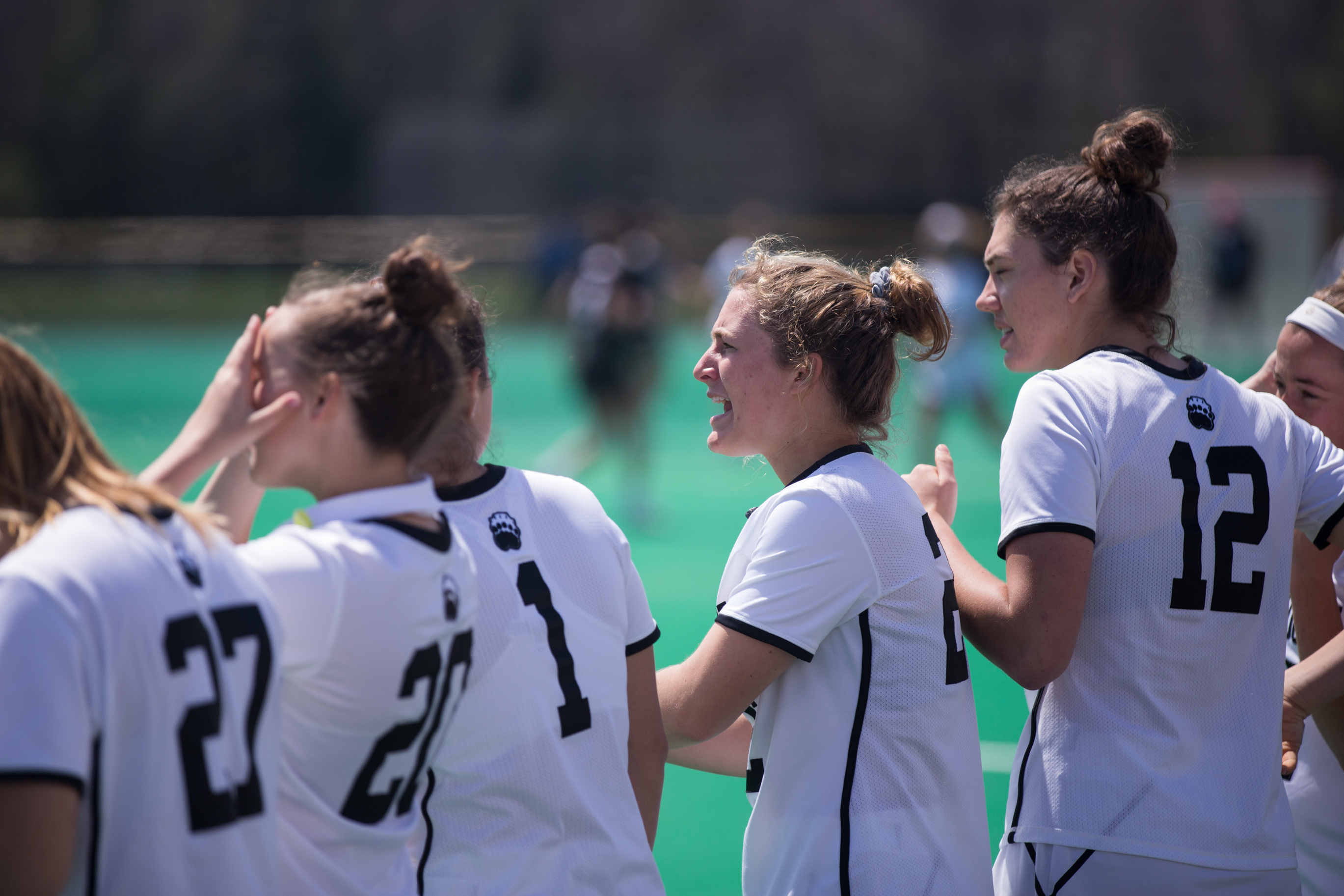 The players attributed their resilience as a key factor in their victory over Wesleyan.
"That is an example of how resilient we can be," Logan said. "We knew going [in that it] would be a tough game and that they would be a real challenge. We saw that in the game we played against them on our senior day. The game last weekend was another example of how we can fight back and keep the lead."
The team will play Amherst for the second time this season at Middlebury, and Logan believes that her team has changed greatly from its loss earlier in the season.
"It's going to be a challenge, but I know everyone is really fired up about playing them again," Logan said. "From the first time we played them, we have changed since then. We like to think we are a different team now than we were then. We have learned from our mistakes over the season. I think this will be a great test for us to show how we have improved."
Since the last battle against Amherst, the team has grown closer and worked on its skills.
"I think we had less experience," Brown said. "That was our second game of the season. We weren't used to playing together. Now we have more practice with our defense and the attack, and everything just works a little bit better now."
The team is hungry for a win against Amherst, who has one of the top offenses in the NESCAC. The Polar Bears, meanwhile, are focused on having fun and working as a team.
"We talk a lot about playing together and playing for each other," Logan said. "If we do that and we are having fun, then that's when we will have successes. Our goals for the rest of the season are to have fun, play for each other and do as well as we can out there and hopefully that will result in wins all around."
The fourth-seeded Polar Bears will take on the Mammoths on Saturday at 3 p.m. If the team advances, it will play in the NESCAC Championship game Sunday at 1 p.m.