Baseball looks to rebound from Middlebury, beat the Mules
April 27, 2018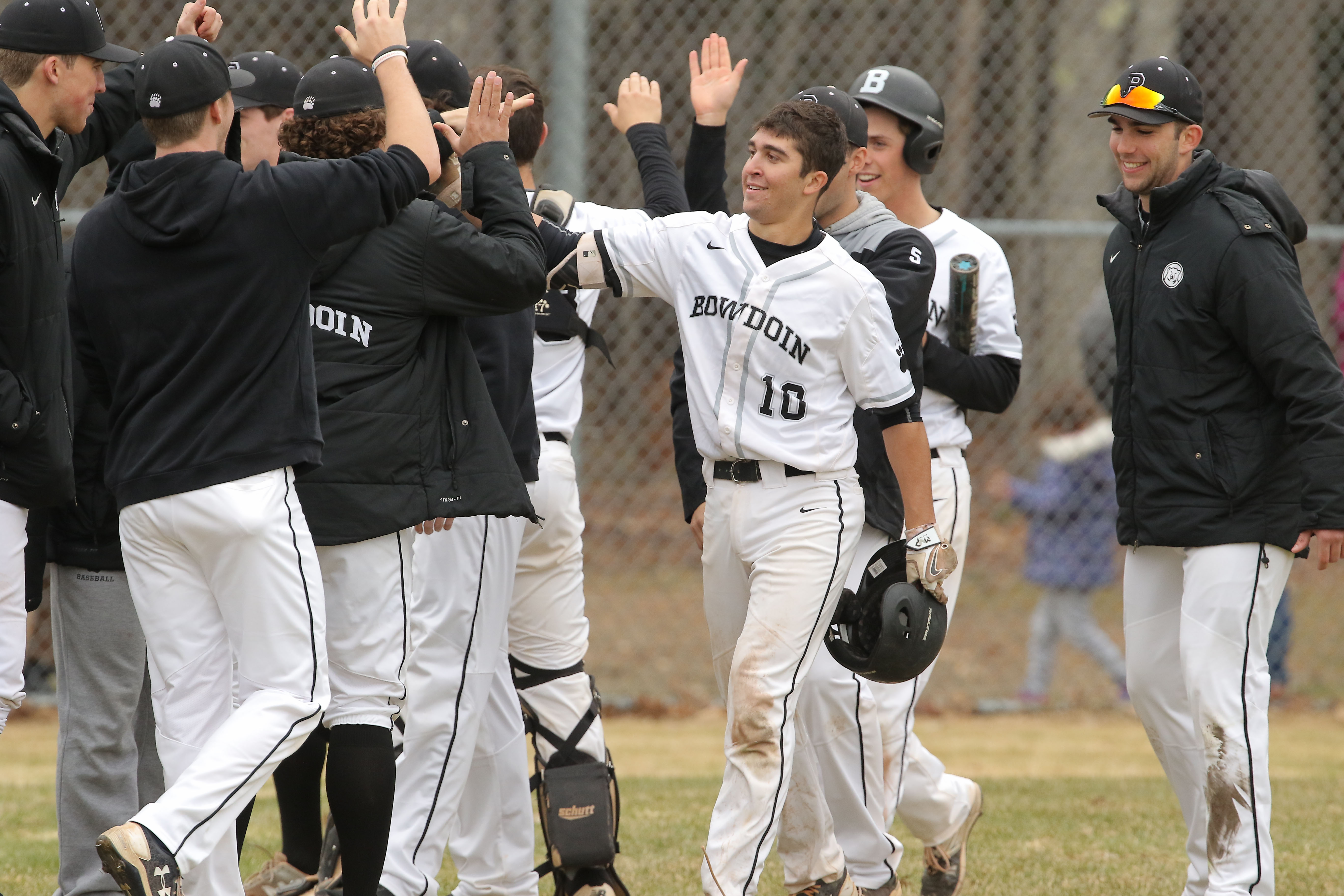 After losing a non-conference series against Middlebury this weekend, the baseball team (11-16, NESCAC 4-5) seeks to win its final three conference games against Colby (5-18, NESCAC 1-8) this weekend.
The Polar Bears currently stand in fourth place out of five teams in the NESCAC East division and are tied for sixth overall in the NESCAC. Winning at least two games against Colby, ranked last in NESCAC, will push Bowdoin's conference record to the 0.500 mark, meaning that the team will have won half of its games.
Captain Sawyer Billings '18 is hopeful that the team can sweep the series.
"[Colby] definitely had their down year, and it would be a statement to win three and basically say, 'Sure, [the season] didn't go the way we wanted—but it ended on a high note,'" said Billings.
This season, the Polar Bears have failed to sweep any teams. The baseball team has a negative thirteen run differential, meaning it has conceded thirteen more runs than it has scored throughout all its conference games. In exact numbers, the team has scored 141 runs while giving up 154 runs.
This makes it difficult for the team to qualify for the NESCAC tournament, which was its goal at the start of the season. The top two teams out of five in each division qualify for the tournament. This format will change next season when the top eight teams out of ten will qualify for the tournament.
"There's just no margin for error. If you want to make the tournament, you have win every weekend, you need to sweep teams and you need to bound teams off," Billings said. "There were lots of weekends when things just didn't go our way. We didn't compete in the middle of games or, you know, just a number of factors."
The team looks to bounce back from the loss against Middlebury (2-4) last weekend. In the first of the three games, Bowdoin took a 0-4 lead after two innings, but Middlebury exploded offensively and jumped out to a 9-5 lead after the sixth. The Polar Bears answered back and came back to tie the game in the ninth inning, but an RBI single by Middlebury in the bottom of ninth gave the Panthers a walk-off win.
In the second game, the Panthers again came back from a 2-4 deficit by scoring three runs in the final inning to win with a final score 5-4. In the final game of the series, the Panthers' pitching staff shut out Bowdoin's offense to secure a 3-0 win.
"It was really tough. I just feel like you [have] to show up ready to compete all through nine and seven [innings], and then we had low periods in the middle of the game that hurt us, but they were good battles," said Billings. "And that's baseball."
"Everyone pitched great. From a hitting standpoint we hit pretty well, but we didn't hit when we needed to hit," he continued. "There were some couple bounces that didn't go our way, and I think in baseball when you have two teams going at it like that, pretty evenly matched, it's going to come down to timely hitting and timely defense. It wasn't our weekend I guess."
In order to get back into the win column, the team will be focusing on doing well in all aspects of the game so that they do not repeat the mistakes made in the Middlebury series.
"I think when we are at our best we are playing well in all three facets of the game: pitching, hitting and fielding," said captain Joe Gentile '18. "I think we've seen that the three facets of the game don't really line up with each other well. So we might hit really well one game but not really have the pitching form to close out a game. So, having consistency in all three facets will lead us to success against Colby this weekend."
The team will travel to take on the Mules on Friday at 4 p.m. The final two games of the series take place at home on Saturday and Sunday at 12 p.m. and 3 p.m. respectively.