Men's tennis rebounds after Middlebury loss
April 19, 2018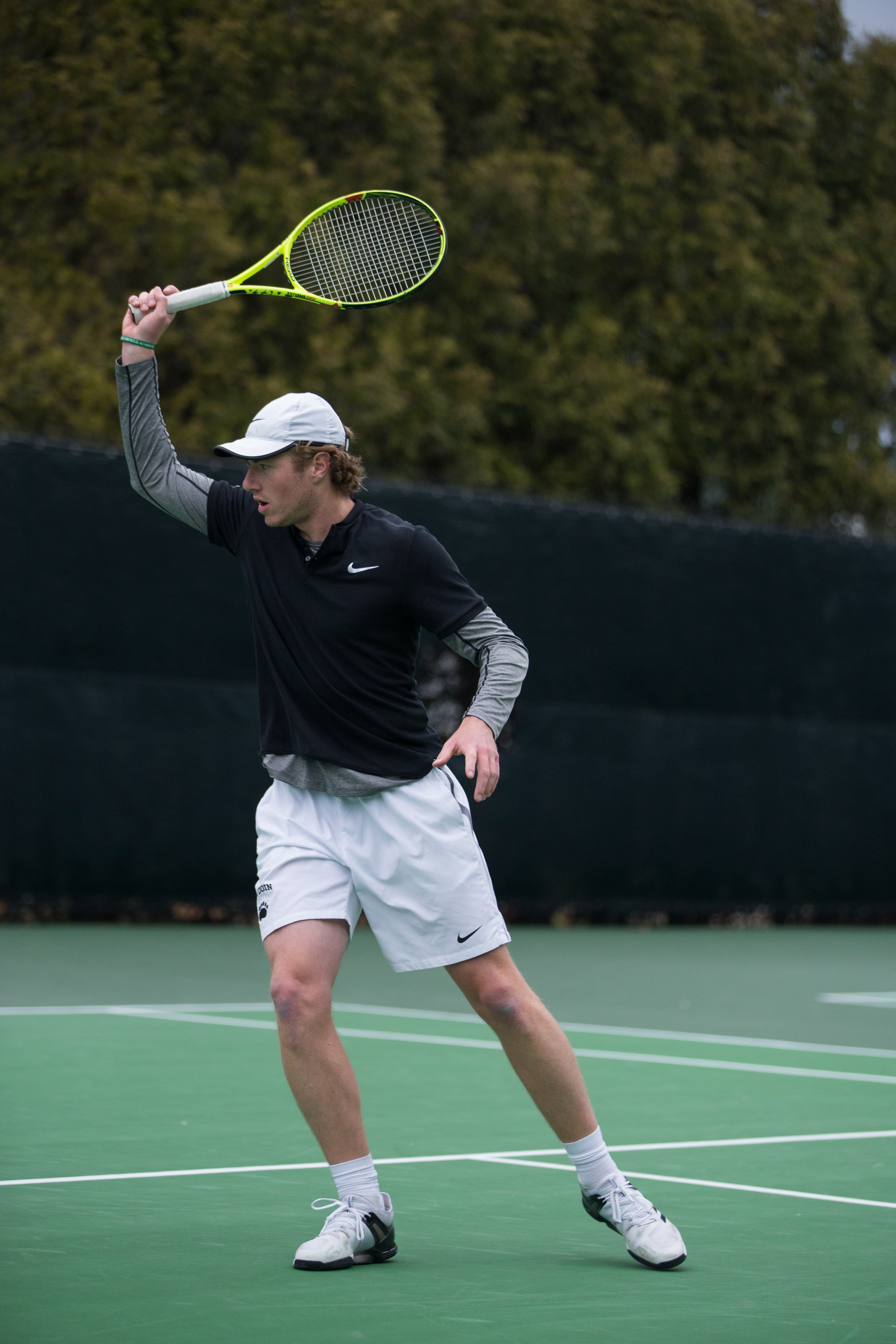 Ranked second in the nation going into weekend play, the men's tennis team (12-1, NESCAC 3-1) suffered its first defeat of the season in a surprising 8-1 loss to No. 3 Middlebury (14-3, NESCAC 4-1) on Saturday, ending a 12-game win streak. With only five matches left in the regular season, the Polar Bears are striving to reclaim their top NESCAC position.
The day before losing to Middlebury, the Polar Bears beat Brandeis (11-3) 6-3. According to captain Kyle Wolfe '18, these two matches differ from the matches played earlier in the season, specifically those over spring break in California, because of the closeness of the games.
"We played a ton of matches in California and a lot of those matches were not very close. We'd get out to [an] early lead and clinch the match early," said Wolfe. "Our match against Brandeis University was closer, and [in] our match against Middlebury, it became a very close situation where we needed to win all the matches. That's one of the biggest learning points [from the loss] for our team, getting more experience playing in close matches."
Middlebury is one of the strongest teams in the conference and one of Bowdoin's toughest competitors for the NESCAC and NCAA championships. The two teams have faced off in the NESCAC finals for the past two years, with Bowdoin beating the Panthers 5-4 in 2017.
"They have always been the dominant team or one of the few dominant teams in the NESCAC. They've been one of our big rivals since we've been here," said captain Gil Roddy '18. "This year, they've dealt with some injuries, so this past weekend was the first weekend the team was fully healthy. With a fully healthy team, they're right up there with the best teams in the conference for sure."
Despite the loss, Wolfe maintains his confidence in the team, choosing to learn from its mistakes against Middlebury.
"Saturday [was] pretty disappointing," said Wolfe. "We had a pretty big rivalry with Middlebury going, but we've talked a lot about [how] Saturday's result is not a reflection of our preparation. We didn't feel like we could have done anything differently. They just came out and executed a lot better than us. That's allowed us not to get too shaken about one loss and get back to work this week."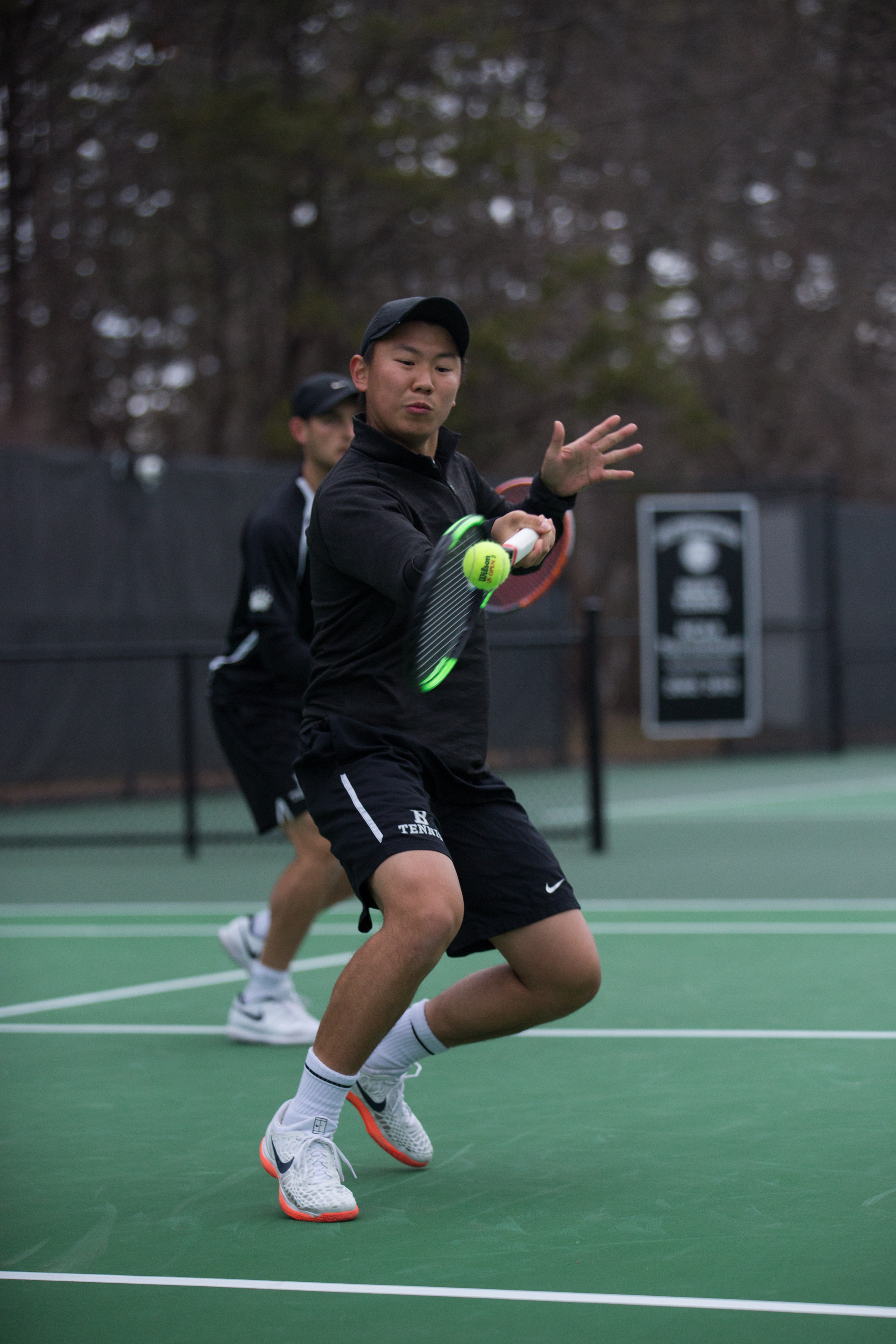 Bowdoin faced off against Colby (8-2, NESCAC 3-1) yesterday afternoon, beating the Mules 9-0. This game was an important primer for the more challenging competition against No. 4 Williams (11-2, NESCAC 4-0) on Saturday.
"Colby is a pretty tough team," said captain Luke Tercek '18 before the match. "They have several strong [players], so it should be a good match. A bunch of players on our team should be [challenged], and hopefully we'll get something out of the match and be ready to face Williams on Saturday."
Roddy expressed concern that external pressures may have affected the mid-week Colby match more than the team's actual skill. His concerns were unnecessary as the team finished with a victory.
"They're always a really tough team as well, pretty scrappy, and definitely excited to play us." said Roddy. "In their eyes, it's a rivalry, [but] not as much in our eyes. It'll be another mid-week match, so there are a lot of external factors you have to shut out. I know it will be a really important match for us to take care of business in moving into Saturday."
Going into the NESCAC tournament, the team is looking to play its best in order to match its opponents.
"I think Williams will probably be the toughest team we have left on the schedule, but as it gets toward the end of the season a lot of NESCAC teams are trying to make the tournament and elevate their level of play as well, so these will all be pretty competitive matches," Roddy said.
The Polar Bears will look to stay in the win column against the Ephs at home on Saturday at 10 a.m.