Peter Skerry on immigration: 'It's not about your grandmother'
April 6, 2018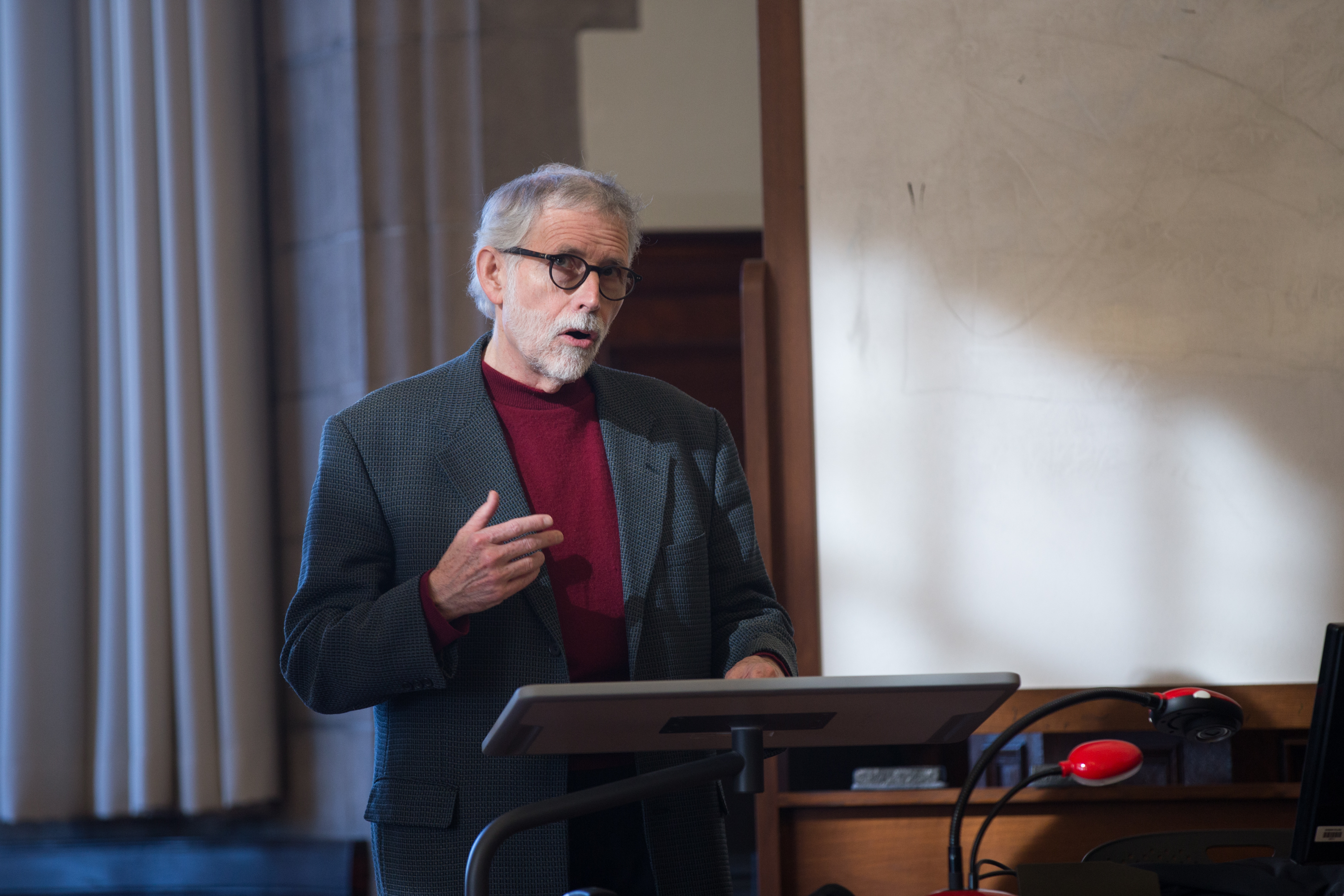 Yesterday afternoon, Peter Skerry, a professor of political science at Boston College and a senior fellow at the Brookings Institution, shared his views on immigration policy in a talk titled "It's Not About Your Grandmother! Some Dispassionate Reflections on Immigration." Drawing on trends and attitudes towards immigration to the United States the past three decades, Skerry aimed to point out flaws in both the left's and right's dominant narratives on immigration.
For this reason, Skerry admitted that his talk had evolved, and that title was no longer entirely fitting. Instead he proposed the title, "It's All in Our Heads!"
"What I mean, of course, is that our reaction to this historic wave of immigrants does not, at least in my opinion, reflect the reality on the ground," he said. "I think both the benefits of mass immigration … as well as the costs and the negative impacts of that in migration, have been greatly exaggerated and misunderstood on all sides of the debate."
Skerry's rational approach to immigration policy is one of the reasons why leaders of the Eisenhower Forum, the sponsor of the event, wanted to bring him to campus.
"I think [Skerry] will bring up more of the constructive arguments or desires of restrictions on immigration or critiques of immigration or just general qualms that can be discussed in a way that's productive, basically," said McKenna Thomas-Franz '19, one of the presidents of the Eisenhower Forum. "He might have an unpopular opinion on immigration, but it's not a disrespectful one."
Skerry argued that the United States could have avoided the current debate about immigration, which often devolves into one side calling the other racist. At the crux of his argument is the framing of the Hispanic, and particularly Mexican, immigrant population as a racial minority group comparable to African Americans.
"Treating them and thinking of them as a racial minority group is part of a racial frame in our politics that includes affirmative action policies and so forth, that I would argue have made it very, very difficult to rationally and reasonably assess the impacts of this historic influx and respond constructively to it," Skerry said.
This "racial minority" framework is the legacy of the Civil Rights Movement, Skerry said, and the methods and rhetoric of African American activists has been applied (with varying degrees of appropriateness) to many other groups' causes including the current immigrant debate. However, Skerry finds the comparison of Hispanics to African Americans flawed because the groups have different histories and have had different experiences in their movement to the United States.
Further, Skerry argued that the primary beneficiaries of immigration are the immigrants themselves and wealthy Americans who employ immigrants, whether or not they are documented.
At the same time, he asserted, this group of upper-middle to upper-class Americans is that most likely to "point its finger to the other Americans," meaning poor unemployed whites and label them as bigoted for complaining about the presence of immigrants and their impact on communities. He cited overcrowding of schools and straining of public resources, among other effects.
"These complaints get branded as anti-immigrant, bigoted and racist, as if there's no rational basis for them at all. I would submit to you, that there's often a rational basis for them," he said. "Doesn't mean that they don't often get exaggerated by people who are frustrated because they don't feel like anybody's listening to them, but there is some reason for the strains that we've had, but we don't want to face up to them because we constantly place them in this racial category and denounce those who are voicing them as racist."
"When we react to those people, the thinking and the word that always comes out is that they're racist," he added. "And I've obviously been trying to suggest that the reality is a whole lot more complicated than that."
While in his talk he did not intend to propose a resolution to the immigration debate, he was unequivocal about the negative nature of the current "racial-minority framing" of Hispanic immigrant groups.
"In fairness to all parts of America, I think we need to rethink this framing of the issue."