Women's basketball places second in NCAA DIII Champs
March 30, 2018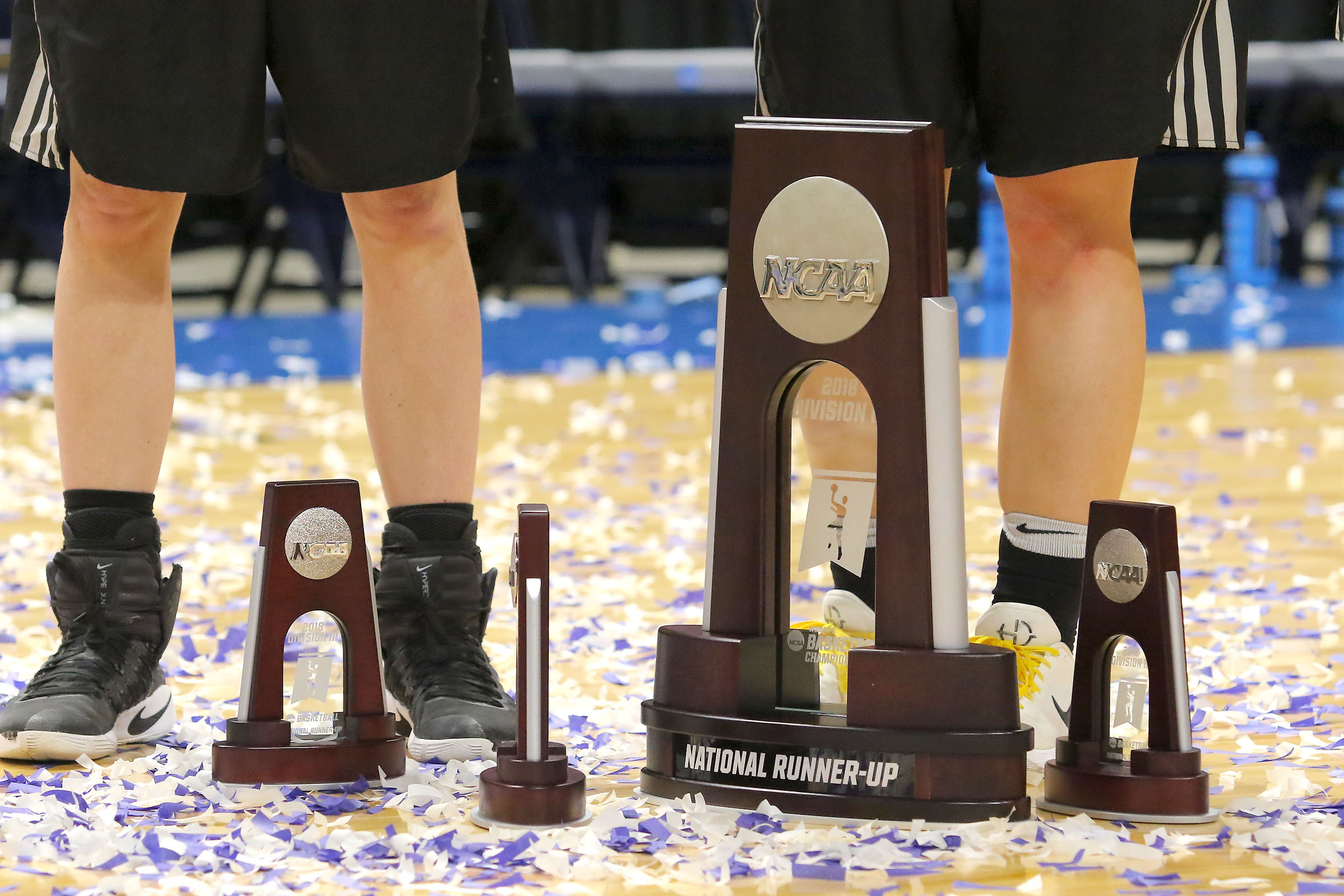 In a packed stadium in Rochester, Minn., the women's basketball team (29-3, NESCAC 9-1) faced defending champion Amherst (33-0, NESCAC 10-0) in the NCAA Division III championship. While the first three quarters remained close, the Mammoths pulled away from the Polar Bears in the final quarter, winning 65-45.
This is the second year in a row NESCAC teams have met in the championship game, with Amherst beating Tufts last year to win the title. This is the second time in program history that the Polar Bears have made it into the Final Four of the NCAA tournament and the team completed the season with the second-most wins on record.
Captain Kate Kerrigan '18 said that in the final game, Amherst tested the Polar Bears' defense. In the fourth quarter, Bowdoin's defense broke down completely, thwarting any potential offensive momentum, when the Mammoths went on a 17-point run.
"We lost a little bit of our defensive edge," said Kerrigan. "We have a rule where we try not to let a team score more than six points in a row without us scoring, and I don't think we had a keen focus on that at that point. They went on a big run and it hurt our defense."
A struggle to make shots was another factor that contributed to the team's defeat. Bowdoin connected just 27 percent of its shots compared to Amherst's 48 percent.
"We missed shots," said Head Coach Adrienne Shibles said. "It happens."
"We could have tried to force the issue more of getting into the paint [and] getting better ball movement," said Kerrigan.
Shibles believes that in a championship game, referees expect higher standards from the players, refusing to overlook commonly ignored calls during the season. This can have a negative impact on a team.
"We had some unfortunate things that didn't go our way," she said. "[Abby Kelly '19] made a key three and the [referees] called three seconds in the paint, a seldom used call. Not to blame the officials, but I'm saying things didn't quite go our way in certain moments."
Despite the loss, the team has been getting an immense amount of support from the Bowdoin community. On Wednesday, Steve Loebs '60 organized a reception for the team that was attended by approximately 45 fans, parents and staff.
"After spring break, I think that's when for me I realized how much support we had throughout the tournament," captain Lydia Caputi '18 said. "A lot of people have come up to everyone on our team and different people to different players have shown a ton of support after the fact. There was no way we would know in the moment [because we were in Minnesota], but a lot of people have been giving us some really kind words."
Leading up to the final, Bowdoin beat undefeated Wartburg College in the Final Four with strong defensive play.
"They hadn't seen NESCAC level defense prior to that [game]," said Shibles. "I'm a very defensive minded coach so it's always an emphasis and always something we're working on every day at practice."
According to captain Lauren Petit '18, the commitment of returning players to improving upon last year's performance gave the team a competitive edge going into this season.
"We always have good chemistry amongst our team," said Petit. "But after an early loss in the tournament last year, we worked really hard in the off season and really tried to do the little things during pick up [games] in the fall [to] come in more prepared."
Between tournament games the team continued to improve, focusing on a mix of offensive and defensive skills.
"Coach talked a lot about travelling with our defense and rebounding," said Kerrigan. "Those were two common themes that got drilled into us during those weeks and the weeks prior as well."
Recently, Kerrigan was awarded D3Hoops.com Northeast Player of the Year and WBCA's DIII Player of the Year in a field of 6,000 athletes, among other awards. Shibles recognized the team's work behind her success.
"Player awards like the one she received are really a credit to the team as a whole," said Shibles. "[Kerrigan] wouldn't even have had the opportunity of being recognized if she hadn't led and if her teammates hadn't performed on the national level."
After an upsetting 60-48 loss in the NESCAC tournament to Tufts, the Polar Bears had to rely on an at-large bid to participate in the NCAA tournament. Bowdoin was not expected to be a national contender as it had to face teams it had lost to in the regular season.
Despite the predicted brackets, the women's basketball team fought hard for its spot among the elite.
"Once you're in the tournament, anything can happen," said Kerrigan. "When it's game time [we] perform the best we can. We all had confidence in each other and the team, that we could make a good run, and that's what we did."
The Polar Bears will use this year's tournament experience to its advantage next season.
"We still have so much pride and joy in our journey," said Shibles. "If there's one good thing that could come out of losing the national championship game, [the loss] will certainly keep the returners hungry to get back there again and to achieve that highest level of success: a national championship."
To read more about Kerrigan's recognitions, click here