Recruiting spending increases 162% to field more diverse athletics teams
February 16, 2018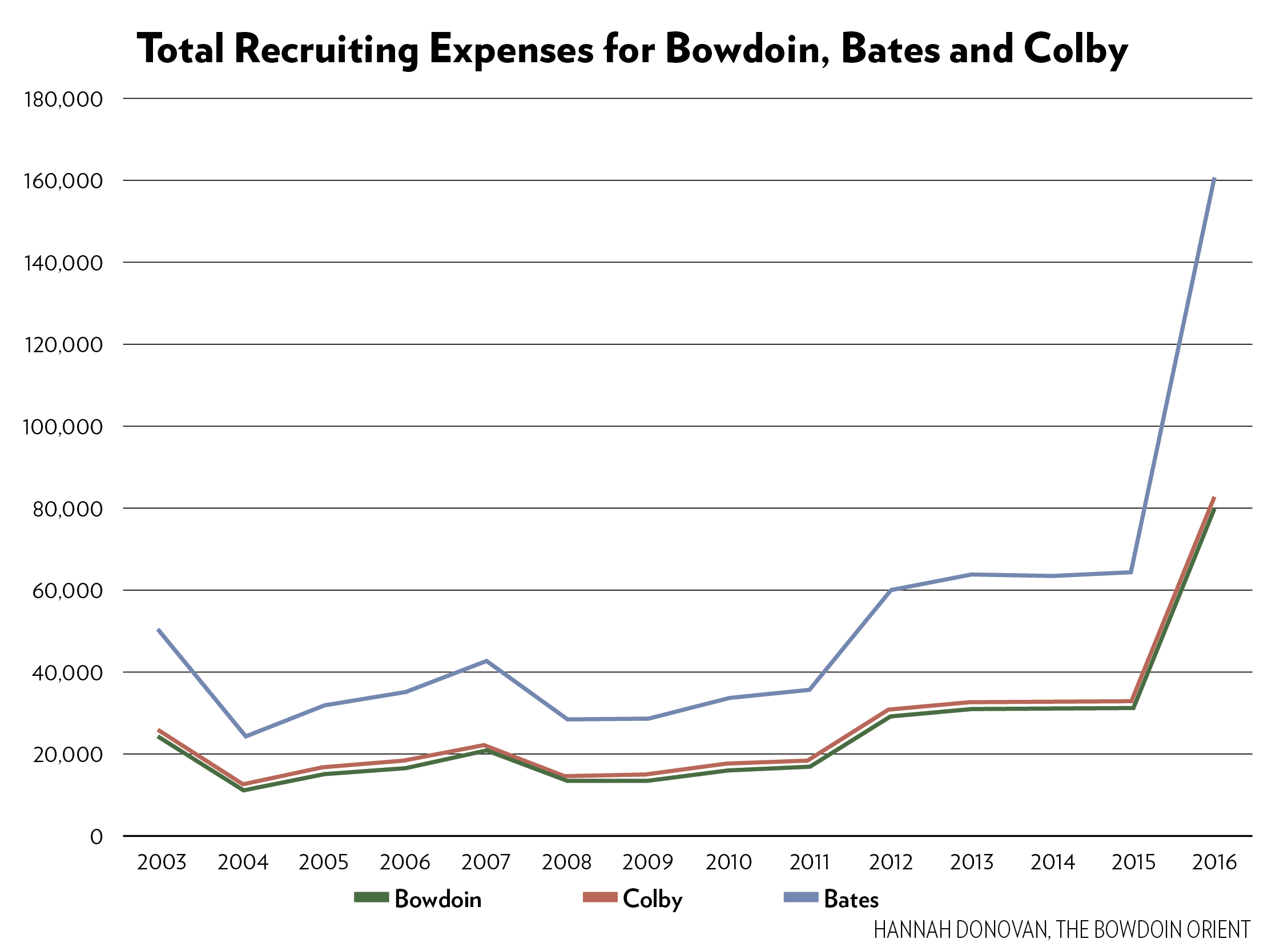 Correction: An earlier version of the article did not clarify that NCSASports is a free website, as per NCAA regulations.
Bowdoin's athletic recruiting expenses surpassed $81,018 during the 2016-2017 academic  year—a 162 percent increase from $30,966 in 2015-2016, according to the 2016-2017 Equity in Athletics Data Analysis. The increase is due to the NESCAC's elimination of the cap on recruitment spending.
The new funds available to the College have allowed the athletic department to increase the diversity of its team's rosters, said Ashmead White Director of Athletics Tim Ryan.
The number of recruited students of color increased by 24 percent over the past two years, while the number of recruited students from outside of New England increased by 40 percent. Ryan was unable to share the number of students these increases corresponded to.
"There [is] a whole host of great reasons why it is really important for our rosters to have a similar composition to the rest of the campus community," Ryan said. "It's great to have the additional resources to make those goals a reality."
According to Ryan, the NESCAC athletic directors have held talks about increasing the diversity of their teams' rosters for a number of years, and began pilot initiatives about four years ago. More recently, the conversation shifted to financial solutions to support diversity recruiting.
Coaches have been using the newly available funds to attend sports camps around the country over the summer. This year, coaches attended 99 new recruiting events, 66 of which were outside of New England. Larger programs, such as football, can also send multiple coaches to larger events.
Head Football Coach J.B. Wells agreed with Ryan, saying that coaches have a duty to shape teams that reflect the composition of the general campus.
"When you put that uniform on and you go out to compete, it says 'Bowdoin,'" Wells said. "So I do think that's important. We're a representation of this campus, not just a representation of the football team, but a representation of all the students here."
In addition to attending recruiting events, coaches have also used the increased funds to buy names of potential student-athletes in targeted areas through sites similar to the free site NCSASports. This means that they can access databases with information on students that match Bowdoin's preferences and then reach out to them, similar to how colleges' admissions use College Board.
"This has allowed us to purchase information from states that are outside of New England that we think may be good fits for," Wells said. "It allows us to cast a wider net."
Attending more events and meeting more students across the country widens the pool of potential student-athletes.
"All of the work that we're doing is focused on identifying academically high-achieving students who can compete at a high level athletically, and students who are going to make Bowdoin a more diverse institution," Ryan said. "I don't think you can separate those things necessarily."
Wells believes that in order to run a successful program, the Athletics Department must align its standards with those of the Office of Admissions. These funds allow the teams to do that.
"I've always thought, as coaching staff, if we're on the same page as Admissions, then we're going to be bringing the right students to campus," Wells said.
"I think you're crazy if you don't listen to the office of admissions and the president and hear what they're looking for, hear the areas that they'd like to see students out of."
"We're all trying to do the same thing; we're just doing it from different offices," he added.
Various circumstances can lead to diverse recruiting practices between teams. For example, volleyball tends to have more geographic diversity and recruit more from the West Coast than lacrosse, which has more of a stronghold in the Northeast.
Despite this, Ryan believes that all the coaches have made a significant effort to utilize the new funds available and increase diversity on their teams.
"It's an initiative that our coaches are committed to, and they've done a really nice job of working towards a common initiative that's in place, not only in the athletic department, but over the College as a whole," he said.