Ladd House to be seniors-only next year as students seek upperclass spaces
Applications due Sunday
January 26, 2018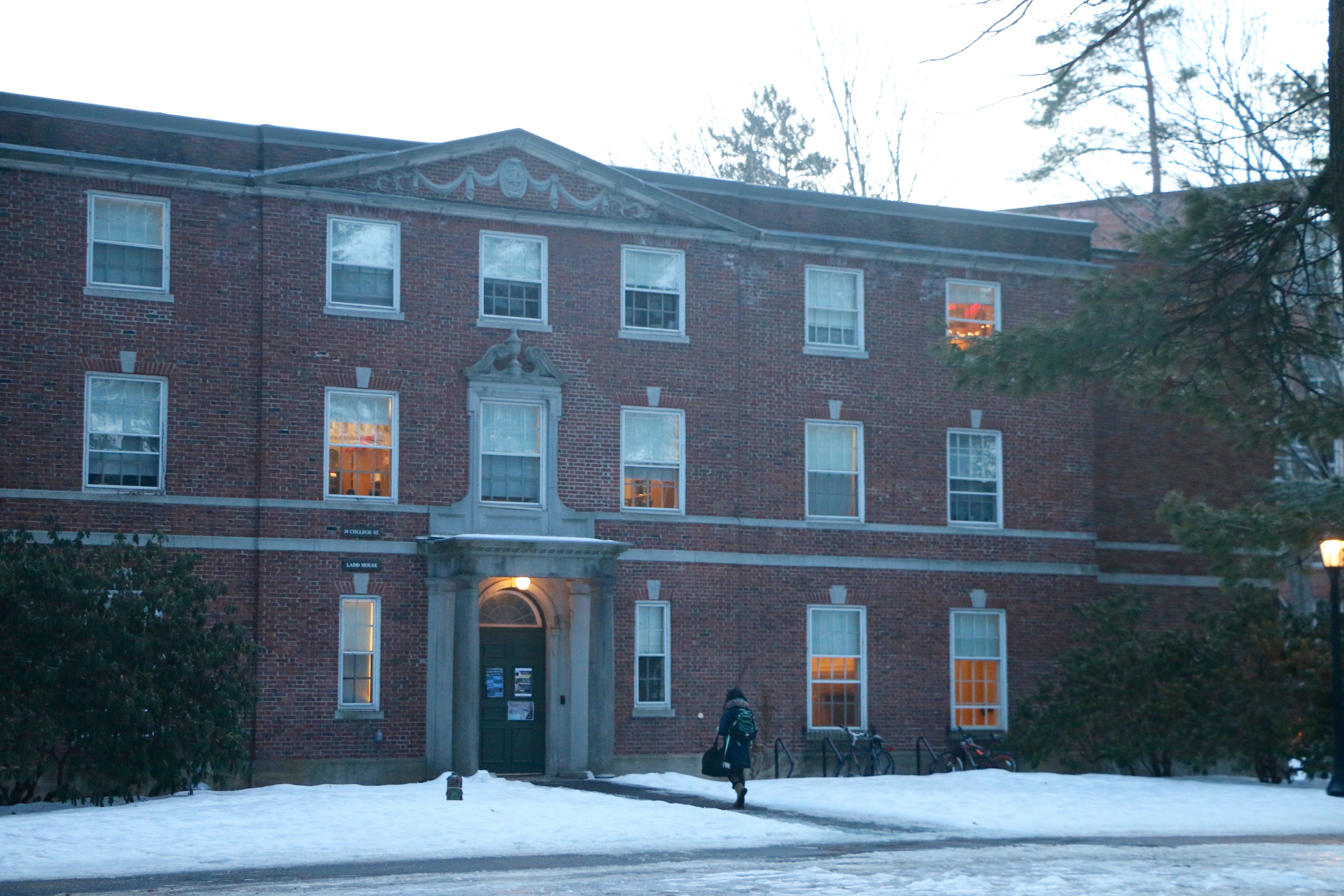 Ladd House, one of the eight College Houses on campus, will be senior-only housing next year if enough rising seniors apply next week. The decision to convert the House, traditionally occupied by sophomores, into senior housing was proposed by a group of juniors, and occurred amid numerous conversations about how to make College housing more appealing to upperclassmen.
A working group on housing policy last spring found that upperclassmen were dissatisfied with the College's current housing options, with many juniors and seniors expressing the desire to live in housing with single bedrooms as well as large social spaces. Ladd is designed with communal living rooms and is the College House with the most single bedrooms on campus. All but one of its rooms are singles.
Ladd will continue to receive funding from the Office of Residential Life (ResLife) to organize programming and events. While the House will not have first-year buddies, as the other College Houses do, Director of Residential and Student Life Meadow Davis said that she expects the House's programming to be open to the entire campus. She added that College programming money could not be spent on alcohol, even if House residents were all over age 21.
"The College does not pay for alcohol for students, so the College will not be paying for alcohol for a senior house," Davis said.
College Houses typically pay for alcohol for parties by collecting dues from members and alcohol is often served to students over 21 for free at special events like opening receptions for the Art Museum.
While ResLife had been discussing ways to integrate seniors into the College House system, the proposal to convert Ladd into senior housing came from a trio of juniors: Amber Rock, Simon Cann and Carlie Rutan.
Rock said the idea came from discussions with friends about the alternatives to off-campus houses, which have grown in popularity among upperclassmen in recent years. The number of students permitted to live off campus was capped at 200 this academic year after the percentage of students living off campus grew from six percent in the fall of 2008 to 12 percent in the fall of 2016.
"I thought, it could be great if we could get these houses on campus," Rock said. "But wait, we have these houses on campus already. We just need to market them towards these upperclassmen students."
Rock, who lived in MacMillan House as a sophomore, said she enjoyed College Houses as a first year and sophomore and wanted to create a similar space for juniors and seniors.
"There's no real space for upperclassmen to have parties of hang out; there's no real communal space. There's kind of a stigma of going to College Houses once you're past [sophomore] year," she said.
Rising seniors interested in living in Ladd during the 2018-2019 academic year have until this Sunday, January 28 to apply for a spot. While students are typically allowed to block for College Houses in groups of up to four, groups of up to seven can block for Ladd. Davis said that this reflects the working group's finding that upperclassmen want to live in larger groups.
ResLife will conduct interviews the week of January 29 and release decisions to students on February 2. Decisions are non-binding, and students will have until February 5 to decide whether to accept a spot. They will be able to see who else was offered spots in the house before making their decision.
If the House does not receive enough applications, Davis said that ResLife will consult with the students who do apply to discuss options, such as opening the House to other class years.
"I think our hope is to pilot it and see what we can do to change the College House system so that it is more applicable to the whole campus. But it is a pilot, so it absolutely might not fill," Davis said.
Angel Ramirez '20, who currently serves as house chair of Ladd, noted that the change would reduce housing options for sophomores.
"I've talked to friends about it and they feel like they are depriving sophomores of the opportunity to live in Ladd," he said.
However, Ramirez added that he saw the potential for the move to improve the campus social scene.
"Since it's focusing just on the seniors … I think it could create a good dynamic," he said.