War hero Andrew Haldane '41 to be featured in biography
December 8, 2017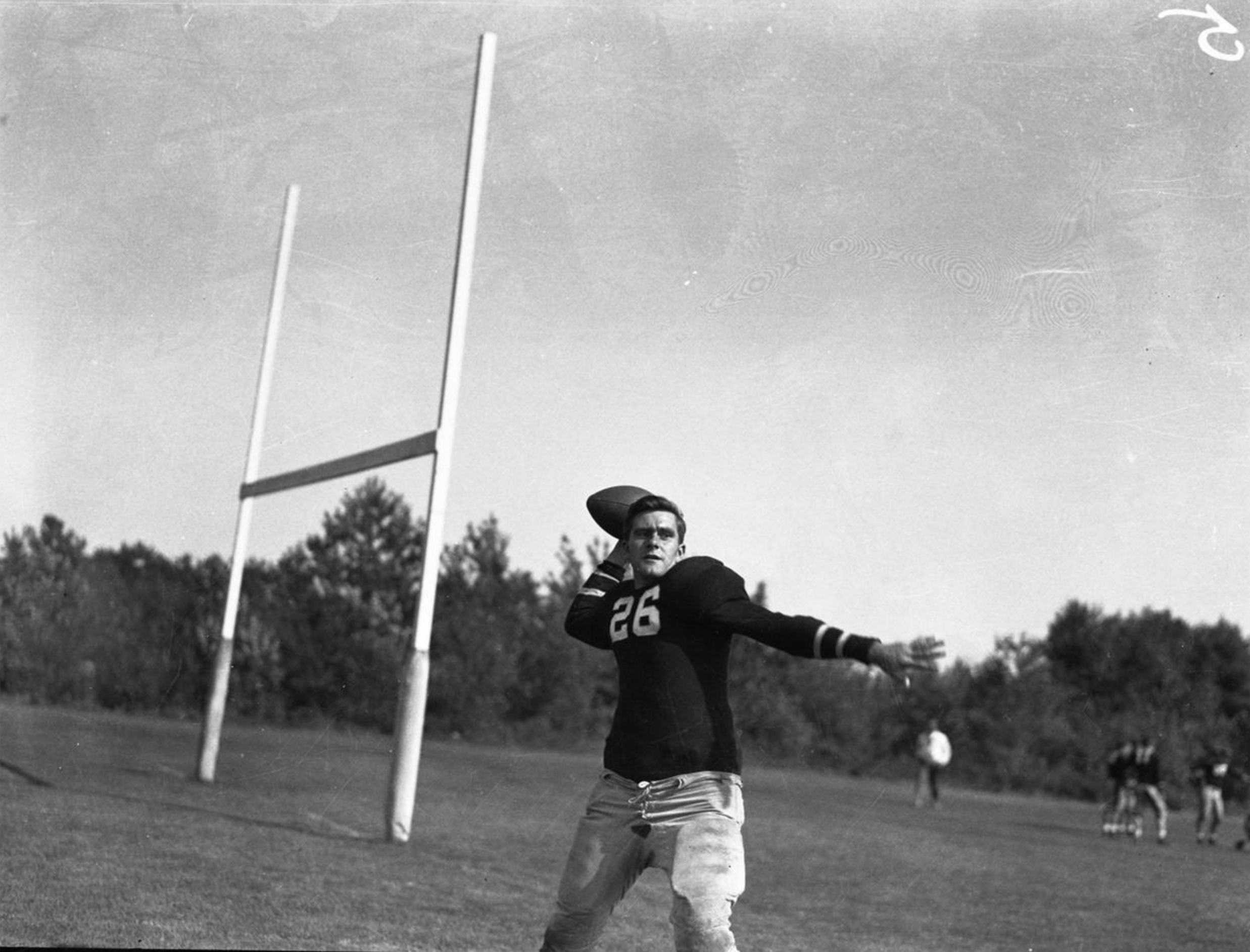 On May 18, 1940, Andrew Haldane '41 received a wooden spoon from his classmates, the award given to the student voted the most popular member of the senior class. Haldane—football captain, baseball player, president of the student council and class secretary—would later find himself called into service for the U.S. Marine Corps., abruptly ending his short stint as assistant football coach at Bowdoin.
Haldane died in battle while serving for the K35 Rifle Company (Kilo Company, 3rd Battalion, 5th Marines), stationed in Peleliu. He was killed in 1944, during World War II by a sniper's bullet in Peleliu, an island off the coast of the Philippines. At the time of Haldane's death, there were two other Bowdoin graduates in Peleliu–Edward Everett Pope '41 and Paul Douglas, class of 1913.
Haldane been mentioned in numerous memoirs and a 2010 HBO miniseries, though none have focused on Haldane himself. That is until Garret Shetrawski, an account executive from Mass., stumbled upon his story.
Shetrawski has interviewed over 200 World War II veterans since his senior year of high school for a book on World War II in the Pacific Theatre. Shetrawski recently rewatched the miniseries, "The Pacific," which features Haldane, and was compelled to learn more about Haldane's story. "I searched for about a day and I couldn't find anything, and I was really surprised that no one had taken the time to write this book about an interesting individual," said Shetrawski.
Shetrawski then decided to take on a project chronicling Haldane's life from his childhood to his legacy. His project breaks up Haldane's life into four intervals: Childhood, the Bowdoin Years, the War Years, and Andy's Legacy.
Primarily through conducting interviews and reading through letters, Shetrawski is in the process compiling Haldane's story. He had a chance to speak with Haldane's nephew, Steve Moore who pointed him to the International Museum of World War II in Natick, Mass., where most of Haldane's belongings are kept.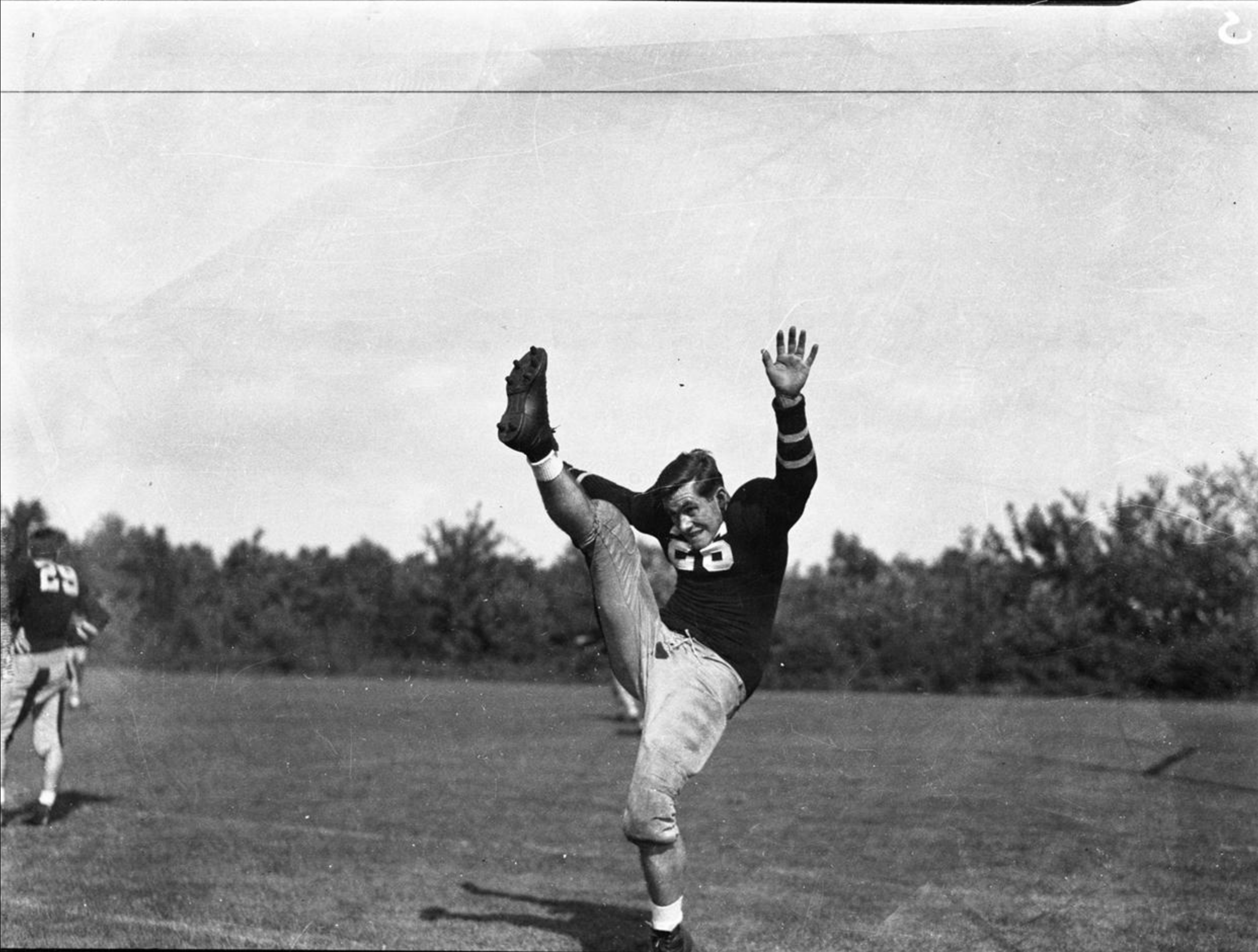 "It was astounding just how much stuff was kept over the years—hundreds of letters, personal correspondence—all in great condition," he said.
The letters' recipients include former Bowdoin president Kenneth Sills, former Dean of Students Paul Nixon, Sen. Paul Douglas, the Department of the Navy and former Bowdoin Football coach Adam Walsh. Shetrawski estimates between 75 and 100 of the letters connect to Bowdoin.
"It was really interesting to see that dialogue and how much Andy cared about the Bowdoin community," said Shetrawski.
While Sills and Nixon kept in touch with the all three Bowdoin alumni in Guadalcanal, Haldane often wrote back.
"It's really interesting to see, from '41 to '44 there were almost monthly touches, sometimes even more," said Shetrawski, "all his correspondence between the president and dean of students at the time, [and] family members, all elaborate on the fact of how much he missed the school and how much the school shaped who he really was."
Haldane came from a blue-collar family in Methuen, Mass.
"He was a very good athlete; he might not have been the particularly greatest student, but I think he worked hard," said Shetrawski. Haldane did not attend college until age 20, making him graduate with the class of '41 at age 24.
In the correspondence with Haldane, Nixon commonly comments on how much Haldane is admired by current undergraduates.
"One of our undergraduates has just brought me a picture of you and the account of Walt's Ridge in the Lawrence Daily Eagle. The picture makes you look as nice and friendly as a Baptist clergyman," he wrote.
Haldane reflected this deep affection for the college in his letters to Walsh:
"I can sincerely say your instruction and guiding ways have helped me greatly in this task I have of leading men."
Shetrawski said that Haldane's Bowdoin years are what defined the leadership qualities that were exemplified on the battlefield and made him a successful Marine Corps Officer.
Before Peleliu, Haldane earned a Silver Star for his work repulsing five Japanese bayonet charges in less than an hour, and engaging in hand-to-hand combat at Walt's Ridge on an island in what is now Papua New Guinea.
"During testing times, he would give away his food to his fellow Marines. Whether it be blankets or ammo, he would always put them first. He was known to never raise his voice and when you talked, he listened," said Shetrawski, "I think what separates him is that he really did make the ultimate sacrifice at the end on the battlefield."
Haldane was killed three days before Marines were supposed to come off the front lines. Eugene Sledge and R.V. Burgin, two mortar-men in Company K, wrote of Haldane's death in memoirs. He died while peeking his head over a ridge, an act which they describe as courageous and necessary for the Company to direct their fire.
"Capt. Andy Haldane wasn't an idol. He was human. But he commanded our individual destinies under the most trying conditions with the utmost compassion," said Sledge in his memoir.
Haldane's legacy reverberated beyond his Company. In a letter to Haldane's parents, Nixon told them the story of how the other Marines created a baseball diamond in a clearing that they named "Haldane Field," and placed a plaque dedicating the site to Haldane.
Shetrawski recounted reading a letter written after Haldane's death by the father of a Marine who served with Haldane directed to Haldane's mother.
"He wrote Andy's mother saying that Andy had written him a few letters about his son and how much he meant to Andy after [his son] had died," said Shetrawski, "the father just found that really appreciative that the skipper took time to do that."
While most of the material for the biography has been covered, Shetrawski still has around 120 letters to read. Additionally, Shetrawski will visit Bowdoin today to work out the finishing touches on Haldane's legacy. He is particularly interested in understanding the significance of the Haldane cup, an extra-curricular award given to a senior who demonstrates outstanding leadership qualities.
The cup is just one of many ways Haldane's legacy continues to be reflected at Bowdoin, a about which he cared so deeply.
"I think if he made it back, that was the first place he was going to go," said Shetrawski. "I think Bowdoin just shaped him."
Anyone with further information to contribute is encouraged to contact Shetrawski at garret.shetrawski@gmail.com.
Correction: A previous version of this article stated that Edward Everett Pope '41 and Paul Douglas, class of 1913, served with Haldane '41 in the K35 Rifle Company.