Men's hockey to raise money for cerebral palsy
December 8, 2017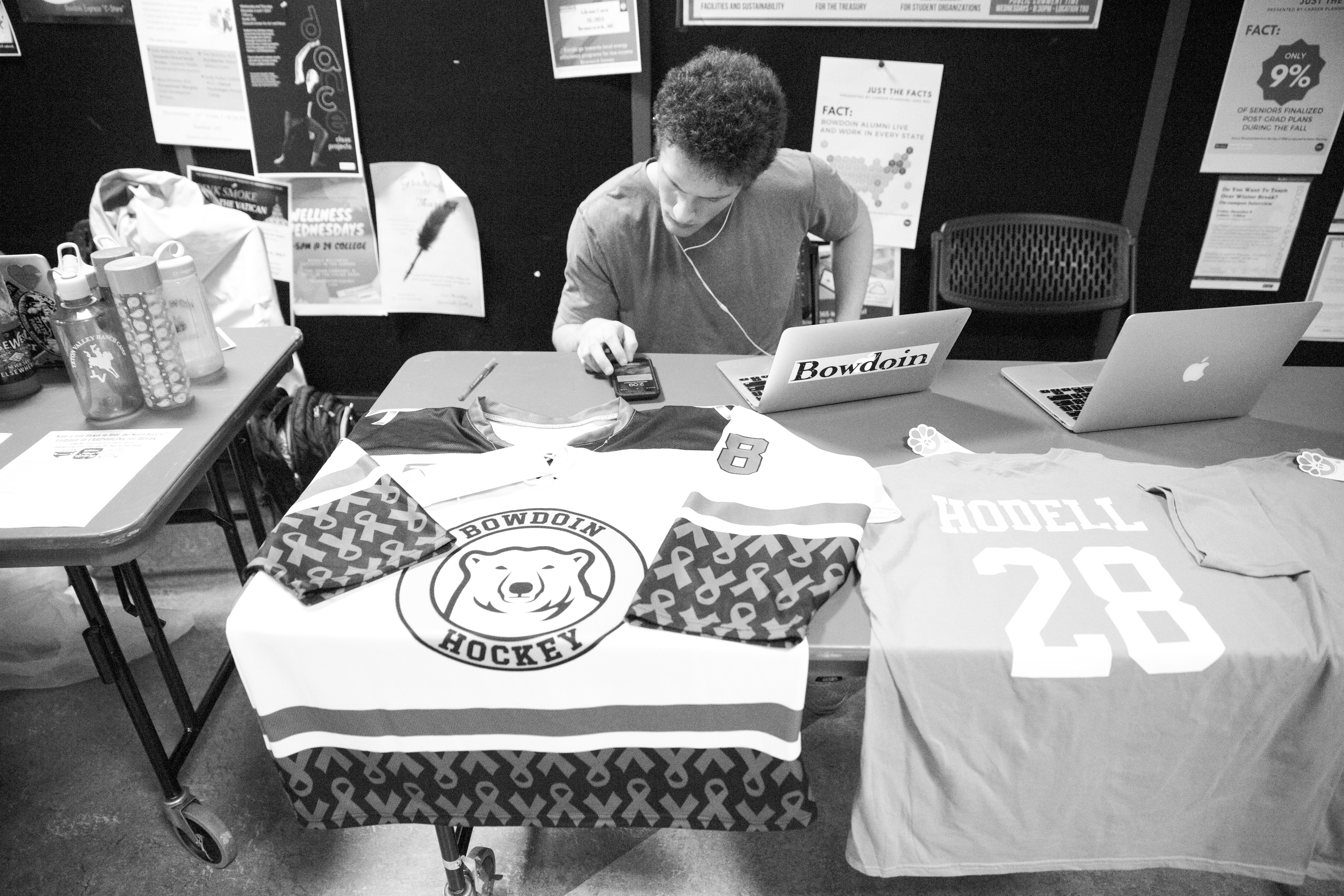 The men's hockey team (3-5) will host a fundraiser for United Cerebral Palsy of Maine during its game against Connecticut College (2-3) at home tomorrow.
According to Camil Blanchet '18 and Spencer Antunez '18, who spearheaded the fundraiser, the idea to support a cerebral palsy charity came from Lucien Hodell, a child who has cerebral palsy. They met Hodell through Team IMPACT, a national organization that connects kids facing serious and chronic illnesses to local college athletic teams.
"[Team IMPACT] approached us about having Lucien join our team because he is a hockey fan," Head Coach Jamie Dumont said. "We've had basketball programs have special team members join the team as well and they are part of the program and [the special team members] are here supporting us as they support [the basketball team]," he added.
As a team IMPACT player for the past six years, Hodell supports the Polar Bears by joining the team dinners, practices and games. He also has his own locker.
"[Hodell] is at our every home game, so we all know him pretty well. [Antunez] and I knew we wanted to do some kind of charity fundraiser," Blanchet said. "Some type of event would be fun, [and] we've got a good venue for it. [Cerebral palsy] seems like the most obvious cause. It's personal to us and the team."
This is the team's first fundraiser since 2014, when the team raised money for the Wounded Warriors project.
United Cerebral Palsy of Maine, which is located in Bangor, is a non-profit organization that helps over 1,500 individuals with disabilities a year gain independence, productivity and full citizenship.
"[United Cerebral Palsy of Maine] does a lot of good work in Maine, first with cerebral palsy but [also with] other degenerative neurological diseases." Blanchet said. "[Hodell's mother] really endorsed what they do and the efficiency [with which] they run the program. As soon as we reached out to them and looked more into them, it seemed like the obvious choice."
Everyone on the team bought a special third jersey for the game against Connecticut College. A portion of the money that went into the sale will be donated to the foundation.
The team will also sell these jerseys at Saturday's game. They bought an extra jersey, which all members will sign, and raffle off at the game this Saturday.
Additionally, the team ordered t-shirts bearing Hodell's name and number on the back.
The proceeds from the jerseys, t-shirts, and raffle will all be donated.
"I think a lot of people are familiar with Hodell. They see him at all our games. So this is a way to not only give back to the community but to him as well because he is such a prominent member of the team," Antunez said.
The Polar Bears will host two home games this weekend. Tonight, the team will face Tufts (1-5-1) at 7 p.m. On Saturday, the team will play its last game of the semester against Connecticut College (2-3) at 4 p.m., the night of the fundraiser.
"It's our last game of the semester, which will be huge. There are big points on the line for the playoffs. We want to make sure that if we play at home we are taking advantage of those opportunities, and it's pretty special to have the game on Saturday for [Hodell] and for the cerebral palsy organization," Dumont said.