Men's soccer qualifies for NCAA DIII tournament
November 10, 2017
On Monday, the Bowdoin men's soccer team (10-4-3, NESCAC 6-2-2) received the news that it was one of five NESCAC schools to earn an at-large bid to advance to the NCAA DIII tournament. After a 1-0 defeat by Middlebury in double overtime at the NESCAC semifinals, men's soccer is looking forward to redemption at the tournament, as they go into their first game against Rutgers-Newark (20-2) this Saturday.
Despite the team's loss  in the semifinals, Captain Wilson Macmillan '18 has faith that the team will compete at a high level in the NCAA tournament.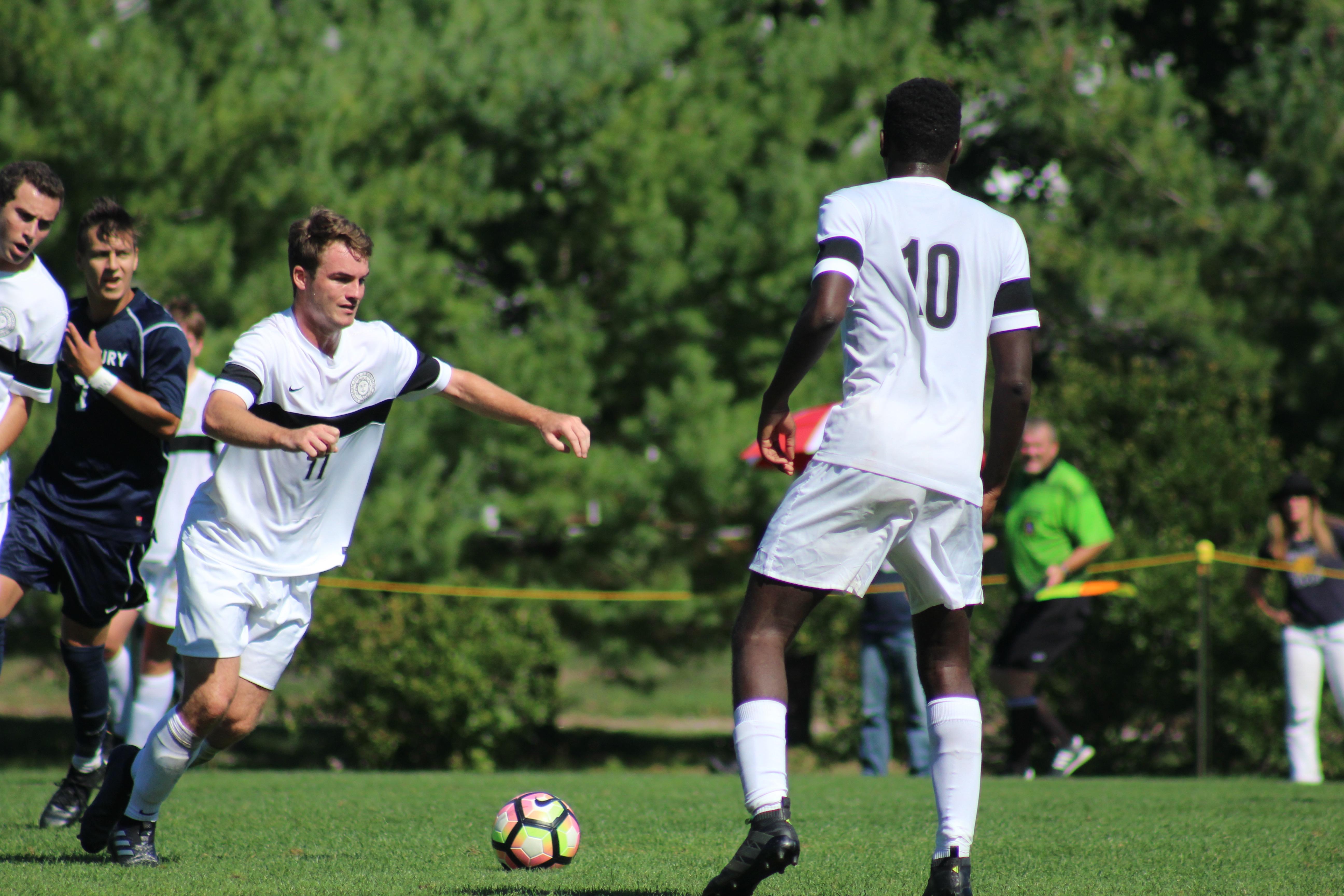 "Usually at this point we are hitting our stride and we haven't done that yet," Macmillan said. "But moving into this weekend I think we are really poised to start playing our best soccer and normally we kind of hit that a little bit earlier. We have stayed pretty consistent and we are starting to find our form. We are peaking at the right time, which is good."
After a disappointing loss to Amherst in last year's NESCAC semifinals, the team was hoping to make it to the finals this year.
"One of our goals was to win the NESCAC championship," Captain Sam Ward '18 said. "Obviously we didn't get to do that. We are still playing so it's not like our season is ruined because of that. We still have another shot."
The results of the upcoming NCAA DIII tournament will determine whether the team can achieve its next goal.
"One of our goals was to make it to the NCAA tournament," Macmillan said. "So it was really great that we were able to accomplish that. Another goal was to not just get here, but to win it. So we have some pretty lofty goals going forward, and I think we are ready to reach them."
Men's soccer struggled and lost against number five ranked team Middlebury on Saturday. The game was a close match, finishing in double overtime with Bowdoin having eight shots and one save versus Middlebury's seven shots and two saves.
"The game against Middlebury was tough," Macmillan said. "I think that we did a really great job early on, on passing the ball and keeping possession. It was a really great performance and I think we really struggled to score and that has been kind of a consistent theme for us. I think that inability to score caused the ending—which was a pretty great goal from the kid from Middlebury—but I think we are definitely looking to rectify that."
The closeness of the match allowed players to stand out on the field. Levi Morant '19 has scored three goals this season for the Polar Bears, one being a game-winning goal.
"I thought that Levi Morant holding the fielder was great," Macmillan said. "He was really busy defensively and did a great job of being physical. I thought Moctar Niang '19 had a great game as well. And CJ Masterson '19 as always does a great job of giving the defenders a tough game and really working hard."
Ward also commended Niang on his outstanding performance in the Middlebury game. Niang was one of five players who received All-NESCAC Honors, a conference best. Goalie Stevie Van Siclen '18, Riley Bubb '18, and Niang were named first team All-NESCAC, while Ethan Ellsworth '18 and Matty McColl '19 were named second team.
Going into the game this weekend, the team hopes to capitalize on its past success and to improve on its regular season.
Different playing styles will be tested going into Saturday's game, with Rutgers-Newark's offensive style going up against Bowdoin's more defensive play. This season, Rutgers-Newark has scored 58 goals compared to Bowdoin's 19. The Scarlet Raiders lost to Amherst earlier this season 2-1 in overtime, while Bowdoin also had a close 1-0 loss to the team.
The Polar Bears will fight for a place in the second round of the NCAA DIII tournament this Saturday at 7:30 p.m. in Waltham, Massachusetts.