First years propel volleyball into NESCAC championship
November 3, 2017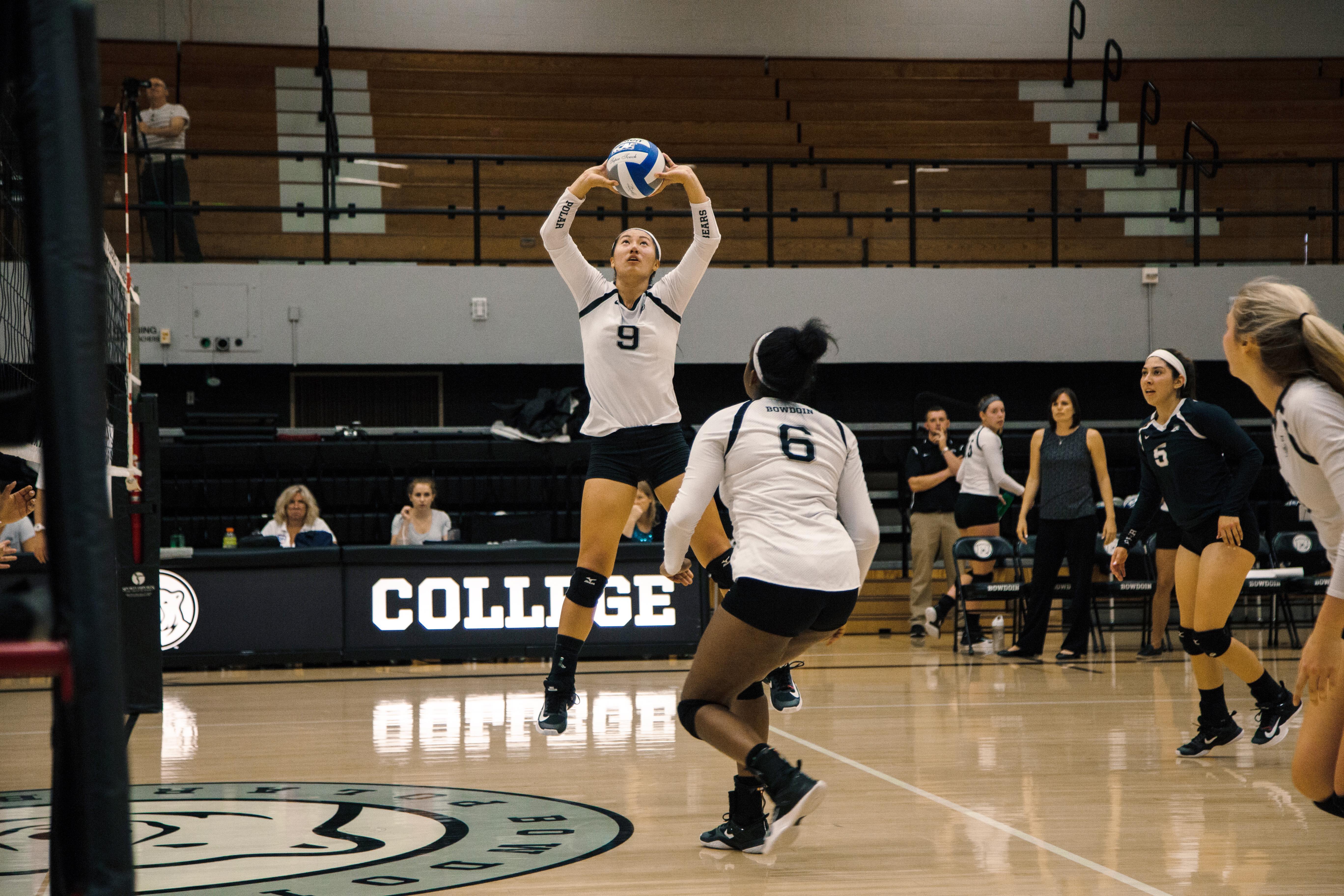 Seeded third, with an impressive 8-2 record in the NESCAC, the volleyball team has its eyes on the Championship as the tournament commences this Friday. The team's last game against Connecticut College (13-10, NESCAC 2-8) ended with a 3-2 victory, giving the Polar Bears confidence as they head into the tournament to face No. 6 Middlebury (16-8, NESCAC 5-5), a chance for Bowdoin to showcase its first-year talent.
For the past 11 consecutive years, Bowdoin has made it to the NESCAC Championships. This is the third time in program history that the team has been ranked third heading into the tournament. Bowdoin won the championship in 2011 and 2015.
The team is expecting a strong showing from Middlebury despite its sixth place ranking, the first in program history. Middlebury is the defending NESCAC champion and has competed in all 19 NESCAC Championships.
"The NESCAC tournament is really unique in that it's really anybody's game. I think in years past, it's been the case where it's really been competition between the top 4 teams or the top 3 teams, but this year it's so close," said captain Michelle Albright '18. "There've been upsets every weekend, where a team that has historically not been as strong has either been really close with a strong team or has even beaten a stronger team."
The Championships will also be a way for first years to gain experience. The team has suffered from injuries that have disabled some players from playing, including Clare McInerney '18, a co-captain and setter on the team. With the graduation of many seniors, an exceptionally high number of first years have joined the team. They have had to fill many starting positions.
"I think every one of [the first years] has had a significant impact as far as being involved in practices, and being involved on the court as well. We rely on them a lot. They are 6 out of 13," says Albright.
Kate Kiser '21 has taken on the position of setter, surpassing Albright's expectations for a first year in that role. In the last game against Connecticut, Kiser achieved 54 assists.
"Kate has done a really good job of stepping into that role even though it's something that may be intimidating to some people. If she was intimidated by it at all, I don't think she let anybody know it," said Albright. "[As a setter] she's never taken off the court, which I think is another challenge of her position. She's involved in every single play and never gets a chance to rest in-game."
Although the first years have had a strong presence on the court, Albright hopes that they will be able to adjust quickly to the new experience of NESCAC Championships.
"I think as it is their first year, they don't really know what to expect going into the NESCACs," said Albright. "All of the upperclassmen [are] working with our coach to prepare them as best as we can for what to expect and how things are going to go."
After losing to Wesleyan the day before, the Polar Bears are looking forward to going into the Championships following their close win against Connecticut College this Saturday. Albright says the team was given a chance to regroup after the loss to Wesleyan and improve their strategy for the game against Connecticut.
"The way that our team handles losses is really unique. We don't see them as a bad thing, but more of a thing that we can use to grow and learn from," said Albright. "[Losing] exposes our weaknesses, which we can then practice and work on and make sure that in the next game they aren't our weaknesses anymore. I think the Connecticut game was a nice turn around for us, where we kind of realized what we could've improved on from the previous night and then applied that on Saturday afternoon."
If Bowdoin wins its game against Middlebury, the Polar Bears could end up facing No. 1 Tufts or No. 8 Bates. The match against Middlebury in the quarterfinals will be held in Medford, Massachusetts at 8 p.m. on Friday, November 3.