Spagnuolo '96 aids women's hockey fight for equality
May 5, 2017
During her time at Bowdoin, Dee Spagnuolo '96 was a three-sport athlete who played field hockey, ice hockey and softball all four years. A dominant force on the field, ice and diamond, Spagnuolo still holds the Bowdoin women's ice hockey record for most career penalty minutes and most penalty minutes in a season.
Spagnuolo now works as a partner at Ballard Spahr law firm, with a particular focus in the white collar sector and internal investigations. However, when an opportunity to represent the U.S. women's ice hockey team came through the pro bono department of the firm, Spagnuolo was offered a chance to explore an area outside of her particular niche as well as reconnect with ice hockey.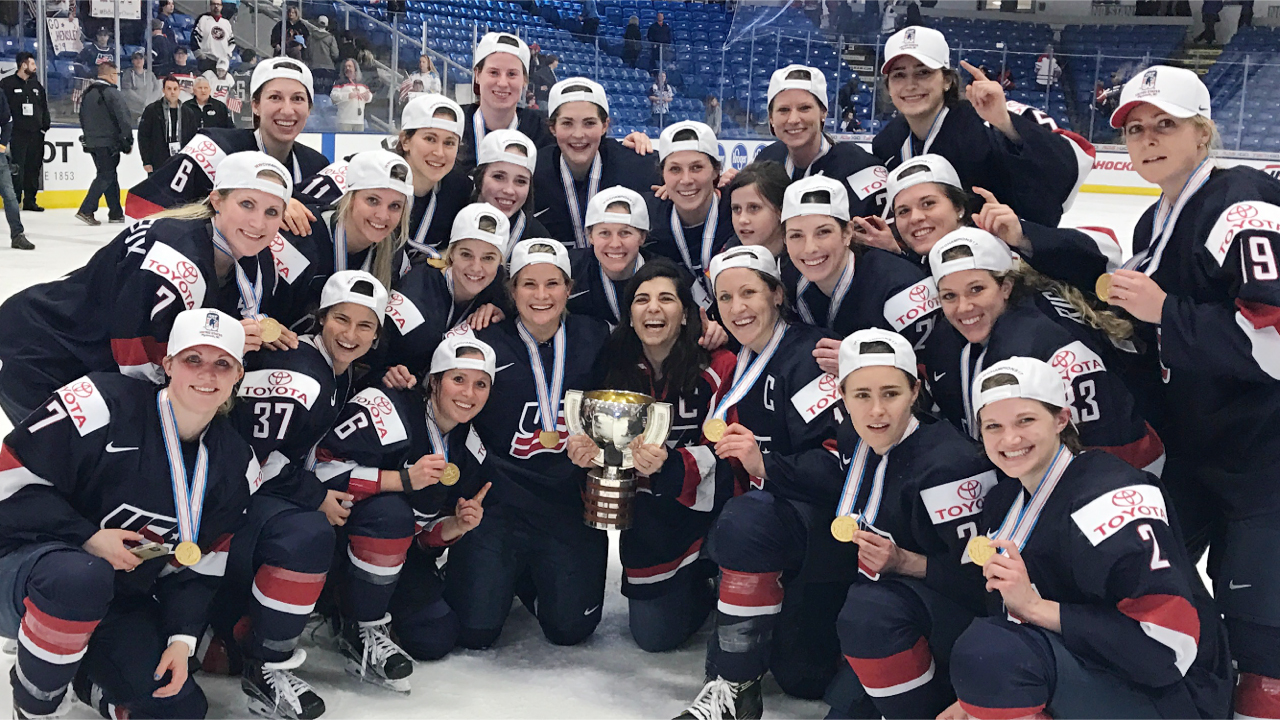 "This opportunity presented for me a chance to really focus my professional skills in an area that I'm really passionate about—gender, gender equality—and then you layer on top of that ice hockey, which was certainly a big part of my life many, many years ago," said Spagnuolo. "[Ice hockey] was a passion of mine that I really hadn't been engaged with on a day-to-day level since I was at Bowdoin, but I was back in it in a heartbeat."
The team believed USA Hockey—the national governing body for ice hockey in the U.S.—was not living up to the requirements of the Ted Stevens Olympic and Amateur Sports Act, which states that national governing bodies are responsible for growing their sports equitably.
The players had three main goals for their contract negotiations: to increase compensation, as most players needed second or third jobs outside of hockey, to increase playing opportunities since the team currently only plays nine games in non-Olympic years and to raise the profile of the U.S. women's ice hockey team.
The team approached Ballard Spahr in late 2015 and after establishing these goals, reached out to USA Hockey in February of 2016. After 15 months of negotiations, the players decided to boycott the World Championships, where they were supposed to host and defend their gold medal. Putting so much on the line, what followed was a few very intense weeks of negotiations and ultimately an agreement that Spagnuolo believes met all three goals through a variety of provisions.
"It really elevated the profile of ice hockey in this country—everyone was talking about it … and I think it really brought to life some of the issues female athletes continue to face in our country," said Spagnuolo. "These sort of issues of equality are a marathon and not a sprint, and I think that through this representation and really through these players we have advanced the ball but there's still plenty of work to be done, in and outside of ice hockey."
A major victory for the team and women's athletics, the deal was signed 48 hours before their first game of the World Championships in Plymouth, Michigan. However, missing all of the pre-tournament training did not hinder the team as the U.S. went on to defend its gold medal in an overtime win over Canada.
"It was so emotional, knowing what they'd been through, knowing what they'd put on the line, knowing that we had helped them meet their goals off the ice," said Spagnuolo. "And then to see them really have a storybook ending, meeting their goal on the ice under less than ideal circumstances … to see all of that come together, if you were to watch it in a movie you wouldn't believe that it was true."
Spagnuolo found that in many ways this opportunity brought her back to her Bowdoin days, not only through revisiting her passion of ice hockey, but because she believes her liberal arts education allowed her to take full advantage of the opportunity when it arose.
"It's been interesting to see—sometimes when I least expect it—when these opportunities and these skills that I developed resurface," said Spagnuolo. "The more interests that you develop and the more well-rounded that you are, the more you engage in a wide variety of activities, the better equipped you are to seize an opportunity when it comes your way and the more comfortable you are in doing that."