Men's tennis hopes to rally in playoffs
May 5, 2017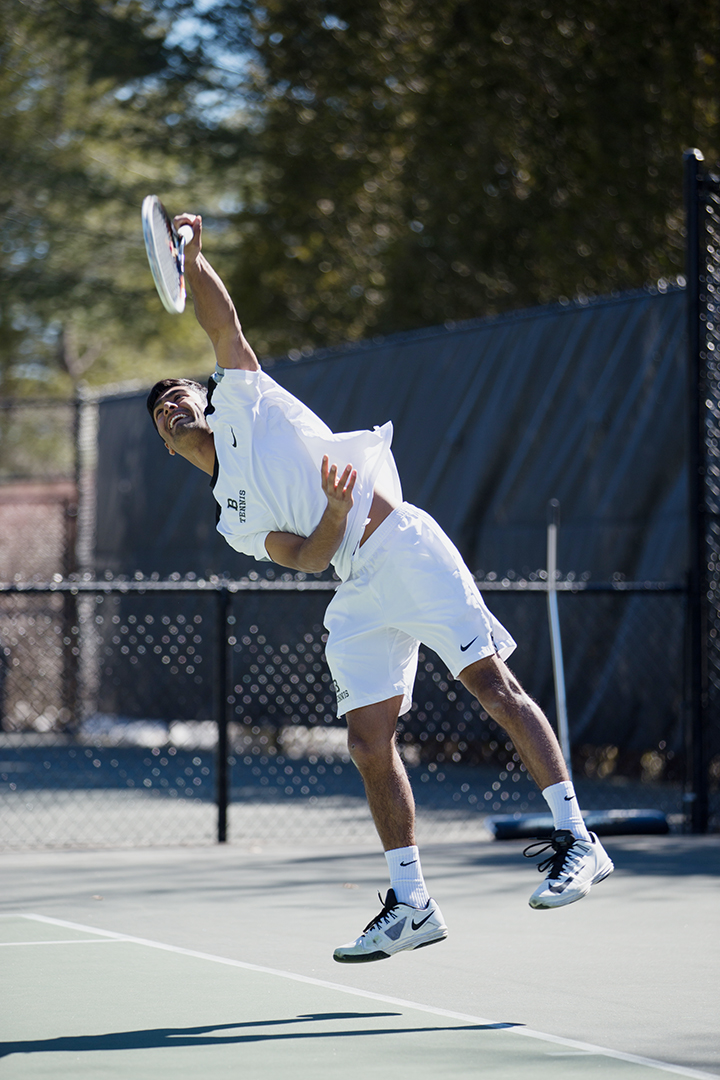 The Bowdoin men's tennis team (15-4, 6-3 NESCAC) heads into the first round of the NESCAC tournament this weekend as the No. 4 seed and in better form after recovering from an illness that affected a significant amount of the team. The team had mixed results last weekend—beating Tufts (9-7, 4-5 NESCAC) in a razor-thin 5-4 match and losing 3-6 to Wesleyan (13-2, 8-1 NESCAC) on Saturday. The team is looking to bounce back from the Wesleyan loss as well as its recent losses to Bates (6-10, 5-4 NESCAC) in a rematch against the Bobcats in the first round of NESCAC playoffs this weekend.
Despite their loss, the Polar Bears scored some significant wins against Wesleyan with Luke Tercek '18 and Grant Urken '19 scoring a major victory in No. 1 doubles. The team also performed relatively well in singles, with Luke Carstens '19 and Urken winning No. 2 and No. 6 singles respectively. However, the team still fell short as Wesleyan dominated the singles and took No. 2 and No. 3 doubles.
"Wesleyan has some really good spots that are kind of like the best in the country; their best player's probably within the top five in the country," said Gil Roddy '18. "And so when the team has such strong spots, the doubles are super important, and we went down 2-1 against them in doubles. But on the bright side, those were all three matches that were really doable."
The team's performance in doubles has consistently been a cornerstone of its success in the past. In fact, the team's lackluster doubles showing against Bates and Wesleyan played a pivotal role in those losses.
"It's really interesting because it's really one of our strong spots. It's something that we really emphasize in the off-season and we really work hard on in the beginning of the season," said Roddy. "We had really successful doubles results in California, and in the beginning of our regular season, and so we did well here back in Maine. That's definitely something that we'll focus on—kind of thinking about what's something we can work on to make our doubles stronger and focused."
These past two weeks, the tennis team has been fighting another enemy: the flu. Three to four people on the team had the flu, and it has had an impact, especially in the match against Bates last week.
"I mean Kyle Wolfe ['18] who was playing No. 3 [singles], he was probably in a position to win that match, but once the match was decided he pulled out because he was suffering with the flu. He was throwing up during the match," said Roddy.
Despite these recent setbacks, the team is confident about its position and hopes to bounce back from its previous losses and score a victory over Bates.
"We're looking forward to this match against Bates and to potentially win against them," said Roddy. "We haven't really looked beyond that, but I think our mindset is really good right now. We're not just trying to win one match and be happy with that. We're trying to go further."
The team heads to Williams to face Bates today at 8 a.m.