College transforms ASAP, programs uncertain
May 5, 2017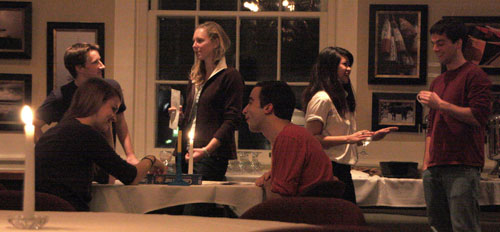 Next year, the Alliance for Sexual Assault Prevention (ASAP) will no longer serve as a campus-wide programming organization, a change introduced by the Office of Gender Violence Prevention and Education. The decision received pushback from the leaders of ASAP—who were not consulted—for several reasons, but primarily because the change ends ASAP's role in sexual assault prevention programming and it is unclear which groups will sponsor the ongoing events ASAP developed.
When ASAP was founded eight years ago, it was intended to be a coalition of student leaders organized under the Office of Gender Violence Prevention and Education. Over time, the organization began planning campus-wide campus programs and events, such as Date Week, Consent Week and the Senior Sex Panel.
"Part of [the reason for changing ASAP] is historical," said Director of Gender Violence Prevention and Education Benje Douglas. "It was never constructed to be a student group, actually. It was always built to bring together the student groups that currently existed."
Next year, ASAP will become a coalition including students from the five groups—Bowdoin Men Against Sexual Violence (BMASV), V Space, Safe Space, the Sex Project and V Day—that are currently advised by Lisa Peterson, associate director of gender violence prevention and education. Douglas and Peterson expressed confidence that students will form new organizations to be part of the coalition and both plan to reach out to student groups from other areas of campus, such as the Multicultural Coalition, to join the revised ASAP.
The new coalition will meet to discuss the programs that each separate group is planning, but will not be responsible for planning events on its own.
The decision to change ASAP to a coalition was made because of its leaders' status as student employees, Douglas said. Leaders of ASAP are paid employees of the Office of Gender Violence and Prevention. Douglas said that when ASAP unofficially assumed the responsibility of a programming organization, the job that its paid leaders were hired to do became unclear.
"As [ASAP has] gotten away from the coalition building into the student programming … we wanted to make sure that we were really clear about what [the leaders] were hired to do," Douglas said.
Peterson added that student leaders in organizations that work against sexual violence have also called for increased collaboration and communication with other groups.
"Students have said that they really enjoyed that opportunity to hear from one another, and to think about how they can partner or collaborate more effectively," she said. "So this will allow us to formalize that for next year and have a really strong, robust coalition."
However, the student leaders of ASAP expressed disappointment with the decision.
"The title of ASAP is being disassembled from the work that ASAP has done," said Madeline Hall '17, one of the co-leaders of the group.
Hayley Nicholas '17, the other co-leader of ASAP, worries that the new internal coalition will become invisible to the campus at large and that the past contributions of ASAP will be forgotten.
"What's frustrating is that we're really proud with having those programs associated with ASAP, and to take that power away from ASAP, we feel that it's going to do a lot of damage," she said.
The co-leaders are also upset because they were not consulted by staff in the Office as the decision was being made.
"We had a vision for ASAP, and we've been expressing that to [Peterson] this entire year, so it's just disheartening to see that it's not going to be put into effect," said Nicholas.
Nicholas and Hall are also concerned about the future of the programs that ASAP created, such as Consent Week and Date Week. While Hall is hopeful that other student groups will take on the responsibility of continuing the programs next year, she is worried by the uncertainty.
"That's also scary … just to know that we're leaving Bowdoin and to not know what is going to be replacing the programming that we've been doing," she said. "There's no platform for anything anymore, for this programming."
The changes to ASAP come in the wake of a decision made earlier this year to merge the Women's Resource Center and the Resource Center for Gender and Sexual Diversity, a decision that received significant pushback from student employees in both centers.
Abby Motycka '17, a member of ASAP, was frustrated by both changes.
"This is another shining example of the administration thinking they know the students better than the students know the students," she said.
While Douglas and Peterson are confident that current or new student organizations will assume ASAP's programs, Douglas could not specify which students or groups will take on those duties.
Nicholas is skeptical that existing groups will take on the tasks.
"That's not going to happen, because these student groups already have enough on their plates," Nicholas said. "To expect them to take on programs that we created is just ridiculous, because it's a lot of work, and they already have enough work."
Douglas, however, thinks that this structure of ASAP will increase efficiency and will not decrease the amount of programming on campus around sexual violence.
"ASAP [now has] two charges, and now we're saying it [will have] one, the coalition building," he said.
He noted that, without the burden of planning events, ASAP could focus its efforts more on building collaboration.
Peterson added that the coalition structure of ASAP will be beneficial because it will encourage collaboration between groups that have similar purposes.
"Our major goal, and I think that most organizations have on campus, is to make sure that we're approaching our work in an intersectional, inclusive way, and I think coalitions are the perfect approach to make sure that we're having that focus," she said.
Douglas agreed, adding that the combination of forces will generate events that reach further on campus and beyond.
"It's not that individual groups can't do really cool programs and projects, but if you bring together multiple groups and projects, you get something that can truly be campus wide or community wide in a different way than if just one group does it," he said.