Guests and students perform at the African Fashion Show
February 24, 2023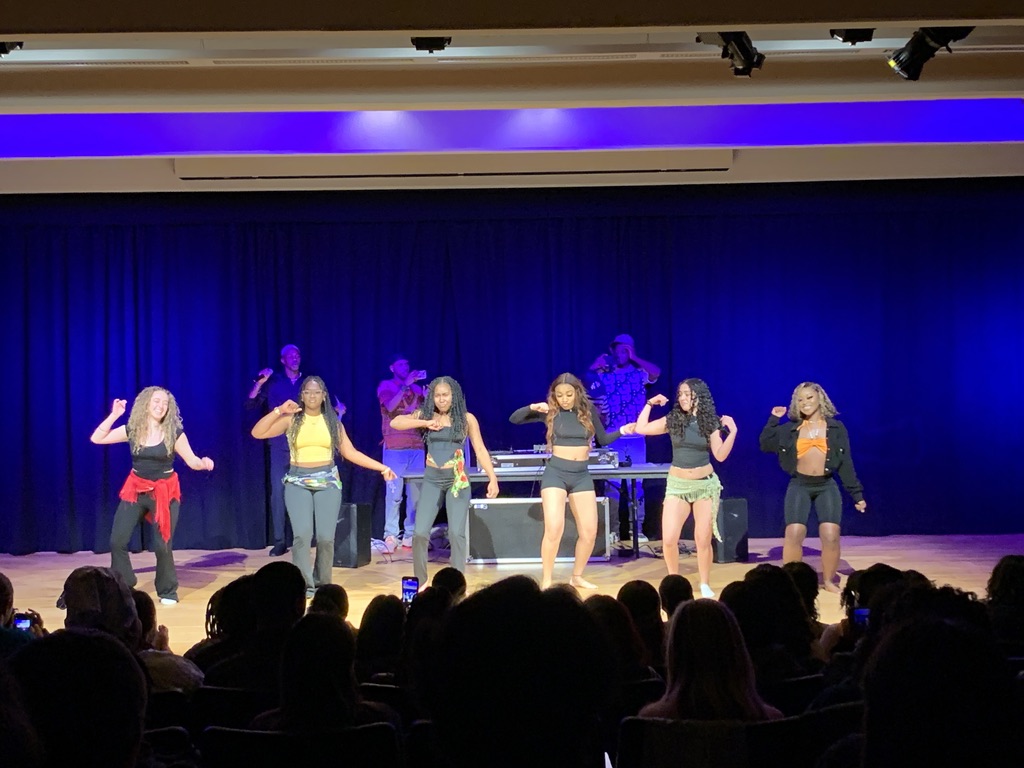 On Saturday, the Africa Alliance hosted its African Fashion Show with music and outfits from countries all across the continent. Though the fashion show is an annual tradition for the Africa Alliance, the introduction of outside guests and performers made this year's show a unique event for both audience members and participants.
In previous years, the Africa Alliance has alternated hosting its two major biennial events, the African Wedding and the African Fashion Show. However, the group's senior leaders brought both events to campus this year after Covid-19 cancellations over the past two years.
Typically, student performers, MCs and DJs run the event, but this year, the Africa Alliance brought social media influencers Ini Cash and Amarachi to engage the audience in new ways. Furthermore, DJ Mike Musonda, a recommendation from the Bates Africana Club, played Afrobeat songs from each country represented in the fashion show.
Africa Alliance President Aminat Ibn Yusif '23 was the primary organizer for the event and wanted to bring in guest influencers to revive and expand the traditional programming of the show after the pandemic.
"I've been following Ini Cash for years, and to bring him to campus was really special to me because I see how much he cares about African culture and shares it on his platform," Yusif said.
In addition to guest performances, the fashion show featured several student performances, including a poetry performance by Weatherspoon '25, a performance by the Afro-Latin dance group Intersection with guest dancer Amarachi and a closing song by Elizabeth Matsiko '23, the treasurer of the Africa Alliance.
"I wanted to open the show with Black talent on campus, and Weatherspoon is a great example of that. They are a student on campus that has been doing poetry and engaging with Black creatives on campus even before they were a student at Bowdoin," Yusif said.
As the leader of Intersection, Yusif enjoyed being able to dance with Amarachi, an influencer she's followed on social media and learned from over the past few years. The energy and excitement from their performance elevated the fashion show from previous iterations, in Yusif's opinion.
To conclude the show, all of the participants walked on stage behind Matsiko as she sang the "African Queen," a staple song in many African cultures. Yusif remarked that "African Queen" has a lot of meaning that African families, including her own, identify with.
Participant Fatima Kunjo '25 acknowledged the beauty and significance of ending with Matsiko's performance.
"The foundation of the entire event was knowing that you're beautiful and will always be beautiful and to always be proud of who you are, your culture and where you come from. I love that we came on stage while she was singing that," Kunjo said.
The show fell on the same date as Gambia's Independence Day, inspiring Kunjo's performance. By dancing to a Gambian song and waving her flag, she was not only showcasing an outfit but an aspect of her identity.
"When people think of Africa, it's usually very homogenized. You only think of one specific image, one specific outfit," Kunjo said. "It was nice to see a lot of diversity among African countries. Seeing how people were representing the country and how excited and proud they were to walk on stage in their outfits just made everything so much more special."
Both Yusif and Kunjo were also excited to see new students engage with the Africa Alliance and share their culture with both other Bowdoin students and other members of the group with different traditions and cultures.
"I think it took some people out of their comfort zone to get onstage in front of an audience and showcase their culture, which takes a lot of confidence and pride. So I was really proud to see everyone participate, especially the underclassmen that have never seen a fashion show happen before," Yusif said.
To Yusif, the African Fashion Show has always been the place where students can be their authentic selves at Bowdoin and celebrate their culture with the community. She hopes that this tradition and the group continues to be a place where African culture can be celebrated by both African and non-African students.
"It's a culture shock for a lot of people to leave what they're used to, whether it's wearing a specific type of clothing or listening to a specific type of music, to come into this environment that forces you to dilute your culture," Yusif said. "Being able to be authentically African in that moment for those couple of hours was an amazing feeling, especially being able to share it."