Polar Bear of the Week: Tatum Zupnik '24
February 17, 2023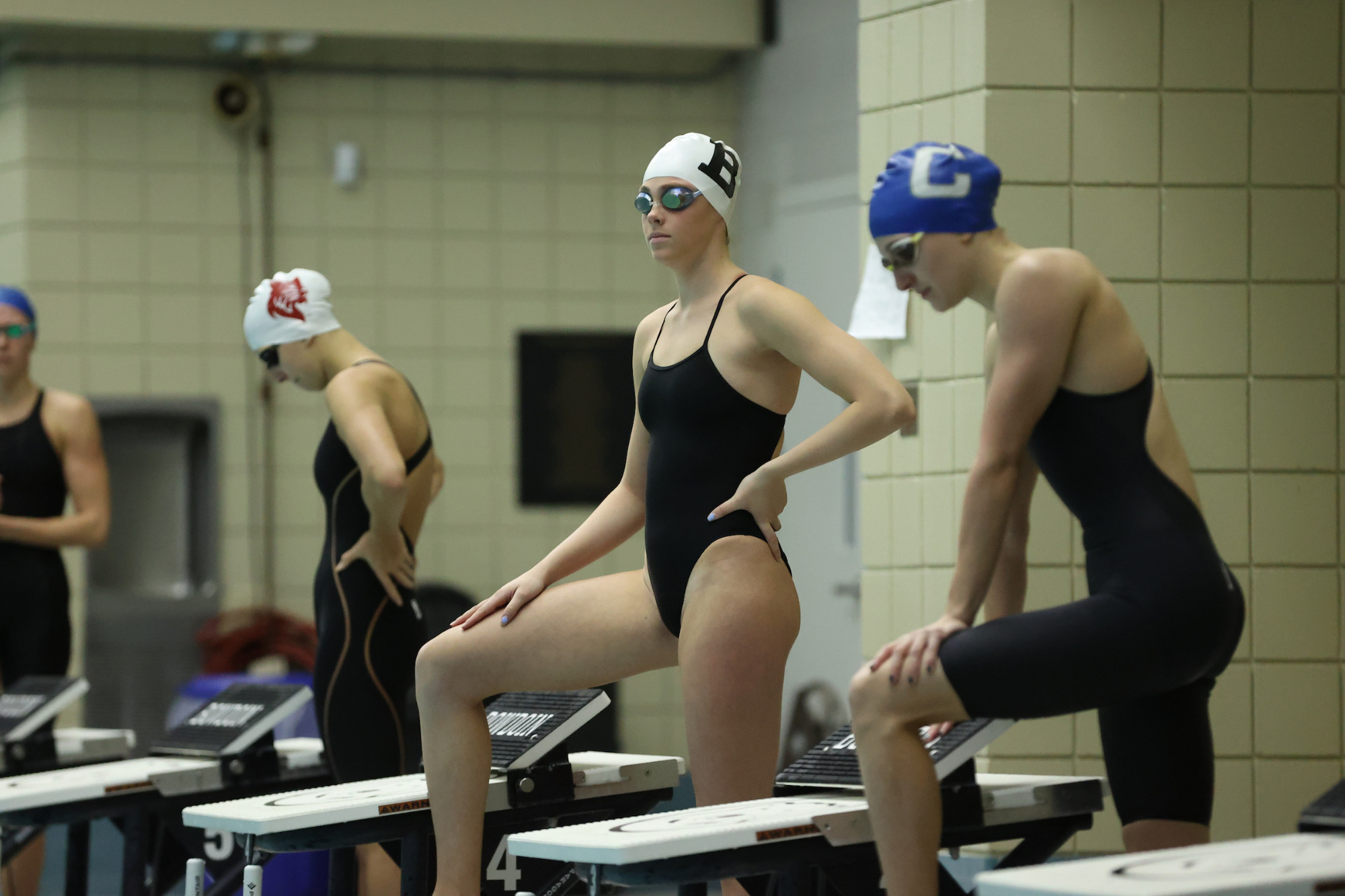 At the 2023 women's NESCAC Swimming and Diving Championship last weekend, Tatum Zupnik '24 broke the school record for the 50 butterfly with a time of 24.85 seconds and was a part of the record-breaking 200 free relay alongside Ella Martin '24, Cassie Maroney '23 and Ella Riccio '25. Zupnik also had several other second and third place finishes throughout the weekend and was a key part of Bowdoin's fourth place finish.
Taking on the 50 butterfly record had been a long-standing personal goal for Zupnik, so  pressure was running high on Friday. She explained that, despite having some minor setbacks in other races, she was able to overcome the nerves as a result of strong coaching and preparation.
"When we do feel those nerves, we rely on autopilot," Zupnik said. "Our body knows what to do. I definitely [trusted] that the work was there and that I was prepared…. It's knowing that you've done everything you need to do. All you have to do at that moment is just really focus."
Throughout the season, Zupnik has also been working on improving her mental approach. Last year was the first traditional season for the Polar Bears since before the pandemic, which Zupnik said generated some uncertainty for the team.
However, she recalls how everyone was able to turn their nerves into excitement and enthusiasm—something Bowdoin tried to carry into this season. Zupnik said that much of this year's focus has been on keeping the energy high and working hard. She believes that this hard work has paid off.
"This year, just being able to do [NESCACs] again and come back together and perform a second time after all the hard work we've done was really, really rewarding," she said.
Despite some nerves, Zupnik is no stranger to the high stakes of competition. Having swum since age three, she was originally encouraged to join her local pool's team by a coach. She swam in her first meet when she was seven and immediately fell in love with the sport. While she was originally unsure whether she wanted to swim collegiately, her love for competing and being on a team made the decision for her.
Zupnik emphasized how the support she receives from her teammates is one of the strongest influences on her performance, as it builds her confidence before every meet.
"[The team] has definitely been one of the best things I've been a part of," Zupnik said. "I'm so happy and honored that I get to be here with these people."
Swimming has also taught Zupnik about the value of striving for personal goals as well.
"[Swimming has] definitely taught me how hard it is to work so hard for such little gain and such little rewards here and there," Zupnik said. "But when you do get those little rewards, it's such a good feeling…. It makes everything worth it."
Zupnik and the rest of the team will travel to Wesleyan University to compete in the Women's February Invite this weekend. The Polar Bears are also looking forward to the NCAA finals, which will take place in North Carolina in mid-March.