Women's basketball wins tournament in first games with Coach Megan Phelps '15
November 18, 2022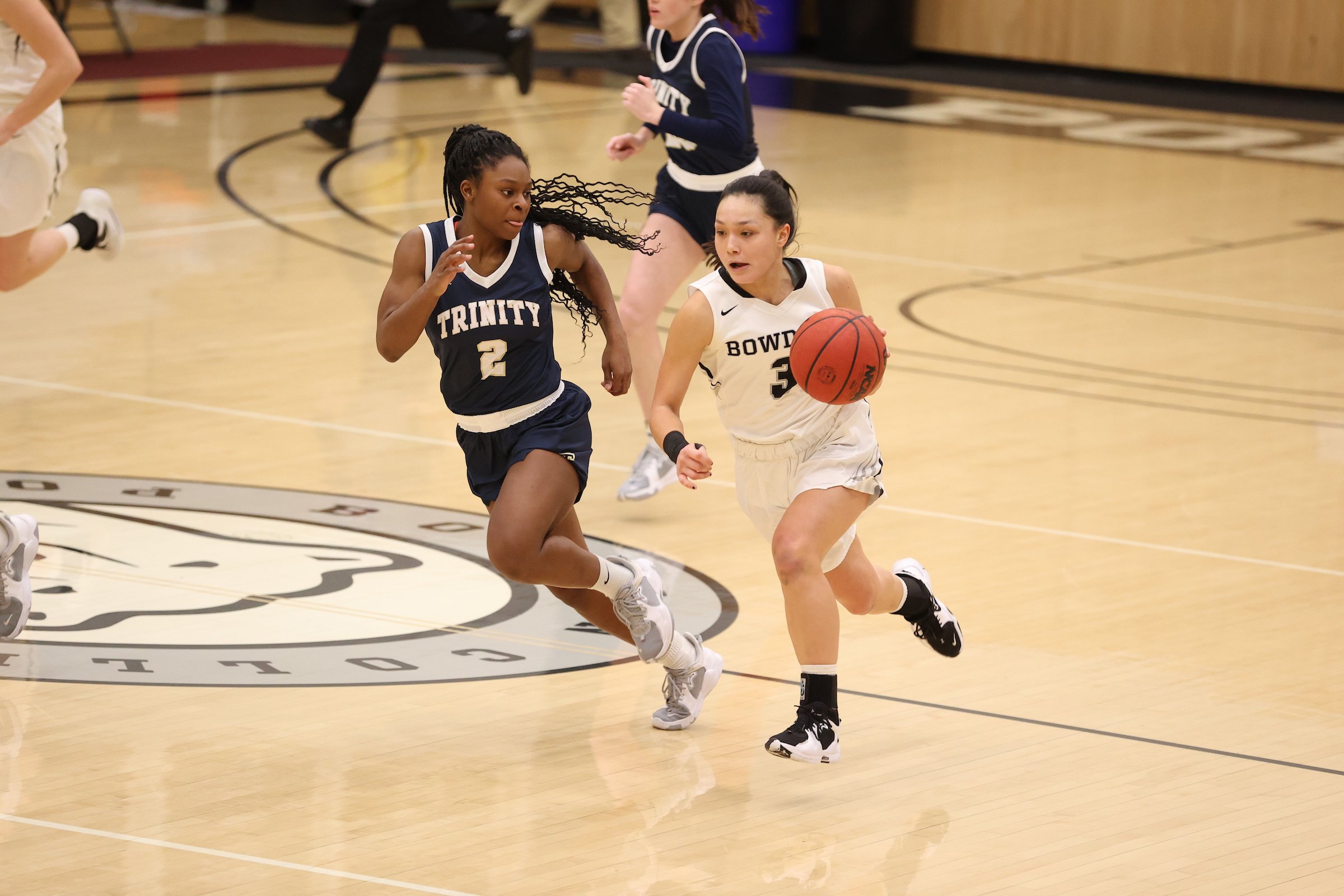 The women's basketball team (2–0; 0–0 NESCAC) returned to Brunswick as champions of the LaFrance Hospitality Tournament hosted by UMass Dartmouth this past weekend. The team's  two victories marked its first wins under new Head Coach Megan Phelps '15. Bowdoin beat St. Lawrence University (2–1) 58–47 and UMass Dartmouth (2–2) 77–61. The Polar Bears are excited to continue building momentum and an electric team dynamic as they prepare for upcoming competition.
Heading into these games, Bowdoin did not have much insight into how its opponents would play. The team was excited to see the hard work it put in throughout the preseason turn into early victories.
"What is so fun about our team is everyone who goes in gives great minutes," forward Callie Godfrey '25 said. "We have such a deep bench that I think is really hard to guard because it makes the other team have to be on for the whole game. They can't take a break, and I think that we really pushed it. The intensity was there the whole time."
Against St. Lawrence, Godfrey had 11 points and ten rebounds, and guard Megan Tan '23  scored a team-high 15 points. With a win under their belt, the Polar Bears advanced in the tournament to face the home team, UMass Dartmouth.
Though Bowdoin held the lead for most of the game, UMass Dartmouth came back from halftime strong and took the lead in the third quarter. The Polar Bears were able to recover their lead with two key three pointers from Annie Boasberg '22 and Tori Beck '23 in the fourth quarter to win the game and tournament.
"UMass Dartmouth had the ability to come back in the game and be a threat to us, and I think we did a good job of staying composed and working our way back inch by inch and then eventually winning," Tan said.
Bowdoin took home another accolade when Sydney Jones '25 was named MVP of the tournament. Jones scored 26 points throughout the tournament and helped facilitate plays in both games.
"Being MVP was really nice, especially with the amount of talent that was there on every team. It could have gone to anyone, so it's a little bit of a confidence boost going into this weekend," Jones said.
Phelps was pleased with the team's first games of the season. In addition to being excited about the victories, she was proud of the team for how everyone supported one another.
"I had a couple different people come up to me after our first game to compliment our team culture and how unified and excited and tight our huddles were, and as a coach, it's the best compliment you could get," Phelps said.
This season, the team is prioritizing and working toward adopting a growth mindset, which includes viewing mistakes and losses as opportunities to learn and improve.
Phelps noted that the senior players have been great leaders this season but that the first years and sophomores are also getting involved on the court. The team has added six first years to its roster, and they are already showing potential. Since the team did not graduate any seniors last year, it is larger than it has been in recent years.
"Our team this year is really big. Last year, [we had] 14 or 15 players. This year, we have 18 players, so we just take up a lot of space. We're wicked loud, and [we have] a lot of energy and excitement and enthusiasm," Tan said.
Jones agreed that the team has done a great job working together.
"I think everyone was really on top of keeping up the energy, making sure we're cheering on everyone and keeping up the intensity overall," Jones said.
The team is looking forward to bringing its experience and energy back to Brunswick.
"It's a great joy to get to work with this group, and I think they're really eager to learn and get better. That's always fun as a coach," Phelps said. "So I'm excited to see what they can accomplish and how far we can push our improvement."
The Polar Bears host the Coastal Classic this weekend and will play Framingham State University (2–0) and Smith College (2–0) tonight in Morrell Gymnasium in their first home games of the season.