Cara Hung '26 and Jamilah Karah '25 win tennis doubles championship
September 30, 2022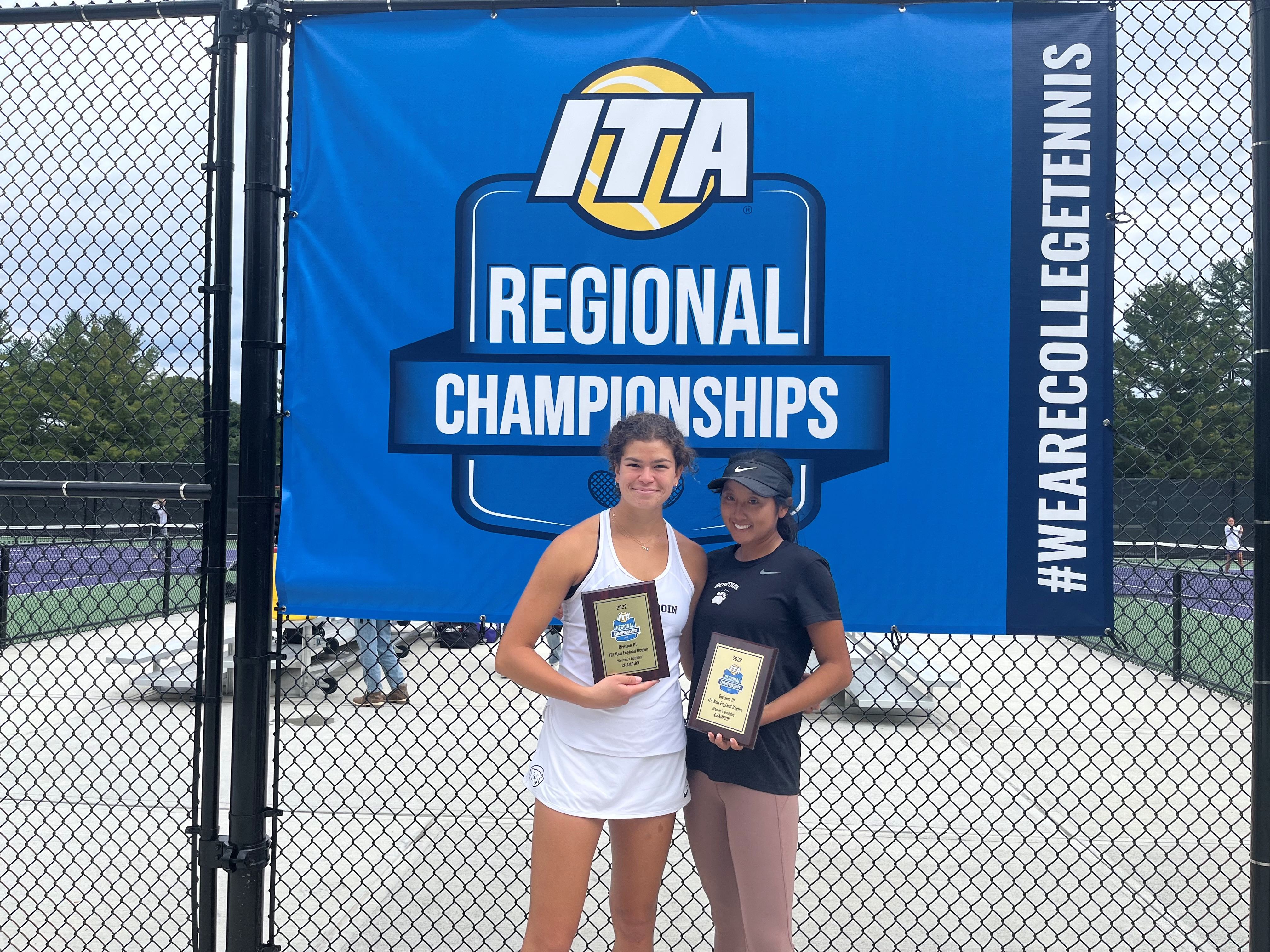 Last weekend at Williams College, women's tennis players Cara Hung '26 and Jamilah Karah '25 won the International Tennis Association (ITA) New England Division III doubles championship. The pair entered the tournament as the eighth seed, but their win substantially elevated their ranking to qualify them for the ITA Cup in Rome, Georgia.
The New England Championship was only the second tournament in which the duo played together, following a tournament at the Massachusetts Institute of Technology on September 16. Hung believes that, although they are a new pairing, they already trust one another and work well together.
"It's doubles for a reason. It takes two people. She was setting me up great—from the baseline, from the back. And she was putting away balls when I set her up. I mean, it was really just smooth. It worked really well," Hung said.
Karah attributes their success to how they approached each point.
"I would say we were super bold in our plays," Karah said. "We were just running plays left and right, putting ourselves on the move. We wanted to go all out, making sure we played exceptional doubles."
This year, the women's tennis roster is particularly small. The team is made up of only six players—the NCAA's minimum requirement for a team. However, the small team has allowed for the players to become better friends. Both Karah and Hung agreed that their teammates have been their favorite part of their tennis experiences at Bowdoin.
"[The size of the team] just means we're super close. I love each and every one of [my teammates]. They make me happy to go to practice. They make me happy to wake up early in the morning to do training. They're all the best," Karah said.
Hung's teammates' attitudes have made her feel welcome and included during her first year.
"They really go out of their way to make me feel like I'm a part of the team. They help me out whenever I need help, regardless of what it might be. I truly feel like I'm part of something bigger than myself," Hung said.
The newer players on the team are making large contributions to the program.. Last year, as a first-year, Karah made it to the singles finals at the New England Championship. This season, Hung is the only first year on the team, and while she has only worked with Head Coach Ben Lamanna for a short time, she already appreciates the ways in which he has helped her improve her skills.
"For as little time as I've known [Lamanna], he's definitely grown my game drastically," Hung said. "He's definitely helped me become more driven and more passionate about the sport than I think my previous coaches have done for me."
The ITA Cup will be held in Rome, Ga. from October 13 to16. The Bowdoin Invitational Tournament will be hosted at the same time, which creates a conflict for the duo.
"We might not go because the team would need us for the Bowdoin invite that we're hosting, so it's kind of still up in the air. We're trying to work toward going to Georgia and maybe moving the tournament or something," Hung said.
While the duo's attendance at the ITA Cup has not been determined yet, both women are excited to have received the opportunity to play at such a high level.
"I am super honored that I get the chance to compete at this big of a stage and to prove to everyone that me and Jamilah are one of the best teams in the [Division III] conference," Hung said.
Karah sees the 2022 ITA Cup as a chance to redeem herself after her performance at last year's ITA Cup.
"It would mean a lot because I went last year and I did really badly," Karah said. "So I think if I have my doubles partner, it's a whole new game. She's there to support me. I'm there to support her."
Whether they play next in Brunswick or Rome, Ga., the pair is ready for their next tournament.