Oliver Goodrich to take over as director of Rachel Lord Center
May 12, 2022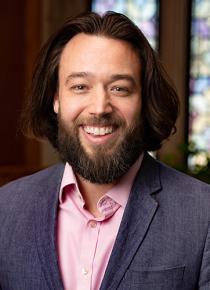 On June 6, 2022, Oliver Goodrich will take over as director of the Rachel Lord Center for Religious and Spiritual Life.
Goodrich is currently the Associate Dean of Students for Spirituality and Meaning-Making at Cornell University. He hopes to draw from his experiences at Cornell to adequately support students' spiritual wellbeing at the Rachel Lord Center.
"Many people feel they can't trust institutionalized religions because they've seen some religious leaders abuse their power," Goodrich wrote in an email to the Orient. "I'm interested in helping Bowdoin students connect with credible and trustworthy religious groups and leaders so that they can draw from some of [their wisdom and support]."
Goodrich did not anticipate taking over a new role. However, after seeing the job opening at the Rachel Lord Center, closer to his home in Maine, he felt inclined to apply.  He also feels closely aligned with Bowdoin's Common Good mission.
In addition to his social advocacy goals, Goodrich looks forward to building intimate relationships with students at Bowdoin. He worked closely with students in his role at Loyola University Chicago, where he worked prior to Cornell.
"My role at Cornell was largely administrative, which meant I attended lots of planning meetings with administrators and didn't spend much time with students," Goodrich wrote. "So one thing I am looking forward to in my new role is returning to my roots and working directly with Bowdoin students."
Goodrich hopes to introduce a more accessible version of spirituality to Bowdoin students. While he personally identifies as Christian, his work has less to do with specific religious practices and more to do with deepening each individual's spiritual commitments.
Additionally, Goodrich plans to continue previous research into current religious and spiritual trends, particularly in college students. Specifically, he is interested in unearthing the reasons for increased disaffiliation with major religious institutions. He noted that Springtide Research Institute identified a lack of trust as one specific factor.
An educator of diversity and inclusion, Goodrich is passionate about helping others understand their own identities and encouraging empathetic conversation about world views. He argues that religious affiliation and perspectives are merely pieces of a larger identity puzzle.
"This cultural moment has seen a rise in xenophobia and cultural division as we experience a decline in people's ability to constructively engage across lines of difference," Goodrich wrote. "I am interested in supporting students as they develop the skills they need to understand how [to] relate to others [in] an increasingly diverse world."
Goodrich hopes to support students as they discover their life's meaning and purpose and looks forward to his involvement in programs at the College to support students' holistic health and wellbeing.
"I'm looking forward to starting my work this summer and settling into the Bowdoin community, and I can't wait to meet students next fall!" Goodrich wrote.