Masque & Gown puts on student-led Shakespeare comedy
April 22, 2022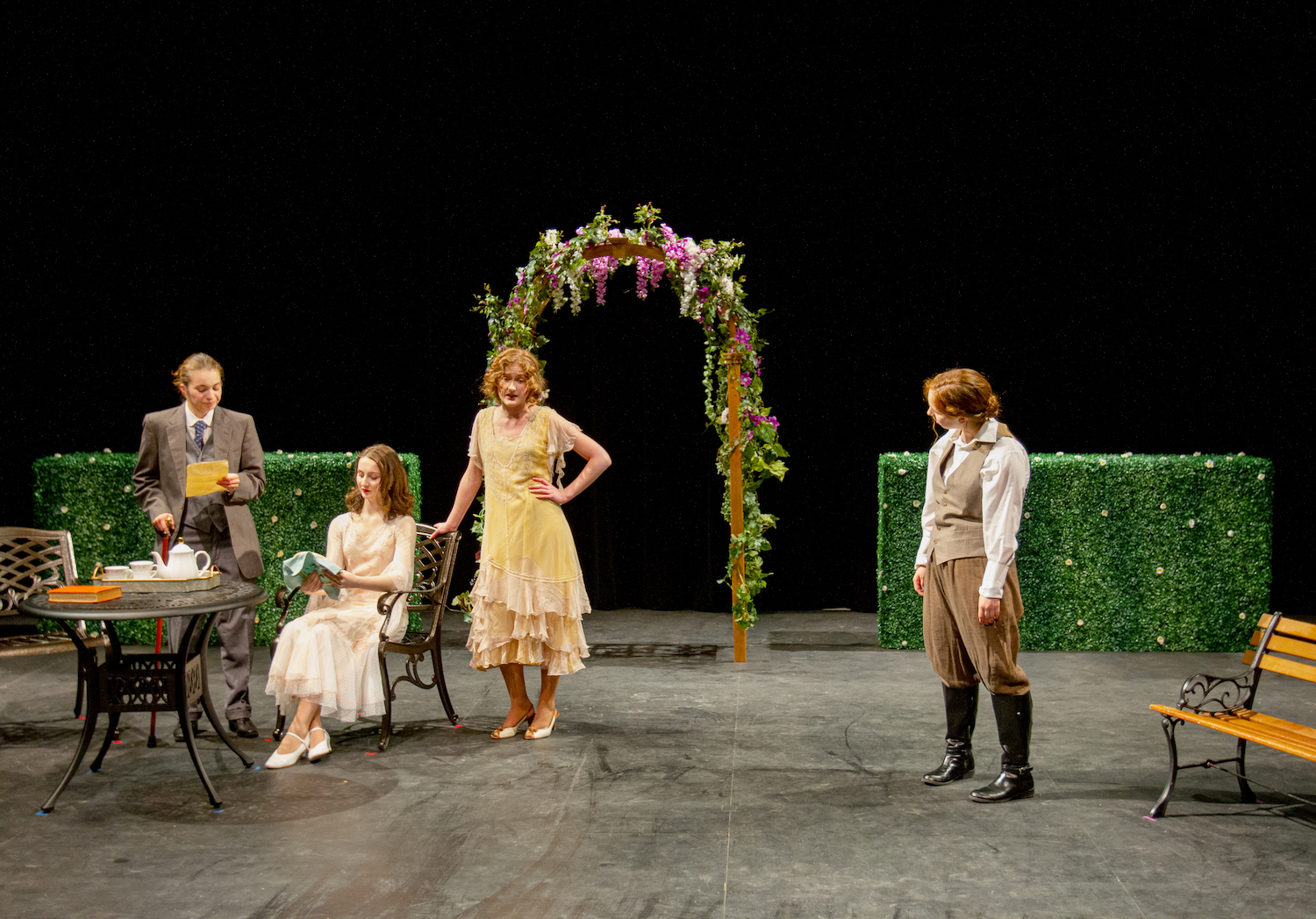 In three shows across today and tomorrow, Masque and Gown will put on a rendition of Shakespeare's comedy, "Much Ado About Nothing," in Wish Theater. Through stories of romance, family, and companionship, the production's cast and crew hope to provide a lighthearted space during a stressful part of the year.
Sophia Adami-Sampson '22 directed the play as part of the student-run theater organization, Masque and Gown. As a long-time Shakespeare fan, Adami-Sampson has thought about putting on a Shakespearean play throughout her time at Bowdoin.
"I was thinking about how to stage Shakespeare in the modern day under the constraints of student theater," Adami-Sampson said. "I thought that it would be exciting to bring it into a different decade, rather than a straight Elizabethan version. I wanted to maintain the class, rank and gender stratifications that are inherent to the plot."
Adami-Sampson was one of many students who tested positive for Covid-19 over the past two weeks. For her, this meant being restricted from directing at full capacity. Trading in-person direction for remarks over Zoom, Adami-Sampson faced a unique adjustment period leading up to the play's production.
"My crew was so great and they set up multiple iPads throughout the room, but you still couldn't see the little things. It's so crucial being in person," Adami-Sampson said.
Actor Penelope Mack '22 voiced similar sentiments about the difficulty of the necessary shift in rehearsal due to the recent return of Covid-19 restrictions.
"Everything felt very normal and then starting last week, it became really hard. Losing half of your face [under a mask] in acting is a lot and it totally changes vocal projection too," Mack said.
Despite the challenges Covid-19 brought to the cast and crew, they have high morale for the upcoming production.
"Sophia as a director is so wonderful. She really pushed through a lot of logistical Covid-19 stuff and other random hijinks and has just been a great leader," Mack said. "I'm really excited to see us get through all the shows."
Actor Harrison Schwartz '24 hopes audience members use the production as a means of removing themselves from the stresses of this point of the year.
"I hope people have a good time. That's my number one priority," Schwartz said. "I hope people come to the play, enjoy themselves and for a sliver of time, stop worrying about anything else."
Adami-Sampson hopes that, in addition to laughing along with the cast, the audience picks up on the important commentary made in the production.
"There is a lot of darkness there—misogyny is one of the underlying issues," Adami-Sampson said. "I hope that the audience takes these themes as not as archaic as the language. There is some emotional weight to the play and some seriousness too."
As the academic year draws to a close, the cast feels that the play could be a joyful break from the semester's anxieties.
"It's probably my favorite Shakespeare [play] because I feel like it is such a lovely celebration of life, falling in love, friendship and family," Mack said. "Just the kind of lightness and fun I think we all need—especially at the end of the semester."