Pandemic restrictions will not dash women's basketball team's progress and hope
September 25, 2020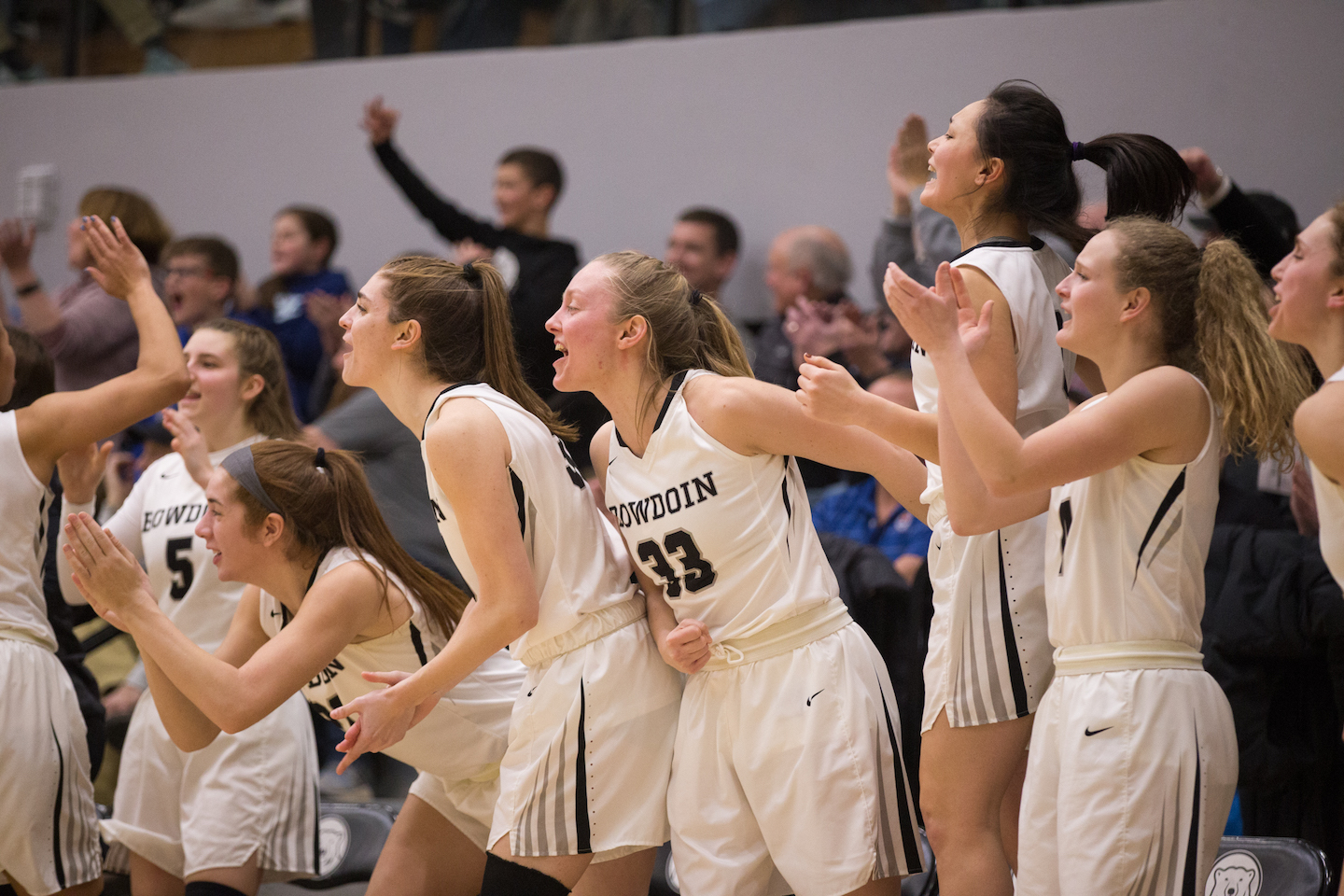 Unfazed and determined despite having to watch their fellow athletes at other NESCACs returning to campus to practice and play together while they remain physically separated, the Bowdoin women's basketball team has been training, adapting and staying connected since the summer months, hoping for a traditional season come winter.
"We were able to keep our preseason schedule pretty similar to what it usually is," said captain Moira Train '21 in a Zoom interview with the Orient. "It looks a lot different because everybody's not in the same place, but we're still lifting three times a week, speed training twice a week, and we play pick-up [basketball], depending on numbers, two to three times a week."
Since some upperclassmen on the team are living together in Harpswell, they are able to practice together and keep each other motivated. Annie Maher '21, another captain who is living with Train, explained that they conduct speed workouts, weighted exercises and shooting drills from their backyard.
Captain Dorian Cohen '21 largely credits Head Coach of Strength and Conditioning Coach Neil Willey for the team's success up to this point.
"He went out of his way to make a bunch of different videos of himself in his home, doing a backpack with rocks exercise and other workouts just to make it accessible to everyone," said Cohen in a Zoom interview with the Orient. "I think that's a big reason why this summer, and continuing into the fall, we were able to stay fit."
However, staying fit is not the only factor in the team's success; they have also been working tirelessly since the summer to strengthen their team culture and bring first years into the team dynamic.
"Communication has always been a really key value for our team, so I think we're just trying to maintain our standards in a unique way," Maher said in a Zoom interview with the Orient.
From group workouts on Zoom or FaceTime to virtual Netflix movie nights, the team has done it all over the past few months. With players in various locations across the country, and some even taking time off, creating and maintaining connections has become the team's first priority.
Hoping to grow closer with the first years and recognize them as integral parts of the team, upperclassmen welcomed their new teammates before they even arrived on campus.
"We actually started last spring," Maher said. "We added them to our GroupMe, they hopped on all our team calls and we've been including them in everything our team is doing and treating them the same way we're treating each other."
The team's goal is to establish community from the ground up. By seeking out and building relationships with first years as soon as possible, they are able to strengthen those ties throughout the fall semester.
"When COVID[-19] hit, we all felt distant from each other and wanted to include [first years] right away," Train said.
Interim Head Coach Megan Phelps echoed the sentiments of her captains.
"We try to get to know the women really well, and our team is really involved in the process," said Phelps in a Zoom interview with the Orient. "I think that gave us a little bit of a head start because our team already knew the five first years coming in."
Moving forward, as the Bowdoin campus transitions into "yellow" and restrictions surrounding social interactions loosen, captains and other upperclassmen hope to meet first-year players in downtown Brunswick for a cup of coffee, a walk or another type of socially distant activity.
However, despite new bonds between upperclassmen and first years, the regulations of virtual athletics present difficulties for players and coaches alike.
"I think the biggest thing is basketball is such a team sport, so when you're working in a virtual way, you don't get that aspect," Phelps said. "We're one of the only teams in the NESCAC that isn't all on campus, so that's a little nerve-wracking, too."
Many other NESCAC schools, such as Bates, Middlebury and Colby, allowed their full student body to return to campus for the fall semester, despite the cancellation of all fall sports.
Cohen was frustrated by the option for those first years and their teammates to meet on campus and train together outside, which is a luxury that athletes at Bowdoin do not currently have.
"I think it's kind of upsetting to see other schools being able to play [together]," Cohen said. "I think we're definitely jealous of their ability to be all together."
Despite this series of limitations and setbacks, the women's basketball team will be well-prepared if a traditional season presents itself.
"I think we're making the most of what we have and trying to make it feel as normal as possible," Cohen said.
The women have not allowed the difficult combination of adjusting to both virtual athletics and classes to dampen their enthusiastic spirits.
"All of us have put in a lot of hard work,"  Cohen said. "If there is [a season], we'll be ready."