Small in numbers, Bowdoin divers make a splash
January 31, 2020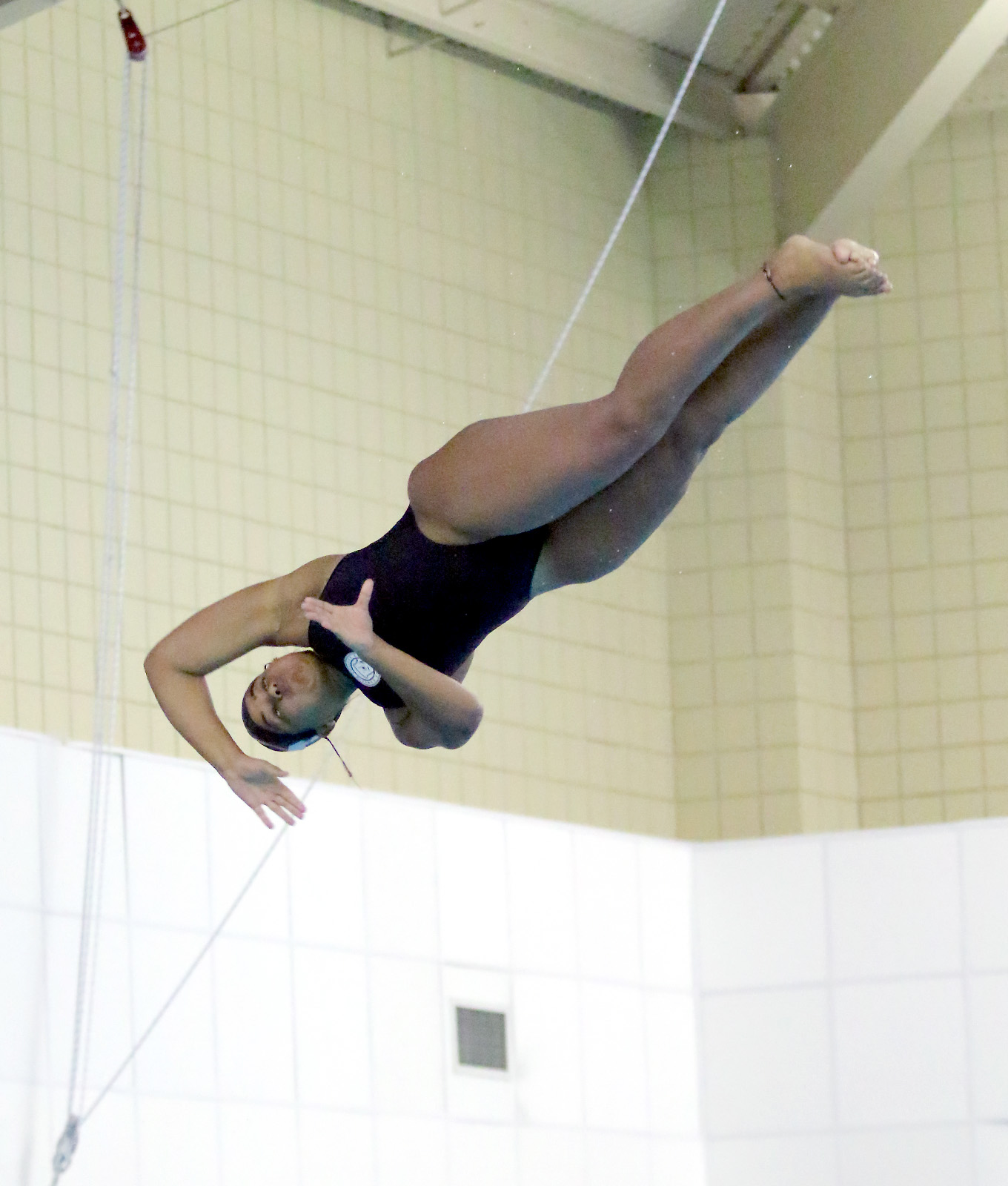 For Thea Kelsey '20, Henry Isaacson '22 and Wren Sablich '22, diving off a three-meter springboard headfirst into a pool is not a foreign concept. All three athletes have been participating in the sport since they were first introduced to it at a young age.
Isaacson began diving when he was at camp in seventh grade. Kelsey was introduced to diving when she was just seven years old, and Sablich was pushed from gymnastics to diving when her family moved to England.
"I'm from the Boston area, and at Harvard they were having Saturday morning swim lessons, and the diving team was also offering diving lessons. My mom figured, since I did not like swimming, I might as well try diving," said Kelsey.
After years of diving, all three athletes' interest for the sport has only grown. For example, Kelsey's appreciation for the sport increased when she first came to college.
"[While at Bowdoin], I've grown up and learned who I am as a person [as well as] the things I enjoy and [make] me happy. For a long time, diving was not necessarily one of those things," said Kelsey. "[However], I have learned over the past four years that [diving] is one of those things that brings me joy and makes me happy. I am now focusing on those aspects and less on the parts that I don't enjoy. I am able to then translate what I have learned [from] diving into other parts of my life, where sometimes things can be challenging—but I am now able to pick the things that are going to make me happy and appreciate them much more."
Similarly, diving at Bowdoin has only strengthened Isaacson's passion for the sport. He attributes his desire to dive and his growth as a diver to head coach Kelsey Willard.
"[Kelsey] is always there to try to give me tips and insights into the little things that I can focus on. At the same time, she is able to step back and allow us to find what we are motivated for. She won't push any harder dives on us, but she is super supportive of us and pushes us to learn new things," said Isaacson.
Additionally, Isaacson attributes his motivation for the sport to his teammates, past and present.
"Last year, Mitch Ryan ['19] definitely motivated me to do better," said Isaacson. "But, I think now it's definitely the swim team. I see them doing their hard workouts and pushing themselves to get faster and faster, and it makes me want to do my role to keep progressing, [whether] it be focusing on a category or working on a harder dive. Just as much as they support the team, I can also do the same," said Isaacson.
Echoing Isaacson's sentiment, Sablich appreciates the camaraderie that being part of the Bowdoin swimming and diving program has brought into her life.
"Diving is a very mental sport, so joking around and having a large group kind of takes your mind off your fears … and hanging out with people in between dives in the hot tub is always fun," said Sablich.
Yet despite her team's support, the fear of injury still casts a shadow over Sablich's career. This fear has even led her to consider quitting the sport.
"I just hit the board—this is the second time I have on the same dive, so I guess fear of injury right now is concerning," said Sablich. "I am not sure what I am doing yet, but the team aspect would … definitely make me continue, because I love the group."
In contrast to other collegiate diving programs, the Bowdoin swim and dive program is unique because both divers and swimmers practice at the same time and in the same pool. This has allowed the program to act as one team—most of the time, they are two different teams that act independently of each other.
"I think what makes Bowdoin swim and dive so unique is the pool setup and how we are able to practice together," said Kelsey. "There are only three other schools in the conference that do that, and because of that, not only are the divers close as a group, but the swimmers and the swim coaches do an amazing job of including the divers … it is really one team. Even though I am a diver, I am just as much a part of the team as any other swimmer, and I think that it is something that is important and should be appreciated."
The three divers and the swim team will travel to Colby to compete on Saturday at noon.