Men's and women's hockey confront disappointing season
February 22, 2019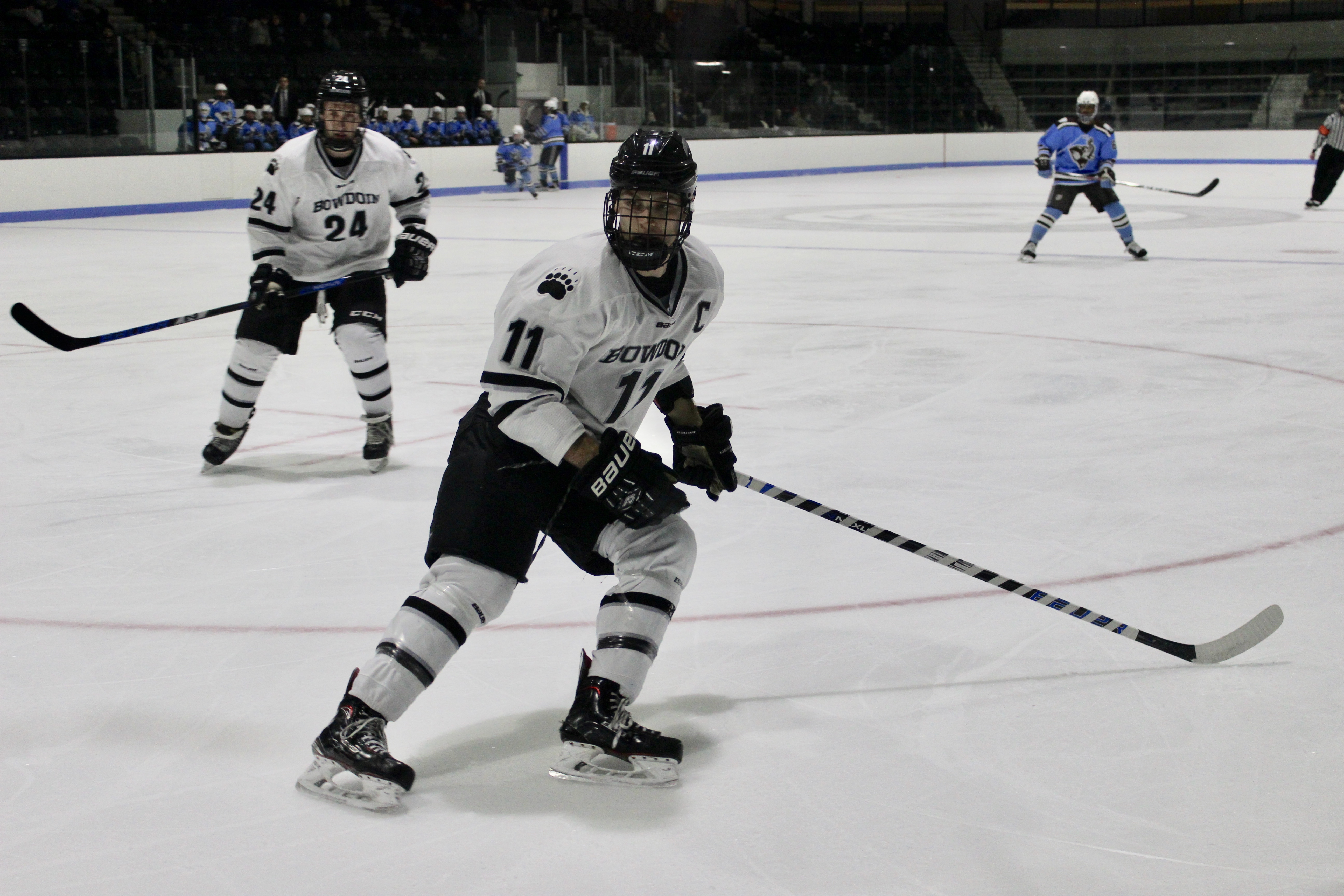 Sidney J. Watson Arena is festooned with an extensive collection of banners celebrating the accomplishments of Bowdoin hockey teams past. However, the year 2018-2019 will not be appearing on any of these decorations.
For the first time in 18 years, both the Bowdoin men's and women's hockey teams failed to reach the NESCAC playoffs. This means both teams placed below the top eight teams in a league with only 11 teams. The women's team finished with a record of 3-19-2 (NESCAC 2-13-1), their worst record in the program's 34-year history, and the men's team finished 6-16-2 (NESCAC 3-14-1), their worst record since 1963.
For women's head coach Marissa O'Neil, the immediate aftermath of the season is about understanding what held the team back throughout the winter.
"We have to do our [due] diligence in terms of breaking down what took place this year," she said. "One of our goals that we weren't able to attain very often—just a few times this year—was scoring three goals in the game. At times, hockey can kind of be a race to three [goals]."
Over the season, the women's team averaged only 1.33 goals per game. They scored three goals in just two games, both of which they won.
The men's team fared slightly better in front of the net, averaging 2.46 goals per game and hitting the three-goal mark nine times over the course of the season. However, the team conceded an average of 3.96 goals per game and only won two-thirds of the games in which it scored three goals. This is the second year in a row that the men have missed out on a NESCAC playoff berth–last year was the first year the Polar Bears missed the tournament in program history.
In an email to the Orient, men's team captain Pat Geary '20 was blunt about his feelings towards the past season.
"We expected to have more success than we had," wrote Geary. "We've underperformed for three years … All the pieces necessary for success have been there every year, and for whatever reason things haven't clicked … Three years of that is way too long, and [it's] pretty embarrassing."
Head Coach Jamie Dumont said tough competition made it a tough year.
"We had trouble scoring key goals and [taking advantage of] key moments," Dumont said. "That wasn't by a lack of effort, and wasn't by lack of opportunity. At the end of the day, we have to respect the fact that this league is pretty good. It's not easy to score in this league."
O'Neil characterized the main hindrance to the women's team's performance as mental.
"I think [our main obstacle] was more internal," she said. "The first couple games got to our head, and it's easier said than done to remove that sort of mental block … We just couldn't find a way to put [the puck] in [the net]. That's a big mental hurdle."
Angelina Joyce '22, the women's second-highest scorer, agreed that scoring was a challenge for the team.
"We were consistently keeping up with our opponents in terms of shots on goal, but we couldn't finish. That led us to overtime eight times. From there, we were just unlucky," said Joyce.
The women won only one of the eight overtime games they played. Overtime games are sudden-death, so the first team to score wins the game. With no opportunity to come back after a goal is scored, the race to score the game-winner often involves some degree of luck.
The challenges both hockey teams faced this year go beyond simply individual performance or mindset. Dumont stressed the age and physicality of the men's league as a major factor contributing to its overall quality. It's becoming increasingly common for men's NESCAC hockey rosters to include first years who are 20 or even 21 years old. That age gap can make a significant impact on the ice.
"It's a challenge for an [18-year-old] true freshman to come in and play against a 21-year-old freshman. The amount of Division I transfers entering our league is increasing, too," said Dumont. "It's especially a challenge when you have to play five games in nine nights, sometimes games on back-to-back days … It's a big learning curve for young players."
After all the hardships of the past season, O'Neill expressed her desire to "close this chapter" and move on to preparing for next winter.
Joyce felt the same way.
"We have no lesser expectations for ourselves next year. We are still going in with [the goal of winning the] NESCAC championship in our mind," she said. "We will keep [the] relentless positivity and determination from this season with us as we move forward."
Perhaps next year another banner will be added to the walls of Watson Arena. Until then, the Bowdoin hockey teams must prepare for another campaign.